If we told you that you could enjoy city living in a place where the sun shines, you can pop to the beach after a day's work at your very well-paid job, and where property prices and rent are reasonable, would you be on the next flight? Today, we're taking a look at what the wonderful city of Auckland offers to overseas buyers.
Auckland is the third most liveable city in the world, according to the 2019 Mercer World Liveability study. New Zealand's largest city offers so much to those looking for a fresh start. It's safe, is the most connected hub in the country, and enjoys a proximity to nature that's rare for city folk. I'm talking rugged coastline, sandy beaches, islands, volcanoes and the Waitakere Ranges. Auckland's climate isn't half bad either. Locals enjoy very pleasant average summer temperatures of 20 degrees, and moderate winter temperatures of 10 degrees.
 Why Auckland?
Of Auckland's population of 1.6 million, two out of five hail from other countries, making the city one of the most diverse and cosmopolitan in the world. Additionally, if you're looking for exciting new career opportunities, Auckland is the dream. Unemployment levels are low (4.2 percent) and salaries are higher than the UK with a monthly average (after tax) of $3,837 (£1,988). Furthermore, education in the city is so superb that Auckland is considered one of the best places to start a new life, without having to compromise on the level of education you, or your children, receive. The city has more than 500 schools.
 Now let's get on to lifestyle, because jobs are important, but it's that work-life balance that's the real Holy Grail! The city is home to clean, safe beaches where you can surf, swim, sunbathe, sail, snorkel and scuba. Plus, the surrounding hills are ideal for the active, and provide an easily reachable weekend escape just outside of the city, which gives you a taster of the natural beauty the country is so famous for…and which probably tempted you to move to New Zealand in the first place.
Auckland's food is some of the best and most affordable in the country – particularly Asian fare – and their coffee is the stuff that dreams are made of.
Furthermore, Auckland's food is some of the best and most affordable in the country – particularly Asian fare – and their coffee is the stuff that dreams are made of. Also, if you want to feel connected to culture, Auckland's museums, festivals, and arty communities will keep you engaged. If a big-name musician or band are in town, you better believe their one stop in the country is Auckland.
Cost of living
When establishing whether a move to New Zealand is right for you, it's important to factor in cost of living. According to Numbeo, a family of four will clock up monthly costs of $4,929 (£2,555) in Auckland (excluding rent). A single person requires $1,362 (£706), excluding rent. Renting a one-bed apartment in the centre of Auckland costs an average of NZ$1,795 (£929), and a three-bed apartment costs $3,333 (£1,727).
How can you get medical attention when you move abroad? Find out in your free Healthcare Guide.
For those happy to settle in a suburb around 30-minutes out of the CBD, a one-bed will set you back $1,450 (£750), or a three-bed for $2,550 (£1,320). Comparing London to Auckland, rent works out as 77% more expensive in London, and those all-important restaurant prices are 31.92% higher. The cost of living in Auckland may be cheaper than London, but do bear in mind that it is between 15-30% more expensive than the UKs regional cities, including Manchester, Bristol and Birmingham.
Cost of buying
If you plan to buy when you move to New Zealand, you're looking at a price tag of $9,965 (£5,162) per square metre in Auckland CBD, considerably less than London's £12,903. In the suburbs, Auckland works out as more expensive per square metre ($8,200) than London (£7,378). Elsewhere, on average Auckland is more expensive than most UK cities. For example, in Birmingham the cost of buying in the city per square metre is £3,493. However, these higher costs are hardly surprising given Auckland is New Zealand's major city.
Auckland's property market
According to the latest Trade Me Property Price Index, Auckland just experienced the biggest drop in property prices in five years. The average house price of $901,650 (£467,420) represents a decline of 1.9 percent year-on-year – the biggest decline since 2014. Those behind the report highlight that this cooling off of house prices is a result of the government enforcing restrictions on foreign buyers, and imposing new regulations on landlords. If you move to New Zealand via the correct legal channels, you will be eligible to buy property. Also, the report confirmed that apartments are the new favourite property-type of buyers, with a 19 percent increase in apartment sales seen in the last year. The average asking price of an apartment in Auckland is currently, $680,350 (£353,280).
Auckland is made up of four major centres, Central, the North Shore, Waitakere and Manukau.
If you plan on purchasing a buy-to-let property when you move to New Zealand, you can investigate what yields you can expect in Auckland's suburbs via this handy rental yield indicator.
Auckland's best areas
Located on a volcanic peninsula, Auckland is made up of four major centres, Central, the North Shore, Waitakere and Manukau. Although each boasts their own unique characteristics, as a general rule, Auckland's suburbs are friendly, well-connected and offer fantastic amenities. Here are just a few of the best.
1. Takapuna, a little north of the city, consistently tops 'Best for Families' lists. The beach is on your doorstep, there's a great grammar school and weekend market, and there's enough restaurants and shops to mean you don't have to go into the city to get supplies. Although, seeing as the CBD is just an 11-minute drive away, why not!
2. Devonport, is popular with everyone – families, hipsters, expats, retirees, you name it. This is one of Auckland's oldest settlements, so the housing on offer is rich in character. Residents enjoy waterside living, two volcanic peaks to hike to enjoy views of the city skyline, and you can hop on a ferry to the CBD, which takes just 12-minutes.
3 – Grey Lynn, is ideal for families with older children and young professionals as it's only a ten-minute drive from the CBD and all its offices and attractions. Grey's Inn has a reputation as an artistic and a foodie hub. Prices here remain more affordable than nearby swanky Ponsonby, and the suburb is destined to shoot up in price, so could be a shrewd investment.
4. Onehunga is an affordable, working-class area of the city, which affords you more space for your dollar than suburbs closer to the city. Onehunga offers a welcoming community, art deco housing, proximity to the waterfront, and some fascinating history to boot!
5. Kingsland is an excellent option for those that want to feel close to the action, but a little removed from that city centre hustle and bustle. Here you'll find tree-lined streets and lovely older homes, plus a range of places to grab a tasty meal, or some of the city's best coffee. Additionally, Eden Park – home of the All Blacks – is right on your doorstep. While this certainly isn't one of the swankiest corners of Auckland, it is definitely one to watch.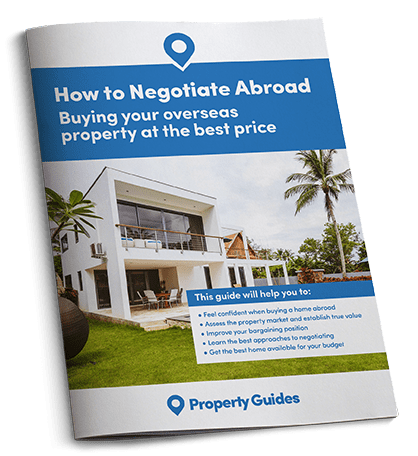 How to negotiate abroad is the guide to put you back in control:
✔

  Feel confident when buying a home abroad
✔

  Assess the local property market
✔

  Improve your bargaining position
✔

  Learn the best negotiating tactics
Download your free Negotiation Guide