Fancy living in the Edinburgh of the South? Then Dunedin it is! Today, we're looking at the popular South Island city to reveal what you can expect when you make the move here.
North Island isn't short of beautiful locations, but South Island tends to emerge victorious in terms of natural wonder. You'll find national parks and forests, fjords and glaciers and some of the country's best, emptiest beaches. You might fancy living on top of a mountain, but maybe it's more practical to find a city offering all the amenities you're accustomed but within easy reach of the wilderness any time you hear it calling your name. Such as the subject of this month's area guide, South Island's second largest city Dunedin. Why does it draw in the Brits and what does life in the city offer?
Dunedin
This waterside city is on the central eastern coast of South Island, overlooking the Pacific Ocean. Its surf beaches, arts, music and cultural scene have led many to liken it to Sydney in Australia, and to Bondi Beach in particular. It just lacks the hefty price tag! One of the most delightful aspects of the city is the 200 hectares of green belt that surrounds it, home to exotic and native flora and fauna galore. You'll be able to enjoy easy access to parks and excellent, mostly uncrowded, walking tracks. The city is hilly, offering different views depending on where in town you lay your hat.
Its surf beaches, arts, music and cultural scene have led many to liken it to Sydney in Australia
Dunedin was New Zealand's largest city (in terms of land area) up until 2010 when Auckland flew into the lead. Population-wise however, it only ranks as the country's seventh largest urban centre. You know what that means? Plenty of space! Dunedin is rich in history, with archaeological evidence of the Maori people living here long before European settlers arrived.
The Gold Rush of the 1860s transformed it into New Zealand's most popular city by a long stretch, but nowadays the population is around 118,000. Many are students. The University of Otago is New Zealand's oldest, and both it and Otago Polytechnic are both popular and prestigious.
Dunedin is also known for its Scottish heritage: "The Edinburgh of the South". It's like a home from home from the Highlands, the locals grabbing any opportunity to get out the bagpipes! The name Dunedin comes from the Gaelic name for Edinburgh – Dùn Èideann – and even boasts its own tartan.
The way of life
Dunedin offers city living at a relaxed pace. Work-life balance is one of the top attributes listed by the happy locals. You can live in rural surroundings, but be in the centre of town in just 15 minutes, with traffic jams something of a rarity. The countryside around the city provides ample opportunity for outdoor pursuits. You're also located on a coastline, which means washing away the stresses of your day with a quick dip, or a walk with the dog at the beach, is possible every night of the week. Dunedin's architecture is remarkable and the coffee is sublime, so just find your café and relax. Rumour has it that New Zealand's best beer is found here… although don't go telling any Wellingtonians we said that!
If your outdoor adventures lean towards the dangerous, what are your healthcare options in New Zealand? Read our new guide: Healthcare Abroad 2018. 
Being a university city, the population is generally well-educated, well-read and cultured, yet down-to-earth. They're welcoming, politically-engaged and environmentally conscious. In 2014, the city was designated a UNESCO-heritage City of Literature. People love supporting local businesses, which is good news if you have an idea in mind. If you move to Dunedin, you'll experience a real sense of community.
Getting around
One of Dunedin's landmarks is its spectacular Edwardian railway station. Although it looks so grand, most of the trains serving it are simply tourist trains heading up to Taieri Gorge. There is no train service up to Christchurch, but plenty of coaches for the 360km drive. Dunedin also has an international airport with flights from throughout New Zealand and some Australian cities.
Employment
The city's largest employer is the University of Otago, followed closely by the Health Board, City Council and Cadbury's. Other major industries include property, publishing, business services, health and food manufacturing. Government administration, tourism and communications are other big players, contributing more than $100 million each to Dunedin's GDP.
For the "digital nomad" working as a designer, editor, copywriter or something similar, why not enjoy your affordable lifestyle in Dunedin while working freelance for companies in Auckland, Melbourne, Sydney or even the UK?
If you're hoping to emigrate to New Zealand on a skilled migrant visa, the sectors currently experiencing the most shortages in Dunedin are engineering, general trades, and apparel and fashion. You can begin your job search in the Otago Daily Times, or on TradeMe jobs.
Climate
You may here that Dunedin is too cold, but in fact it's warmer than London, Paris or New York. You'll be enticed outside by the sunny winter days, as the city enjoys around 1,700 sunshine hours per year (compared to the Scottish Edinburgh's 1400).
It's warmer than London, Paris or New York.
Winters mornings can be frosty. Snow does fall, but it's very rare, unless you're located in one of the city's inland hill suburbs such as Wakari, where you might get a few days of snowfall per year. What you'll quickly notice about the city is that it has a number of microclimates. Spring often welcomes 'four seasons in a day' type weather, but November to April is lovely and mild. Heavy rain isn't common but the city is known for drizzle. The best option is probably to take an umbrella!
Best locations
When looking for housing in Dunedin, try choosing a spot that's a little bit up a hill, and that's north facing – meaning you'll get the sun. The flatter, south-facing parts of town can be a little damp during winter. Property is relatively affordable in Dunedin compared to other parts of the country and is markedly cheaper than Auckland. As of December 2017, the average price of property came close to $400,000. If you're looking to rent when you first arrive, expect to pay around $1,270 (£670) per month for a three-bedroom apartment outside of the centre, and up to $1,600 (£845) more centrally. The average monthly salary after tax is currently $3,319 (£1,750).
The values in pounds we show here are based on the interbank rate at the time of going to press. This is not available to the general public, but click here [LINK to Smart quote] for a free, no-obligation quote from Smart Currency Exchange and a friendly chat about exchange rates in general. You could also download Smart's Property Buyer's Guide to Currency, packed with insider tips. 
Here are three popular corners of Dunedin…
North Dunedin
For a sunny and rather prestigious spot, close to the university, try North Dunedin, and Opoho in particular. It's far enough away from any dubious student digs! This suburb enjoys views over Dunedin's Botanic Gardens and easy access to the green belt's walking tracks. North Dunedin in general is a desirable part of town, especially if being central is important to your family.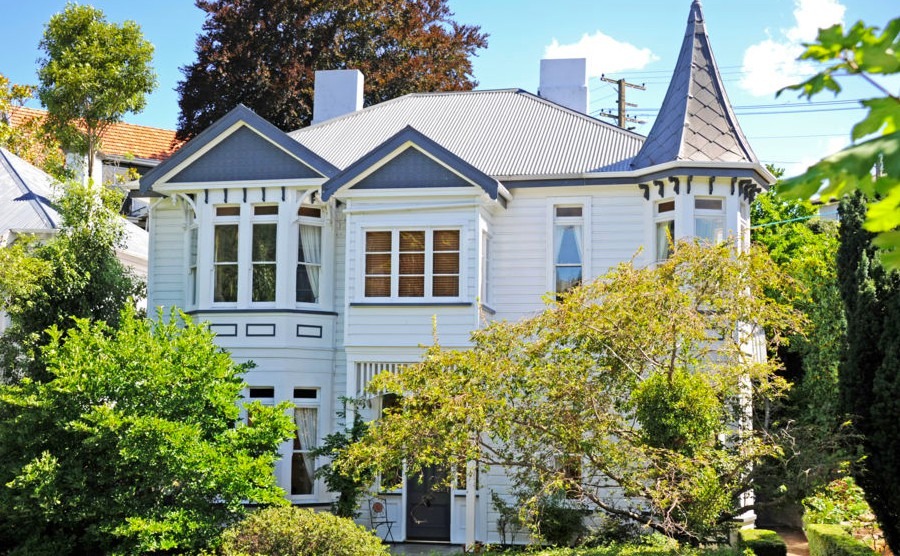 This extremely grand four-bedroom property, on the market for $739,000 (£389,250), boasts period features, lots of natural light and living space, just a stone's throw from the city centre. The property also has a good amount of off-road parking, which is a real bonus for this part of town.
East Taieri
East Taieri is a highly desirable township just a short drive from Dunedin Central Business District (CBD). Here you'll enjoy a slice of country-living overlooking the spectacular agricultural area of the Taieri Plain.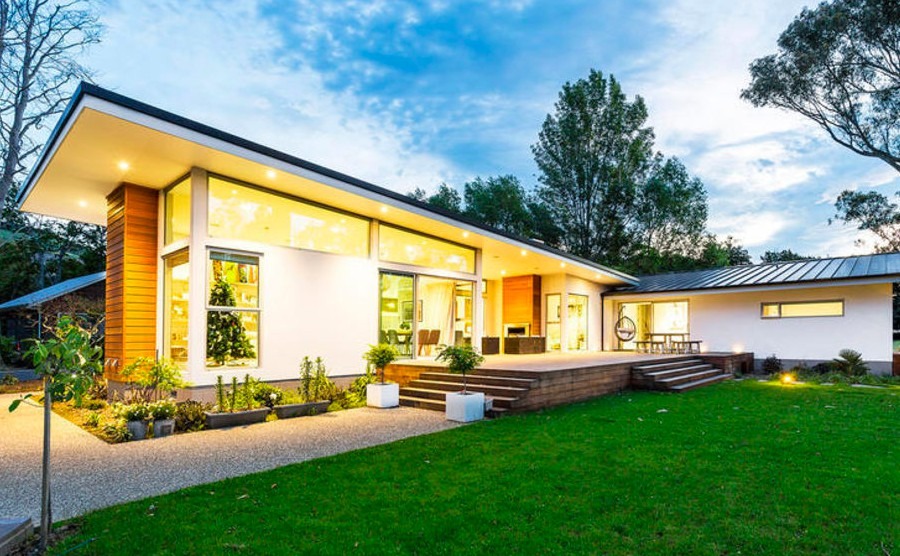 Just 13 minutes' drive from Dunedin CBD, you can snap up this beautiful family home for $1,000,000 (£527,000). This spacious, four-bedroom property is decked out with cutting-edge design and high-end fittings throughout. It's large open-plan living areas open out onto a sunny deck and a private spa-pool.
Port Chalmers
Port Chalmers is Dunedin's port, and a lovely suburb located on a small peninsula overlooking Otago Harbour. If you're looking for an artsy community, this might be the spot for you. It's a forward-thinking, alternative spot, with a foodie scene to die for. You'll find many off-the-grid houses in the surrounding countryside.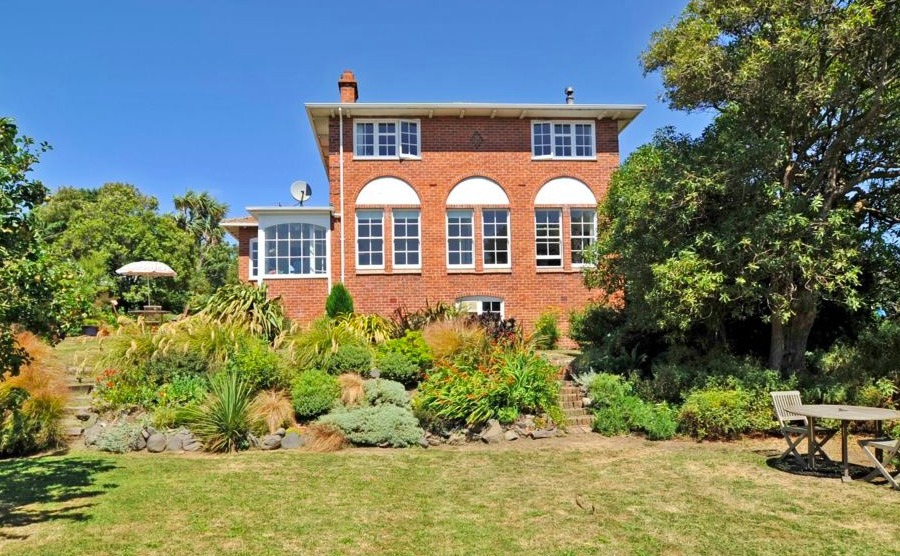 This three-bedroom property was designed by renowned Dunedin architect, Basil Hooper, and was used as a vicarage for some time. The property is within walking distance of Port Chalmers cafes and independent shops and is on the market for $479,000 (£252,360).