Finding the right estate agent
Finding the right property and buying successfully begins with finding the right agent…
When setting out to buy in New Zealand, you need to source an agent to help you find that dream property. The success of your purchase depends upon finding an agent who is registered, trustworthy, and who understands your needs and attends to them throughout.
If you're flying out to New Zealand to view potential properties, to maximise time, you need to find an agent prior to boarding the plane. That way you won't waste any essential time looking for an agent when you should really be looking at properties. Enlisting the services of an agent prior to your visit means that you can send them a list of what you're looking for, so that they can line-up viewings of only properties that completely meet your needs and budget.
Remember, it's in your agent's best interests to listen, be efficient, and to only show you properties that you might realistically consider buying.
Before you contact an agent
It's important to sit down and hash a few things out prior to reaching out to potential agents. Here are a few essential factors to take into consideration:
• Are you decided on an area? Does the agent cover that area? Do they have the right kinds of properties on their books?
• What exactly do you want from a property? Be as specific as possible here. I.e. How many bedrooms do you need? Must you have off-road parking? What are your deal breakers? I.e. Not near a busy road, under a flight path, etc.
• The legalities associated with the purchase, and the regulations you will need to adhere to during the process.
Identifying the right agent
Depending on where you are buying, you'll find that there are numerous agents to choose from – so how do you know which one is right for you? Here are a few important factors to bear in mind to help you make the right choice:
Are they accredited?
Always choose an agent who is legally accredited to sell you the property. Your agent should be accredited by the Real Estate Agents Authority, the independent government agency that regulates the real estate industry in New Zealand. Always ask to see their official documentation.
Do they have local knowledge?
Your estate agent should be incredibly knowledgeable about the local area. They should be able to answer all of your questions about your new town or city, and be able to offer you invaluable guidance when it comes to explaining how things operate.
Are they proactive?
You need an estate agent that offers a good service from the very start. They should respond to emails and calls promptly, and show an understanding of your needs. To determine whether they offer a good service, test them a little bit whilst still in the UK. See how long it takes them to respond to you. Is their response helpful? Do they answer your questions?
Can they provide references?
Another way of guaranteeing you've found a good agent is to ask for references. If they are good at their job, they will jump at the opportunity to put you in touch with satisfied customers.
Do they understand your needs?
Remember, it's in your agent's best interests to listen, be efficient, and to only show you properties that you might realistically consider buying. If they do anything other than this, alarm bells should be ringing.
Having helped thousands to successfully purchase overseas property, we've established relationships with many of the professionals you need on side to facilitate a successful property purchase. To be put in touch, contact our Resource Team on 020 7898 0549.
Find this information helpful? Share with your friends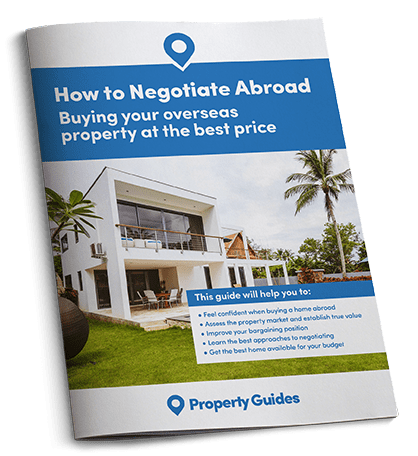 How to negotiate abroad is the guide to put you back in control:
✔

  Feel confident when buying a home abroad
✔

  Assess the local property market
✔

  Improve your bargaining position
✔

  Learn the best negotiating tactics
Download your free Negotiation Guide