On the heel of Italy's stylish "boot" is the unique and charming region of Apulia. Long hot summers and mild winters, 500 miles of coastline, a Mediterranean diet of fresh local produce and friendly communities all make Apulia a lovely place to buy a home. But where are the best areas? And what is a trullo and a masseria and why are they so popular?
Buying a holiday or permanent residence in Apulia
Apulia or Puglia in Italian, is great for holidays, making it a superb location to own a second home for yourself and to rent out to tourists. Those who live here year-round often say that "Every day feels like a holiday in Apulia". This southern region has always been a popular summer destination for Italians, who like to buy second homes along the coast, particularly around Otranto, Gallipoli and other coastal villages. The southernmost part of Puglia is called Salento, which in places has the feel of a Greek Island. It takes less than an hour to drive coast to coast, from the Adriatic to the Ionian sea. Being on the mainland the region is easy to reach by car, coach, train and by air. You can fly from Rome to Brindisi in an hour and a quarter, for as little as €20, so it's an wonderful escape from the city.
Those who live here year-round often say that every day feels like a holiday in Apulia.
While Salento's coastal villages and beaches can get busy in July and August, they are very quiet the rest of the year, as Italian's prefer to live and work in bigger inland towns.  In June and September it's possible to find a beach all to yourself. If you want a place where you can get away from work and immerse yourself in a relaxing Italian way of life you could follow the lead of actress Helen Mirren or presenter Amanda Lamb. Helen bought a gorgeous 16th-century masseria, in Tiggiano, in the province of Lecce. As well as transforming the farmhouse into a beautiful home the land produces fruits, such as pomegranates and melons.  Amanda Lamb on the other hand chose an apartment in the pretty medieval town of Nardo, also in the province of Lecce. The elegant town of Lecce is also popular and has been nicknamed the "Florence of the south" due to the beautiful stone carved facades of its churches and palazzi.
The wine-growing area between Brindisi and Lecce is an area to watch, as wine tourism grows in the region there are opportunities to provide accommodation in converted masserie. These masserie hotels are also popular with celebrities and as wedding venues. Road cycling is another growing tourist activity across the region, especially in April and May, with routes suitable for all abilities, that take you past fields of spring flowers and the most beautiful villages.
International flights into Puglia's two airports have increased greatly in the past 10 years, bringing more and more foreign tourists into the area. While the Italians enjoy dancing the night away at beach resorts foreign tourists tend to prefer a quieter holiday at a villa with a pool. On the coast between Bari and Brindisi, the towns of Monopoli and Polignano a Mare are right on the sea, and 10 minutes inland is the very popular "white city" of Ostuni. The town can be seen for miles around as it's gleaming white houses perch on a hill above the surrounding olive groves. Tourists gather here for evening entertainment, gift shopping, and to enjoy Puglian food and wine at the restaurants and bars dotted around the ancient stone streets. Many foreign tourists, choose to rent a holiday home in the countryside and hire a car, so that they can explore the countyside, towns and beaches. The local Italians are very friendly and love to welcome everyone to their cultural events and festivals, and to taste their local produce. Places that attract some of the largest numbers of day visitors include the Trulli of Alberobello, the caves of Castellana Grotte and Castel del Monte.
Find out how to get the best price you can for your dream home with the insider tips and tricks from our free Negotiation Guide

.
Where are the best places to buy in Apulia?
Itria Valley
The area most popular with British property buyers is the Itria Valley, which spreads across three provinces, each having lovely small towns. In the Province of Bari: Alberobello, Locorotondo, Noci. In the Province of Brindisi: Ceglie Messapica, Cisternino, Fasano, Ostuni, Villa Castelli and in the Province of Taranto: Martina Franca. Within a few minutes' drive of a town, you can find detached properties with land and a pool, where you can relax in the peaceful countryside.
In this area you will find gentle rolling hills, and a variety of properties for sale, including the famous trulli houses, lamie, villas, masserie and town apartments. Those on higher ground may even have views across olive groves towards to sea. For all year round living, you may want to be near a sizeable town with good facilities such as large supermarkets and a hospital. Ostuni, Ceglie Messapica and Fasano all fit this criteria and there are also hospitals in Brindisi and Bari.
Around Brindisi
Many British buyers want a property that is a short drive from Brindisi airport, the sea and Ostuni. For this reason, San Vito dei Normanni and Carovigno have a growing expat community, many of which are either retired or just use their property for holidays. If you want to Iive here all year round, I would recommend venturing a bit further inland to less touristy towns, where the Italians choose to live. Here you will find lower house prices, lower taxes and well priced restaurants.
Heading along the SS7 dual carriageway towards Taranto, you pass by two out-of-town shopping centres and some lovely towns to feel at home in. All of my favourite towns along this route have a castle and a lovely historic centre. These include Mesagne, Oria, Francavilla Fontana and Grottaglie. The last of these is often overlooked as it comes under the province of Taranto, but should be on everyone's list of places to see, due to its amazing potters district. Here, you will find many potters working in their individual shops in a street that winds around the castle.
Another town that deserves a mention is Manduria, made famous for producing fine wine. Look out for the Primitivo di Manduria and the Negroamaro Salento at your UK supermarket or visit the wineries where you can buy a litre of wine for €1.50! All the towns have lovely historic centres, best seen on foot, so don't just drive through the residential areas, park up and explore the heart of the town with its old stone streets and piazzas. Residents of the more central towns all head to the beaches below Manduria in the summer. Along the Ionian coast you will find some of the best sandy beaches in Puglia, often backed by a row of sand dunes.
What are flights like to Apulia?
There are two Puglian airports, one near the region's capital of Bari and the other is an hour-and-a-half drive down the coast at Brindisi. Ryanair offers regular year-round flights from Manchester and London Stansted to Brindisi, and from Liverpool and London Stansted to Bari. Easyjet does summer flights from Manchester and Gatwick to Bari, and from Bristol and Gatwick to Brindisi. British airways from London Gatwick to Bari and Heathrow to Brindisi.  From Bari and Brindisi it is also possible to fly to other interesting cities in Italy and across Europe. So you can easily make trips to Rome, Pisa, Milan etc.
What types of property can you find for sale in Apulia?
What makes Puglia stand out is the pure range of architectural styles of property available. There are medieval villages with narrow stone streets and white washed buildings and palazzi with baroque facades. In the countryside there are trulli, lamie, historic and modern villas and large masserie. But can you expect to see when viewing one of these properties?
What makes Puglia stand out is the pure range of architectural styles of property available.
Trulli
Trulli are built circular with each stone chipped to fit perfectly, including the rooves which rise up into a pointed cone shape. Originally, they were laid dry, without mortar, so that they could be dismantled, should the tax collector make a visit. The walls and pinnacle are whitewashed with lime, but the stone on the cone-shaped roof is left exposed. On top of the conical roof a pinnacle is hand carved by the stonemason as his trademark. Symbols painted on the rooves give them an air of mystery and magic, and you can almost imagine them being the homes of little fairy folk. In the town of Alberobello there are over 1,000 trulli and the streets leading to the Church of Sant'Antonio are recognised by UNESCO World Heritage.
Trulli can also be seen in the countryside around Locorotondo, Fasano, Ostuni, Cisternino, Martina Franca and Ceglie Messapica and are used as homes, shepherd shelters and storage for farming tools. The high stone ceiling and the lack of windows makes them a cool holiday retreat in the summer. Many foreign buyers have renovated them into pretty holiday homes. Puglia has some very skilled stone masons who still build trullo, stone walls and vaulted ceilings.
Lamia
Like the trulli, a lamia is built from the local limestone, but instead of a cone roof, it is more cube shaped in appearance. However, they frequently have barrel or vaulted ceilings and fireplaces which add character to the insides. Often a lamia will be alongside a trullo and they work well together to create a nice home.
Find out what you need to look out for when you're looking at properties in Italy with your free Viewing Trip Guide

 today.
Masseria
Built between the 16th and 18th century, these large fortified farm buildings were constructed to house the farm workers, equipment and animals. Buildings are generally on two sides of a large courtyard, with the only two-story section being used for accommodation. Around the courtyard they built a high stone wall to protect them from thieving invaders. The only external entrance was the large courtyard gate, big enough to allow access for a horse and cart. All other doorways opened onto the courtyard.
The large masserie would also have a small chapel, a cantina (cellar), wine and olive presses and facilities for threshing, grinding and storing grain. Like the trulli, there was a cistern which could collect rain water from the roof. The buildings were built using the local sand stone, known locally as "tufi". This is a great material to work with as it easily cuts into large blocks for building, allowing them to construct barrelled and star vaulted ceilings. Over the years many have been covered in layers of white wash, but it is worth chipping it off to expose the sandstone underneath.
Take the first steps to your dream of a home in Puglia by reading your free How To Pay For It Guide.
Some masserie continue to be used as farm buildings today, while others have been left empty due to the owners passing away without heirs or the family not being able to afford the restoration work. More recently, people have been buying these rundown masserie to use as private homes, holiday rentals, wedding reception venues, spas, restaurants and hotels. As you can imagine they need a great deal of updating and renovation, but the results can be spectacular. Many of them are very large indeed and require a large investment to match, but occasionally smaller ones come up for sale which are ideal as large family homes or B&Bs. Prices vary greatly from 190,000 to millions, depending on the location, condition, building and plot size, which can be very large.
Villa
There are both modern and historic villas for sale, many of which are on one level and have some land around them. The historic villas have elegant stone window and door surrounds to the front and can appear to be quite small. However, this façade can be deceiving as once inside they can be very spacious with high ceilings and decorative features. Modern villas are generally boxy in appearance due to the flat rooves, which might be used as roof terraces. A large covered veranda with space for dinning outside is a great bonus and also helps keep the rooms cooler. A pool of any size is also very popular for taking a cool dip in the heat of summer.
A large covered veranda with space for dinning outside is a great bonus and also helps keep the rooms cooler.
Palazzo
In the historic centres (centro storico) you will notice some buildings with large wooden doors and impressive carved stone surrounds. They may even have a sign with the family name and a construction date in roman numerals. This is a palazzo, a house once owned by an important noble family in the town. In some cases, part of the ground floor is used by shops, but if you peek through the large wooden door you might see a huge stone staircase leading to a first-floor apartment. The rooms are often very spacious with high ceilings and, in some cases, there may be original old frescos. You can actually feel like you are in a palace.
Download your Healthcare Guide to find out how to getting medical attention overseas.
Apartments
Young Italians tend to favour modern apartments with parking and a balcony or roof terrace. If you are not used to living in a flat you should be aware that town-centre apartments aren't always quiet places when everyone throws their windows open and families chat from balcony to balcony! However, if you want to be close to the nightlife there are some lovely apartments that come up for sale, even in the historic centres.
What is the property market like for international buyers in Apulia?
In Puglia there are properties to suit every budget from small renovation projects to large Masserie. I spoke to Maureen Mcleod of Elite Puglia Estate Agency about the current property market. Maureen told me that, "Prices are very stable with some great choices of properties currently on the market. Prices vary depending on location and style of property, but you can expect to find 2 bed villas starting from €80,000 going up to €350,000 with a swimming pool. Very much depends on specifications. The trulli properties still achieve a high price, these vary from €150,000 for a two-bedroom home up to €450,000 for a two-bedroom with a pool." Elite Puglia have also noticed a large increase in buyers from throughout the world, due largely to greater press and TV interest in the region and more airlines flying in and out of Brindisi and Bari. As Maureen has been living in Puglia for 15 years, I asked her why she loves living here. Her response, "Where to start… the fantastic food, weather and of course the friendly Italian people!"
So, all that remains is to start your search for property here on our Property Portal, and don't forget to download your free Buying Guide below, if you haven't already. It covers all the key points around the purchase process, the legalities, finances and more.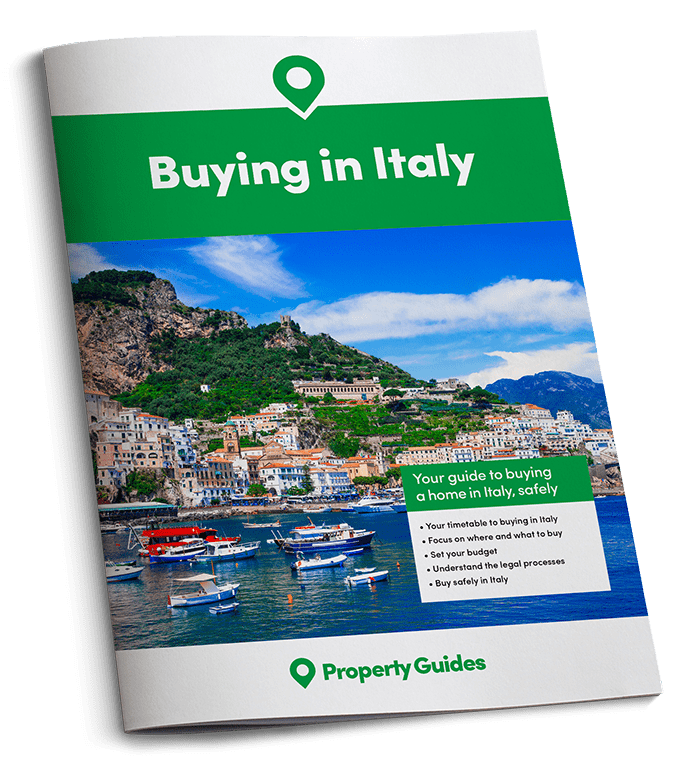 The Italy Buying Guide walks you through each stage involved in buying property in Italy, and offers invaluable insights from expats and experts who understand the process. The guide will help you to:
✔

  Ask the right questions
✔

  Avoid the legal pitfalls
Download your free guide to buying in Italy