Are you concerned about how well your children will settle into an Italian school? I have spoken to a family who have already done it and compiled a guide to the Italian school system.
The biggest difference you will find in Italian schools is the long summer holidays. They start around the 9th June and end in the second week of September. Yes, three months of fun down the beach or in the countryside with their friends. There has been talk of reducing it to fit in with the rest of Europe, but when you see how hot it gets in southern schools in the summer, you'll understand how difficult it would be for children to work in that heat.
Many Italians cities have international schools with good reputations and small class sizes. If you are only going to be in Italy for a short contract or have teenage children, these may be the best option. Your children will then be able to continue their education in English with a similar curriculum. These schools can be rather expensive, however, and it will take longer for children to integrate into their Italian community.
Education is compulsory from the age of 6 – 16
Fees vary greatly from school to school. I have seen fees published ranging from €3,500 to 21,000 per year, averaging around the €9,000 mark, but many other schools will only release their rates when a parent enquires.
When Ian and Lucy moved to Puglia and opened their holiday apartment business in a beautiful restored masserie, Masseria Giulio their daughters aged six and nine came with them. They considered sending them to an international school, but the nearest was 25 minutes away and they were concerned that their daughters wouldn't have any friends nearby. I asked them how they approached sending them to an Italian school?
Ian said: "We were both very keen that the children should (hopefully!) become bilingual, as we believe that confidence in being able to learn and speak different languages would open up a huge range of opportunities for them in the future. So, we decided that our preferred option would be to send the children to a local Italian school. Our first step was to arrange a meeting with the headmistress of the school and discuss what the girls could expect and also how the school would be able to support them. This was hugely important for us, as it gave us confidence in the system and the level of assistance that our girls would receive. We decided, along with the headmistress, that our eldest daughter would be better off repeating a year of school. This proved to be a really good idea as it meant that in some subjects e.g. mathematics, she was re-doing things that she already knew, but just doing them in Italian. One real benefit of this was that there was always at least one subject where she was "top of the class" and achieving excellent results, which was important for her self-confidence."
Their six-year-old had already done one year at school in England. As children don't start primary school until they are six in Italy, it was easier for her to start school with other children her age.
When the girls started school they were the only English children in the school and their Italian was limited to counting to 20, colours and the basic yes/no/please and thank you. I asked how the school and other pupils reacted to this?
Ian told me: "The teachers, pupils and parents have been amazing. Most have looked at having a native English speaker in their class as being more beneficial than any delays that may have resulted from our children needing a little bit more support. One of the things that has really benefited our children is that at our local primary school the same teacher stays with the class throughout their time there. This meant that both our children were able to build up a good relationship with their teacher and also that their teachers were better able to judge how well their Italian comprehension was improving, and to keep challenging them to get better. This stability also meant that each new year was less of a scary prospect and was one less change that our children had to deal with."
They both have a big group of Italian friends and attend several after school clubs.
Now the girls have been at an Italian school for two years. How have they settled in?
Ian said, "Our children now need no (or very little) extra support and are treated exactly the same as all their classmates. Their Italian is doing really well (they're probably a couple of years behind on the depth of their vocabulary but are gaining ground all the time) and it is fantastic to see our eldest daughter writing long history essays on the Ancient Egyptians in Italian. She has just moved to Scuola Media (middle school) this year and seems to be loving it. She will be 12 in a couple of months and is turning into a typical Italian teenager – wanting to go into the local town to 'hang out' with her friends in a local café!
"How well our children would settle in and do at school was the biggest concern that we had when we decided to sell up and move to Italy. But kids are amazingly resourceful and just seem to get on with life rather than worrying about the extra challenges they have. They both have a big group of Italian friends and attend several after-school clubs (athletics, horse riding, swimming, etc). With the benefit of hindsight would we do it again… without a doubt! I really believe that our daughters' experience has given them the confidence to deal with massive change, and it is interesting to hear how open they are about travelling anywhere in the world already."
Guide to the Italian school system
School terms and hours
To make up for the long summer holiday, Italian schools don't have half-term holidays and many older children go to school on a Saturday morning. The school year is divided into two terms, 'quadrimestri' these are autumn and spring with a break at Christmas and Easter. At the end of each term, students receive a 'pagella', a report card with their grades. Six is a pass and ten is the highest mark. Parents also get the opportunity to meet the teachers, to discuss their child's progress.
The school day usually starts at 8.00/8.30am and finishes at ten past one. Mid-morning they will have a 20-minute break to have a drink and a snack. However, more and more schools are switching to an 8am – 4pm school day, particularly in the cities and in the north, where it fits in better with parents' working hours.
After school, children go home to have lunch with their family, then do their homework. This can be as much as two hours a day for 11-year-olds rising to five hours for older teens. But, they still find time in the evening to do various sports, dancing lessons etc. and these offer a great opportunity for children to make friends and practice their Italian in a relaxed atmosphere.
Attending an Italian school
As EU citizens, your children are entitled to attend school in Italy under the same conditions as nationals of that country and education is compulsory from the age of 6 to 16. They have the right to be placed in a class with their own age group, at the equivalent level to their class in the UK, regardless of their language level. If you are an EU national migrating to Italy for work, your children are entitled under EU law to receive free language tuition in your new home country to help them adapt to the school system there. Children usually adapt very quickly and soon pick up the language when they spend time with their new Italian friends. It may be more difficult for older teenage students who are already part way through a curriculum leading towards exams.
You can choose which school you think will suit your child, as enrolment in an Italian state school doesn't depend on your living within its catchment area. However, if there is a high demand for places priority may be given to those children living nearest. Enrolment periods can vary, so check with your chosen school.
Italian Schools
There are six stages to the Italian Education system: Nursery school (scuola dell'infanzia), primary school (scuola primaria or scuola elementare), middle school (scuola secondaria di primo grado or scuola media), upper secondary school (scuola secondaria di secondo grado or scuola superiore) and University (Universita). There are also nurseries for under 3s, run both by the state and privately. Parents usually pay between €300 and €500 per month for these.
Scuola dell'infanzia (Nursery/Pre-school) Age: 3-6
This is non-compulsory, but many Italian families do send their kids 'all'asilo' (to pre-school) particularly if both parents work. It gives young children the opportunity to start socialising and to learn basic Italian vocabulary. Children at pre-school usually wear a 'grembiule', a school smock over their everyday clothes. Boys wear a blue and white checked grembiule, while girls wear a pink/red and white checked one. State-run pre-schools are free, but you do pay about €50 per month for the cooked school lunch. There are privately run pre-schools charging around €150 per month. These prices may be more in affluent city areas.Scuola Primaria (Primary School) Age: 6-11
The educational curriculum covers Italian, English, mathematics, natural sciences, history, geography, social studies, physical education, music and art. Children are taught to write in a form of joined up writing called 'corsivo', which to English readers can sometimes make an "n" look like an "m". Computers and iPads are often used, especially when presenting students projects. There are usually three main teachers per class and an English teacher who works across several classes. Boys usually wear a blue smock and girls a white one. They can be bought in clothes shops and supermarkets, and personalised with a sew-on motif. Some schools have switched to logoed t-shirts and sweatshirts for older pupils. Hours are usually either 8am – 1pm, Mon-Sat or 8am- 4pm, Mon-Fri. Schooling is free, but you will need to buy books and pay for lunch, if they finish at 4pm.
Scuola secondaria di primo grado (Secondary school) Age: 11-14
This level is also referred to as "Scuola Media" (Middle School). Students generally wear jeans and the school logoed t-shirt or sweatshirt. In Italy jeans are generally accepted as smart work wear, even in the workplace, although in offices they are usually worn with a smart shirt and jacket. Primary and secondary school children need a large rucksack (Lo zaino scolastico) to carry all the books back and forth to school, they will also need exercise books, pens, pencils etc. and most importantly a school diary (diario) to write their homework in. School hours are the same as for primary schools, and on occasion they may be asked to go into school in the afternoon for extra lessons when working on a project or towards a test.
Scuola secondaria di secondo grado (Upper secondary school), Age: 14-19
Also known as "Scuola superior" or less formally as "Le Superiori". There are three types of scuola secondaria di secondo grado. They are:
Liceo (lyceum) – as well as core subjects like history, Italian literature and maths, they will also specialise in a particular field. In Liceo Classico, for example, they will also do ancient Greek.
Istituto tecnico – offering both a theoretical education and a specialization in a particular field of studies (for example economy, humanities, administration, law, technology, tourism.)
Istituto professionale – this refers to vocational schools preparing people for specific trades, crafts and careers. Some schools offer a diploma after 3 years instead of 5.
Esame di stato / esame di maturità
Between June and July of their last year of secondary school, at around 18 years old, all students do final exams, which are particularly necessary when applying for university.
Universita (University)
Italy has some very good state and private universities, particularly in in the major cities like Rome, Milan, Turin, Florence and Bologna. Some courses can be taken in English, and others may have sections that are in English. When Italian students apply to university the fees are based on the economic position of the family (the parents and grandparents). The average-income family will pay in the region of €2,000 per year for a state university, while a higher income family might pay €3,500. Private universities charge more, in the region of €7 – 10,000 per year. Applicants are required to sit entrance exams for Italian universities.
Home schooling
Home schooling is a possibility for some families, but parents must annually notify the appropriate school authorities of their intent to home school. In addition, parents or guardians must demonstrate that they have the "technical" or "economic" capacity to teach their children at home. "Technical capacity" meaning that the parent must have completed two full academic years of schooling beyond the level of the children he is currently teaching.
One way of finding out what schools are in the area you plan to live, is to visit the Comune website , click on the province your home is in, then click "Scuole Provincia di …………..". You will then find a list of schools in the province and in each town within it.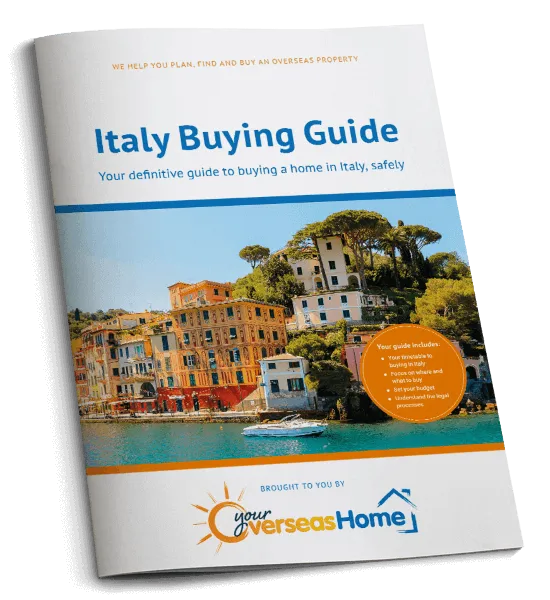 The process of buying property in Italy is significantly different from here in the UK. This is why we've created our completely free Italy Buying Guide, to provide those dreaming of a new life in Italy with all of the practical, legal, and financial information needed to help them realise that dream.
✔

  Ask the right questions
✔

  Avoid the legal pitfalls
Download your free guide to buying in Italy