House hunting can be exciting and at the same time a little scary. This could be the start of an amazing new adventure! As long as you go prepared, ask questions and do some research, you'll be fine. Having been through the process myself, here are a few tips to the most effective viewing trip to Italy.
Prepare for your viewing trip to Italy
Firstly, speak to a trader at Smart Currency Exchange. They will help you calculate what your budget in sterling will get you in euros. Don't forget to take off the estimated purchase costs for registry, notary, estate agent etc. You will also need to be ready to transfer funds to pay a deposit, so maybe ask about prefunding your Smart currency account. But don't be rushed into paying any money until you are thoroughly happy that the property paperwork is in order.
I've heard expats in the south saying "I didn't realise it got this hot", and ones in the north say "I didn't expect winters to get so cold".
When buying a country house, make it clear to the estate agent whether your budget is for a ready-to-move-in property or you need to take renovation costs out of it. There's nothing worse than being taken to see your dream house and then realising that renovation costs would put you way over your budget. A serious renovation will probably require a budget of double the purchase price. So if you have a maximum of €150,000 to spend, look for renovation projects of no more than €75,000.
Before you even speak to an estate agent, you need to know how many euros your pounds will buy. When you register with Smart Currency Exchange you will be able to talk through your plans and budget with your own dedicated trader. To begin with, read the Property Buyer's Guide to Currency.
If you are sure of the area where you want to buy, it is worth also getting recommendations for English speaking lawyers in the area. Check out local expat Facebook pages, forums and blogs to get a feel for what life is like there. Do a Google "news" search to see if there have been any problems in the area with earthquakes, flooding or landslides. Check out the climate for the region. I've heard expats in the south saying "I didn't realise it got this hot", and ones in the north say "I didn't expect winters to get so cold".
Also, make a note of any Italian bank holidays or special events that may fall within the dates of your trip. You might not be able to do viewings on those days.
Should I look at a renovation project?
Before even looking at houses needing renovation, consider whether you feel able to deal with the hard work and financial costs. Are you prepared for how long the process could take? If in doubt, I would recommend buying a property already renovated and save yourself the stress.
Try to avoid buying a property that needs work requiring planning permission. The cost and time involved in getting permissions can take a large chunk out of your budget. It tends to be better to buy a property the size you need, that requires just interior work. Old country properties that have been left abandoned will provide plenty of internal jobs to keep you busy. The fewer tradespeople you need to deal with the better. We had two sayings when we were renovating our own property. The first is, "If you want a job done well, do it yourself". The second is "If someone else can do it, I can do it".
Set out what you need in a property
Do a list of what your property requirements are, but be open to compromise on the less important ones. Do you want a main residence or holiday home? How many bedrooms do you need? Are views important to you? Do you need good internet? How far are you willing to drive to the airport, shops and hospital? Does it need to have rental potential? Are you willing to do some renovation work? Make sure the estate agent is given a list of your requirements in advance of your trip.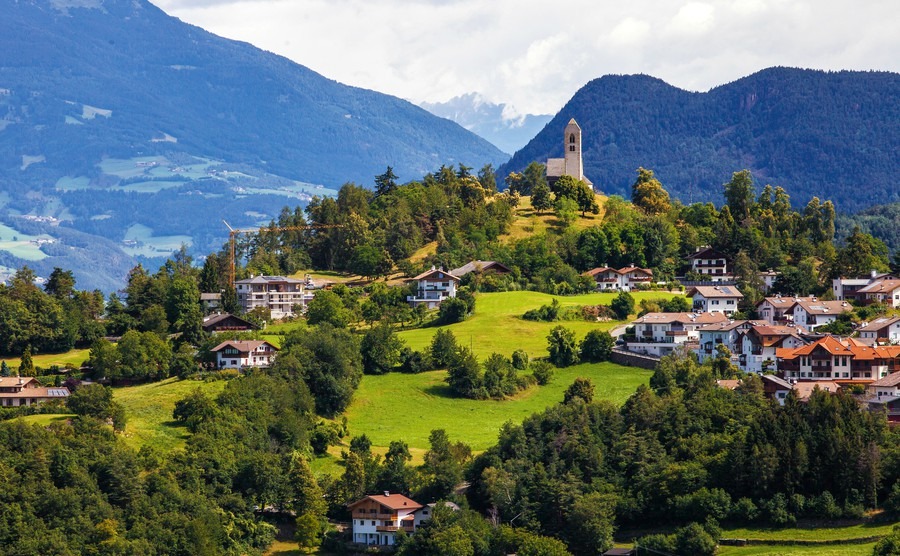 Try not to be wooed into taking on more space and land than you can manage. A farmhouse with swimming pool, set in 10 acres, sounds idyllic, but bear in mind the maintenance and running costs. Requests for large south-facing windows, conservatories and indoor staircases going up to the bedrooms may be the norm in the UK, but when you are in Italy you need to consider the different weather conditions. In hot regions the very opposite may work better, and a shady veranda is a bigger priority. You really don't want to be behind glass on a hot day in Apulia, while a bed in the cellar becomes a blessing.
Check the location
Often estate agents don't put the exact location of a property on their website, or even the real property name. This is primarily so that you or other agents can't approach the seller directly. If you know exactly which properties you plan to view, try asking the estate agent for the precise locations. Even with sketchy details it may be possible for you to play detective and find it on Google Earth. You can then check out the area on your viewing trip. Look out in particular for any nearby factories, sewage works, quarries and hotels that may create noise, smells or dust.
By also using a site like ViaMichelin you can calculate driving times to the airport, nearest town etc. However, no matter how much you look on the internet, it doesn't replace actually going there and getting a feel for the place. That is why we really do recommend taking a viewing trip to Italy. Never agree to a purchase without seeing it in person. I recently heard of an Australian who paid a deposit on a house from just the photos. It turned out to be in the middle of an industrial zone near a large steelworks.
I haven't met an Italian estate agent yet that gives out printed property details.
If you want a property with potential for holiday letting you need to consider what the area offers tourists and how easily guests will be able to get to the airport and visit restaurants and shops. That property on the internet with the great views at an amazingly low price? It's probaly cheap for a reason, so make sure you know what that reason is! Often it will be that is in a very remote location. So, before the estate agent starts driving you for miles and miles along dirt tracks and up mountains, let him know exactly how remote you are prepared to go.
What to take on your viewing trip
When viewing a number of country properties, keep a record of what you see at each one. Otherwise at the end of the day, all the information will begin to blend together in your mind. I haven't met an Italian estate agent yet that gives out printed property details. It is useful to take a map so you can plot the location for further reference when you check out the surrounding area. Also, take a camera, tape measure, calculator and notebook to record your notes. Be prepared to ask lots of questions. No-one will mind you asking questions, in fact they are more likely to think you are a timewaster if you don't.
When you go house-hunting you need to treat it as a mission rather than a holiday. But, once you have found your perfect home, everyday will feel like a holiday after that.