If this summer's invitation to join George and Amal Clooney and the twins at Lake Como has got lost in the post (again!), maybe you'll just have to buy your own place there. It's surprisingly affordable, but which will you choose?
Since 2002 George Clooney has enjoyed many summer holidays at his 18th century villa, "Oleandra", sometimes accompanied by fellow Hollywood A-listers Brad Pitt, Matt Damon, Catherine Zeta Jones and Michael Douglas. This summer the buzz in the local village of Laglio is all about whether anyone will get a glimpse of the new twins, Ella and Alexander, born to George and Amal on the 6th June in London. The Clooney family were spotted last week arriving at Milan airport and at the weekend the proud parents had a meal with friends at the restaurant Il Gatto Nero in Cernobbio. If you want to live in the same street as the Clooney family, there is currently a seven-bedroom villa for sale for €2.5 million.
He is not the first to be bewitched by this beautiful lake – the poet Shelley said: "This lake exceeds anything I ever beheld in beauty," – and the two others that sit alongside it, Lake Maggiore and Lake Garda. Could it be their dramatic scenery, beautiful gardens, elegant villas and romantic lakesides terraces? Or maybe it is the pretty villages and opportunities to sail, cycle, hike and even ski. For most house hunters however, like Shelley, it is all about the view.
For most house hunters, it is all about the view.
Lake Como
Lake Como, (Lago di Como in Italian), is Italy's third largest lake and is surrounded by charming towns and villages such as Tremezzo, Bellagio and Menaggio. Partly due to the popularity with the rich and famous, property prices on the water's edge with those stunning views of the blue-green lake and towering Alps, run into the millions. The outstandingly beautiful scenery has attracted poets, composers and artists of all kind for centuries and is a popular summer retreat for people who work in the cities.
Lake Como's popularity with visitors from around the world also means there is great potential to rent out your Como home to tourists. There are many events and activities to keep them entertained and a property with a nice lake view is always a winner. Prices are more reasonable in the hills around the lake and you can still get those amazing views.
Click here for apartments and houses in the hills from €50,000 and three-bedroom houses overlooking Lake Como from €150,000 on Rightmove
Lake Maggiore, Piedmont
Lake Maggiore is the second largest lake in Italy, stretching into Switzerland, with beautiful mountains as its back drop. There are some lovely resorts including Stresa, Verbania, Ghiffa and Baveno, with tree-lined roads and elegant gardens overlooking the lake. Picturesque islands further add to the scenery, such as Isola Bella which is crowned by the 17th Century Palazzo Borromeo. The area has easy access to skiing and other mountain pursuits. The area is popular with the Milanese, as the city of Milan and its airport are only about 45 minutes' drive.
Lake Garda is Italy's largest lake and has inspired artists, writers and film makers with its breath-taking scenery.
Property here is in high demand, especially with second homebuyers, and offers great rental opportunities all year round. Lake view apartments can be found on Rightmove from €200,000, three-bedroom houses from around €300,000.
Lake Garda, Lombardy
Lake Garda is Italy's largest lake and has inspired artists, writers and film makers with its breath-taking scenery. The villas and towns are full of luxury and charm and it's a great base from which to visit the dolomites. The most popular town is Sirmione, with its historic Rocca Scaligiera castle, spas and numerous restaurants, bars, fashion stores and market. Garda town is also popular, as is Riva del Garda for the Varone waterfalls located nearby. The lake has numerous small islands and five main ones, the largest being Isola del Garda. You can travel between towns using the lake's ferry boats. Families are drawn to the areas nearest to Gardaland, which is one of the most famous theme parks in Italy. The area is easy to access by car or train, making it possible to enjoy day trips to Venice or Milan and to use either airport.
Lake view apartments on Rightmove overseas from €179,000, three-bedroom houses from €195,000.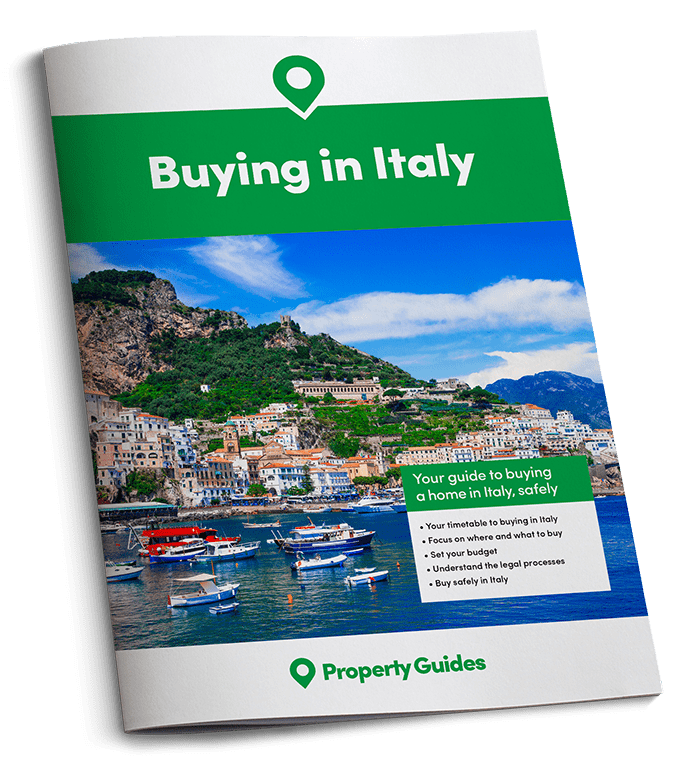 The Italy Buying Guide walks you through each stage involved in buying property in Italy, and offers invaluable insights from expats and experts who understand the process. The guide will help you to:
✔

  Ask the right questions
✔

  Avoid the legal pitfalls
Download your free guide to buying in Italy