Parli Italiano? Do you speak Italian? Here are some tips on how to learn the Italian language, while keeping it fun.
Italians are very proud of their language and it certainly has a nicer ring to it than many other European languages. Although it is the main language taught in Italian schools, some towns also have a local dialect, which can be rather confusing when you think you have a pretty good understanding of Italian, but don't understand a word your neighbour is saying to you (especially the ones that speak quickly, stringing all their words together without taking a breath!). No matter how many times you practice a sentence, quite often they will just look at you and say "Ugh?" then after repeating it a few times they will go "Aaagh!" And repeat it back to you, leaving you thinking, "isn't that what I just said?"
If you want to ask someone a question in the street it is usually safer to ask a young person, as they are more likely to have learnt some English at school and so with a mixture of your "poco Italiano" and their little English, plus a few hand gestures thrown in for good measure you will get by just fine. No matter how little Italian you know, they will appreciate you trying, and even if staff in tourist towns enjoy practicing their English on you, still try and speak back using some Italian and ask them what an item is called in Italian, to increase your vocabulary.
By speaking out load it will build up your confidence to speak when you are in Italy.
It is a good idea to learn basic Italian before moving to Italy and there are so many learning resources to choose from, it's just a matter of deciding which suits your personal style of learning. Some people seem to have an ear for languages, whereas being a woman over fifty I have enough trouble remembering where my keys are, without remembering Italian grammar. Here are some learning options that will make learning fun.
Books and CDs
Just as a child learns its mother tongue it can be very useful to start with some basic vocabulary. A child's picture dictionary can be a very useful starting point and labelling things around the house. When buying a beginner's language book it is worth paying a little extra for one with a CD, as it is important to get the pronunciation right from the start. Listening and repeating short sentences will help you understand the way Italian sentences are structured. The "Teach yourself" range are very good. There are plenty of exercises that allow you to practise the language as it is introduced with tips throughout to help with pronunciation and grammar. By speaking out loud it will build up your confidence to speak when you are in Italy. Don't worry about making mistakes even if they can get you into some amusing situations. Like when my husband said to the plumber that he wanted a solar panel on his "tetta", meaning "tit", instead of "tetto" meaning roof. Once the plumber had stopped laughing he managed to use hand gestures to explain the difference.
Online resources and apps
There are loads of free online resources for beginners learning Italian such as such as busuu and Babbel and websites where you can find free flash cards of some of the basic word groups such as Quizlet and I have heard of expats using courses such as Rocket Languages.
Mobile phone apps can also be useful particularly when you are in Italy, and you just want to find the translation of a word while you are out shopping
To improve on your ability to understand Italian, try singing along to Italian songs on Lyrics Training which also translates the words for you. Or watch video clips of people speaking Italian on websites like Yabla. To practice reading Italian just look up some of the Italian news websites online. Mobile phone apps can also be useful particularly when you are in Italy, and you just want to find the translation of a word while you are out shopping. Things like names of herbs can be confusing and most apps will speak the pronunciation for you.
Language courses in the UK
A good place to start looking for an Italian language course in the UK is at your local County Council Adult Education Centre. These may take the form of evening classes or intensive week courses. As an example, Buckinghamshire County council just did a four day course (10am -1pm) for £66.
Language courses in Italy
If you have the free time you could enrol on a short course at a language school in Italy. Apart from it being an excellent way of learning the language, it can be a great way to meet people and immerse yourself in the language and culture. The school will often help you find accommodation with a local family, your own apartment or somewhere to share with other students. Some schools offer excursions so you can learn about the local area.
If you're really serious about studying Italian, you should pick a school with ASILS accreditation. ASILS stands for Associazione delle scuole di italiano come lingua seconda (Association of Schools of Italian as a Second Language). It's a governing body that effectively ensures you're getting the best Italian education possible.
Private Tuition
To learn Italian quickly, hiring a private tutor for one-to-one lessons can be very beneficial.
Personal Italian lessons mean that you can tailor learning to your particular needs and ensure that you will learn at your own pace. Private tutors can be found at language schools and colleges, but may be very expensive. If you do a bit of research you may find an Italian living in your area who tutors at home, you can save a lot of money and still get the same high quality teaching. You may even find a local Italian who will do Italian conversation practice with you in exchange for some help with their English.
Before moving to Italy try reading, listening and speaking Italian as often as you can, using a combination of methods, to keep it interesting. For most of us, learning Italian is a long journey, but once you are in Italy and you are surrounded by people speaking Italian, shop signs, TV and radio, you will gradually pick up enough to get by. "Piano, piano" (Slowly, slowly).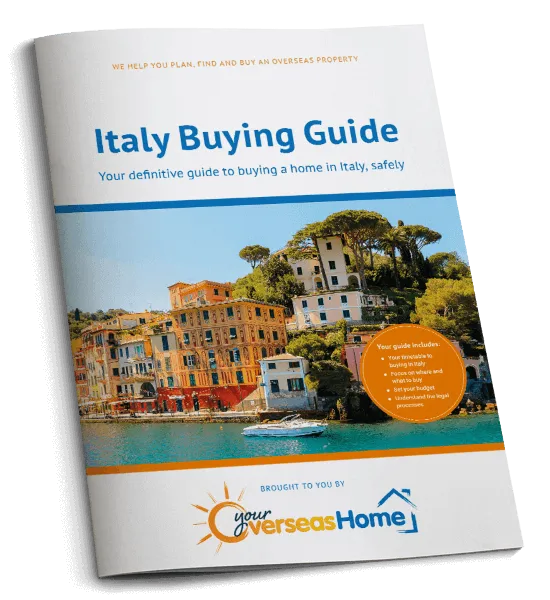 The process of buying property in Italy is significantly different from here in the UK. This is why we've created our completely free Italy Buying Guide, to provide those dreaming of a new life in Italy with all of the practical, legal, and financial information needed to help them realise that dream.
✔

  Ask the right questions
✔

  Avoid the legal pitfalls
Download your free guide to buying in Italy