Along with Italy's varied landscape there are also many styles of property on offer. Which should you ask for, and do you know your trilocale from your casa gemella?
Here are the most common property types and the Italian vocabulary you might come across in your property search:
For an up-to-date quote and guidance on your currency transactions, we recommend Smart, ranked highest on Trustpilot for money transfer and currency exchange.
Appartamento in vendita – Flat for sale
Appartamento – apartment
Monolocale – studio flat
Bilocale – two room flat
Trilocale – three room flat
Prima piano – first floor
Camera – room
City apartments are generally in buildings less than seven storeys high, with flat roofs, and balconies providing outside space for each apartment. The ground floor is often leased for commercial use, such as a bar, restaurant or shop. Top-floor flats are most sought after and sell for the highest prices, because they are quieter, lighter and have the best views. This two-bedroom apartment in Florence has views across the rooftops to the Arnolfo Tower and Brunelleschi Dome, and costs €390,000.
Palazzo apartments are literally palatial. While newer buildings tend to have lifts, apartments in old palazzos in the historic centre often only have stone or marble staircases, albeit they may be very grand. Palazzo apartments also have the benefit of large rooms and beautiful frescoed ceilings and walls. This three-bedroom apartment near Pisa is priced at €420,000. Imagine showing guests into that living room! Click on the image to see the property.
Hilltop village apartments tend to have steep and narrow staircases, which is something to consider when choosing furniture. Roofs are usually timber with terracotta roman tiles. Take a look at this two-bedroom apartment for sale in Montecatini Val Di Cecina, Tuscany for just €170,000.
Country apartments are becoming increasingly popular, especially as holiday homes. In expensive regions such as Tuscany, where a castle (castello), villa, monastery or convent is out of most people's price range, you can now find these beautiful properties split into apartments. This one-bed apartment in a Tuscan Monastery has an asking price of just €110,000.
Sea or lake view apartments often look like villas from the outside but are split into apartments. A waterfront home can become much more affordable when you consider an apartment rather than a house. Like this new one-bedroom apartment with lake views for €168,000 (pictured), or this two-bedroom apartment by the sea in Abruzzo for €150,000.
Casa invendita – House for sale
Casa – house/home.
Casa a schiera – terraced house
Casa gemella – semi-detached property
Casetta – a small house
Villa – detached house with garden/land
Villino – cottage/small house with garden
Chalet – mountain houses
Italy's small villages (Borgo) have small, quaint streets full of traditional properties often built of stone or brick. These houses may look narrow and small from the front, but they can be surprisingly spacious inside, as they go back a long way and have many floors. They may even have some outdoor space such as a courtyard, balcony or roof terrace. However, parking is usually difficult, due to the narrow streets. Inside you might find character features such as tiled floors, wooden beams and stone fireplaces. Villages on hilltops also tend to have great views of the surrounding countryside. Take a look at this town house in a hilltop village in Liguria, €150,000. Click on the picture to see it.
A house in a hamlet offers a great escape from city life. Many of the smaller hamlets have become deserted over the years, but thanks to ambitious developers some have been bought in their entirety and renovated ready for resale. The houses for sale in these hamlets make perfect holiday homes, and often share a swimming pool, gardens and tennis court with other properties on the site. Such as this two-bedroom house in a restored hamlet in Tuscany is €198,000.
Country villas (villa in campagna) were originally designed as a retreat from life in the city for the wealthy. Even today, many city dwellers own a country villa for weekend and summer breaks. Average sized villas tend to be fitted out with the very basics needed for family holidays. So, if you are looking at buying one to live in all year round, don't be surprised if the kitchen is rather smaller than you are used to or it has no winter insulation or heating. Of course, there are also some very grand luxury villas and a few in this Liberty style, as Italy's Art Nouveau is called.
Around the Lakes of the Lombardy region there are villas of varying styles and sizes, with stunning lake views, with prices to suit every pocket, such as this one for under £80,000.
Even by the sea you can still find holiday villas at good prices. This two-bedroom sea-view villa on Sardinia is €150,000
Anyone who loves the mountains and winter sports will have a picture in their minds of a pretty wooden chalet with a roaring fire. And the Alpine regions of Italy don't disappoint. You can find chalets made of wood (Legno) with exposed beams, over-hanging roofs and wrap-around wooden balconies, covered in flowering window boxes. You will also find stone-built properties with cosy stone fireplaces. The whole design is aimed at keeping in the heat and keeping out the cold, like this beautiful three-bedroom chalet in Piedmont.
Farmhouses are a popular choice with British house buyers looking to make the move to Italy. Usually stone or brick built they offer good sized family accommodation with plenty of outside space. Large farmhouses also have the potential to be used as B&Bs or to offer holiday rental accommodation in part of the house or outbuildings. There are still opportunities for anyone looking for a house to renovate (rustico). Such as this farmhouse in Le Marche for €150,000.
If you want a trilocale but your budget is more bilocale, you'll need all your bargaining skills. Download our guide: How to Negotiate Abroad.
There are many styles of property for sale across Italy, from the very modern apartments in Milan to the cave dwellings in Basilicata. Prices can be as little as €40,000 for a village house and as much as €60 million for a castle or country house. But, there is sure to be a beautiful home to suit every taste and budget.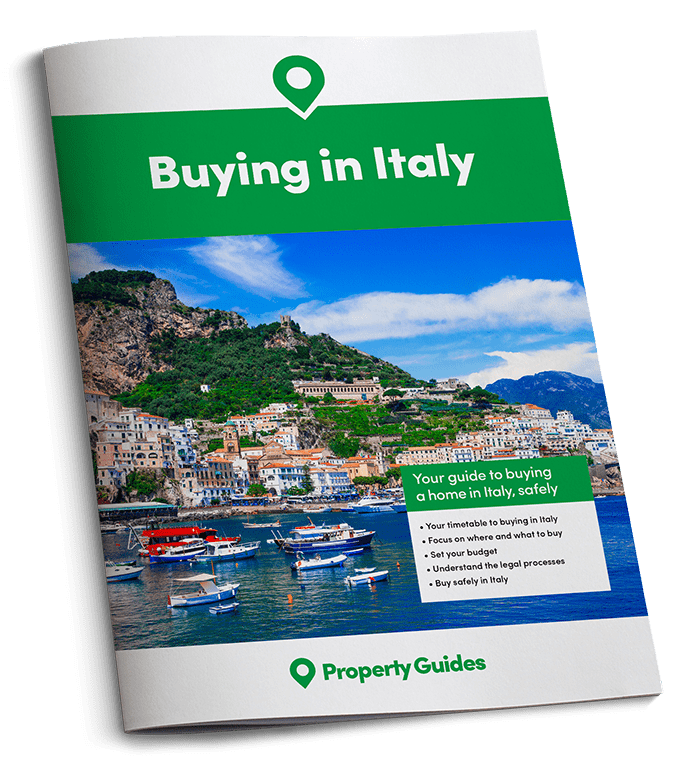 The Italy Buying Guide walks you through each stage involved in buying property in Italy, and offers invaluable insights from expats and experts who understand the process. The guide will help you to:
✔

  Ask the right questions
✔

  Avoid the legal pitfalls
Download your free guide to buying in Italy