Imagine owning a country house in Italy with your own vineyard, sitting on your terrace, overlooking your own fields, with a glass of your own wine. You could be, explains our writer in Italy.
To buy a large wine estate that produces enough grapes to make you money, you will need a few million euros. It is still possible to have your dream with a smaller budget, however, so as the grape harvest reaches its busiest this weekend, we see how achievable is the vineyard of your own dream.
In Tuscany, Umbria and the island of Sardinia you will find Cabernet Sauvignon. For a good Merlot look to Tuscany, Umbria and Lazio.
Looking for a vineyard
With 750,000 hectares of vineyards under cultivation across the whole of Italy, there are plenty of places to start your search. You have two options, either look for a region you will feel most at home in, or if the taste of the wine is the important factor, go to the region where it is grown.
The Italian residential market in the second quarter of 2016 recorded a 23% rise. Among the top cities to see increases were Bologna in Emilia-Romagna and Florence in Tuscany. Both regions not only have popular cities but also a stunning landscape with hundreds of vineyards.
Wine producing regions
Although you will find grapes being grown in every region of Italy, the Veneto and Puglia regions are the biggest producers of wine grapes, followed by Emilia Romagna, Sicily, Tuscany and Abruzzo. Among the 500 varieties of grapes grown, Sangiovese, Trebbiano, Montepulciano, Catarratto, Merlot, Barbera and Chardonnay are some of the most planted.
In Northern Italy, the most popular variety of sparkling wine is Prosecco, which is produced in the rather flat Veneto Region. The well-known Pinot Noir can be found in the Valle d'Aosta, Lombardy and Trentino.
In Northern Italy, the most popular variety of sparkling wine is Prosecco.
Moving down the country the regions of Emilia-Romagna, Tuscany, Umbria, Marche, Lazio and Abruzzo produce two of the most popular varieties, Sangiovese and Trebbiano. In Tuscany, Umbria and the island of Sardinia you will also find Cabernet Sauvignon, and for a good Merlot look no further than Tuscany, Umbria and Lazio.
Most foreign buyers picture lines of grapevines across the rolling hills of central Italy, particularly Tuscany. However, the flatter region of Puglia is a very big producer of excellent reds, such as Primitivo and Negroamaro and offers property buyers better weather and lower prices than Tuscany. Some wealthy foreign buyers want luxurious properties in picture-book scenery, but the British tend to see the benefits of investing in a rundown character property with potential.
Every sip you taste
English singer, musician and song writer, Sting, and his wife Trudie Styler, came by Villa Il Palagio in 1999. Sitting elegantly above a long steep drive with a dream view across the Tuscan hills, they couldn't help but fall in love with the villa. Despite it needing a lot of money and hard work, they saw the potential in renovating the buildings into guest houses and bringing the uncared-for vineyards back to life. Il Palagio now makes an income producing its own wine, olive oil and honey, and renting the property out when they are not using it themselves.
Producing your own wine
You don't need to be wealthy to have the satisfaction of walking through your own vineyard and drinking the wine it produces. With a small vineyard of one hectare upwards, you can usually produce enough wine for your own use. You really need a minimum of 10 hectares if you want to make some money selling your grapes to a local co-operative. Some owners also have agreements with large local wineries.
There is more to producing a good wine than you might think, and even your elderly neighbour who has been doing it for years with his old olive press can just as easily make mistakes, resulting in a foul tasting wine that he can't give away. If you don't know what you are doing, it's a good idea to get a local farm worker who has particular experience with vines, to look after your vineyard in exchange for him getting a share of the harvest. By working alongside him, you will learn more than by studying books.
How many grapes are in a bottle of wine?
You will be surprised just how many grapes it takes to make one bottle of wine. I have seen estimates of up to 800 grapes to make one bottle. Which means it takes a ton of grapes to produce 720 bottles of wine. That is a lot of grapes and a lot of work in the vineyard pruning, weeding, managing bugs, training vines and finally picking and delivering them to the press. But how satisfying when you see those first tiny grapes appear and then grow into succulent fruit to be made into a delicious wine to share with your friends and family. If you are lucky, you might even have a kind Italian neighbour who will go to the press with you to negotiate the best deal.
Once you have found the region you would like to live in, contact agents in that area who will be able to advise you which properties have vineyards. They are not always easy to find on English-language websites and it will probably be easier and cheaper to find a specialist rural estate agent. Remember that neighbouring farmers will always have first right of refusal to buy farmland, so you need to be dealing with professionals.
In the end you might decide that it's more cost effective to buy a property with a view of other people's vineyards and enjoy visiting their wineries instead, like we do. We buy negroamaro for just €1.60 per litre.
Cheers!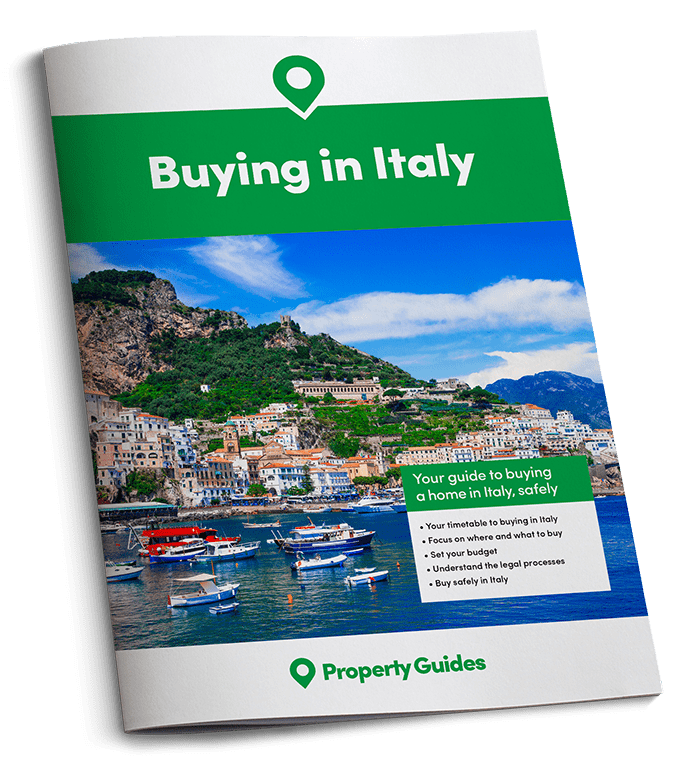 The Italy Buying Guide walks you through each stage involved in buying property in Italy, and offers invaluable insights from expats and experts who understand the process. The guide will help you to:
✔

  Ask the right questions
✔

  Avoid the legal pitfalls
Download your free guide to buying in Italy