If you enjoy Italian city life or at least being close enough to one for shops, hospitals, restaurants and sightseeing, you've probably already considered buying a home in or around Rome or Milan. But there are many other amazing Italian cities. They each have their own style, history and traditions and those all-important amenities. Here are five great cities to buy property, including average prices from Immobiliare.it. 
1. Florence (Firenze), Tuscany
Florence is without a doubt one of the most important Italian cities for art and renaissance architecture. The views of the Duomo across its rooftops are one of the most photographed in Italy. From the Ponte Vecchio to the Uffizzi Gallery, reminders of the city's grand past are everywhere. It's been popular among the British for centuries, from the Grand Tour to Queen Victoria's holidays. The Duchess of Cambridge studied Italian and Art History at the British Institute of Florence, of which Prince Charles is patron.
Apartments match the city's grand feel. You'll find prestigious properties in 16th-century buildings possessing frescoes, hard wood and terracota floors and vaulted or wooden beamed buildings. Apartments in Oltrarno put you in the heart of the historic centre, while Bellosguardo is popular for its stunning views. An 80m2 property here would cost €415,000 on average.
Expats with families tend to head out towards Arcetri, Piazza Calda or Bagno a Ripoli for proximity to the International School of Florence (and a bit more greenery). Here, homes can still be pricier, at around €425,000 for an 80m2 property.
Average 80m2 property price: €305,000
Nearest Airports: Florence and Pisa
2. Lucca, Tuscany
Lucca's charming old town has preserved its medieval appearance and is surrounded by thick stone walls with six gateways. The massive walls are topped with tree-lined pathways and are popular for strolling and cycling. At Lucca's heart is the circular "Piazza Anfiteatro", built on the ruins of the ancient Roman amphitheatre, by architect Lorenzo Nottolini. As Italian cities go, Lucca is relatively 'untouristy', particularly compared to larger neighbours. It's also one of our Property Hunter Diana's favourite cities!
The architecture of this lovely Italian city includes towers, bell towers and monumental Renaissance palaces (Palazzo). The town also boasts a 164ft clock tower and statues dating back to the 1800s. Lucca is very easy to reach by car as well as train from both Pisa and Florence. Being flat it is an easy city to walk around.
The historic centre is naturally the most expensive, with 80m2 properties costing a median of €243,000. A two bedroom stylish apartment in a historic building can cost from €380,000, and for less than a million you can also find properties within a palazzo with beautiful frescoes.
Average 80m2 property price: €160,000
Nearest Airport: Pisa
 3. Verona, Veneto
Verona, made famous for its beautiful in Shakespeare's Romeo and Juliet, is another popular choice among Italians and expats alike. You can spend plenty of weekends just exploring, visiting the castle, the many historic churches and the Roman ruins. Unsurprisingly, the centre is a UNESCO World Heritage site. Unusually among Italian cities, it's ideally placed for day trips all around the country – or at least the north. The central location means you can easily pop to Venice, Treviso, Milan, Bergamo, Pisa, Rome and more. Plus, Lake Garda is just a 40-minute drive away.
If you've chosen your area but you're having trouble finding your dream property, don't miss our free property hunter service, where Italy expert Diana will use her network of handpicked specialists to find you your home. Simply fill in your requirements and she will be in touch. 
Verona also has good rail links across Italy and to other European cities such as Innsbruck, Zurich, Munich, Paris and Vienna. The north-south rail line from the Brenner Pass to Rome intersects with the east-west line between Milan and Venice. When an apartment in the historic centre comes on sale, it is often pricey, with some costing over €750,000.
Average 80m2 property price: €155,000
Nearest Airport: Verona
4. Turin (Torino), Piedmont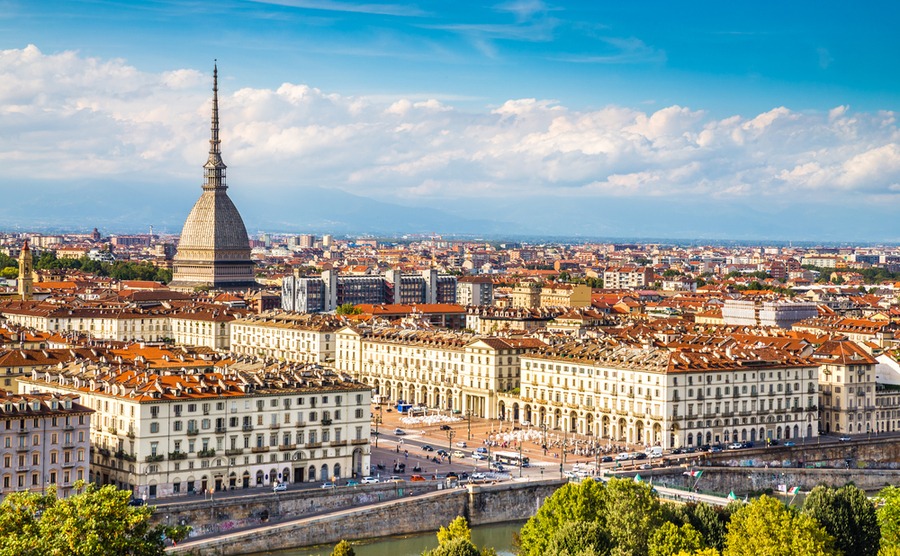 The city of Turin was the first capital the Kingdom of Italy from 1861 to 1865. It is still one of the most important Italian cities for business and culture. It offers a wealth of monuments and a rich artistic and cultural lifestyle. You'll find architecture spanning Renaissance, baroque, neo-classical and art nouveau styles. The Residence of the Royal Houses of Savoy are inscribed on the World Heritage List. Some of Italy's best universities and colleges can be found in Turin, such as the University of Turin, founded in the 15th century, and the Turin Polytechnic.
The city is also well known for being the headquarters of FIAT, Lancia and Alfa Romeo, the football teams Juventus F.C. and Torino F.C. Plus, it hosted the 2006 Winter Olympics. With the Alps lying to the north and west of the city it's a great location for those who love skiing.
Expats with children that want to continue their education in English often look for property in the hills outside the city and nearer to Chieri where the International School of Turin is located. Property is cheaper there, at around €190,000 for 80m2. Apartments in the prestigious central areas of Turin, on the other hand, can cost over €300,000.
Average 80m2 property price: €129,000
Nearest Airport: Turin
5. Venice, Veneto
Venice is a spot like no other Italy cities. To live here, you'll need to give up your car in most areas. It's a magic labyrinth of busy canals, bridges, palaces, back streets and hidden corners where people chat with their neighbours. Life in the historic centre means a life without modern transport and no traffic fumes. People walk everywhere and interact with everyone they meet. Fortunately, as Venice gets more than its fair share of tourists, many people speak English. The best times of day to enjoy the views and restaurants, without the day visitors, are early morning and evening. That's when you'll be glad you have your own place here.
A property in a good location attracts a high holiday rental income and Venice is never likely to go out of fashion. Even for long-term rents, you can get an excellent return. A 50m2 apartment in Accademia, Salute and Dorsoduro rents on average for around €1,000 a month. Purchasing the same would cost around €263,000.
The sterling value of a €200,000 property changed by £10,000 in the last twelve months. If you don't want to find that much money suddenly to keep your sale going, find out how to lock in a single exchange rate for 12 months in the Property Buyers' Guide to Currency. 
There's nothing like people on holiday to give a happy positive feel to a place and there is plenty for them to see. The lagoon and part of the city are UNESCO World Heritage sites and everyone wants to see a gondola on the Grand C anal. Other attractions include the Rialto Bridge, St. Mark's Basilica, the Accademia gallery, The Doges Palace and the famous glass blowing island of Murano.
Less touristed than San Marco, the most popular areas to live are Cannaregio and the Arsenale. Alternatively, the island of Giudecca, which allows cars, is about 15 minutes away by vaporetto. An 80m2 property in Cannaregio goes for €385,000, while one in Giudecca goes for €325,000.
Average 80m2 property price: €400,000
Nearest Airport: Venice Marco Polo and Treviso
Buying a property in Italian cities
Now's the time to start your purchase in Italy – especially if you want to be in place before Brexit. Do make use of your free property hunter service, where Diana will help you find your dream home. And, if you have any questions about buying or living in Italy, please don't hesitate to send your question to the Resource Centre at italy@propertyguides.com or speak directly to us on 020 7898 0549. Best of luck!