Imagine owning your own 'slice of Italy' – enjoying its beautiful landscapes, history, food and culture day in, day out. Not just for a quickly grabbed weekend, but always. Well, 2019 could (and should) be your year to make the move. Over the coming weeks, our six-part series on Buying in Italy will run through the entire process, from planning to post-purchase. Today, with Part One, we're starting by looking at the initial decision-making process.
Why now's great for buying in Italy
Before that, however, let's look quickly at why 2019 is such a great time for buying in Italy.
Firstly, you can swap 1,500 hours of sunshine for Italy's more than 2,000. Imagine being able to sit out on your balcony or in the garden with a drink well into November – or spending summer at the beach or exploring the local markets. The lifestyle in Italy is all about enjoying yourself, and why not!
Don't miss your free Healthcare Guide to discover how to access medical care while overseas.
Secondly, Italy has excellent transport links. Most expats want to maintain links with the UK, especially with family back home. Italy's home to over 30 international airports. Most of these have low-cost flights with airlines like Ryanair and EasyJet back home. Italy's road and rail network is excellent and extremely comprehensive.
The right to buy property isn't controlled by the EU, so we expect that to remain the same after Brexit.
Italy has a reputation as being quite expensive compared to neighbours Spain and Greece. You can very well find eye-watering prices in places like Venice, Milan or Florence, but much of rural Italy is deeply affordable. Try swapping Tuscany for Umbria, or Messina for Trapani, and you'll find property cheaper by over €400/m2.
Italy is the fourth-most visited country in the world, so there's a huge tourist market. That's great news for anyone looking to rent our their Italian property. The Ministry for Tourism is also working hard at encouraging people to go off the beaten track, so even very rural areas can still drum up good business.
What about Brexit?
Of course, for the moment, nobody knows for certain what Brexit will look like at the end. However, we firmly believe that, for property buyers, it won't involve anything more than a bit more paperwork and loopholes to jump through.
Find out how you can safeguard your funds against the risk of moving rates in our Property Buyers' Guide to Currency. 
The right to buy property isn't controlled by the EU, so we expect that to remain the same. However, you may well need to apply for a visa to live in the country – as many Australians, Americans, etc successfully do every year. In fact, 49% of Italy's foreign population comes from outside the EU.
So what do you need to start planning?
There's a lot to work out when you start thinking about buying in Italy. However, through our experience of helping thousands purchase overseas, we find it normally distills into five crucial questions. So get yourself a pen and paper and start thinking about the answers to these questions.
| | |
| --- | --- |
| Why are you buying? | Putting your thoughts into words can help crystallise what you want out of your move. Is it enjoying better weather? Somewhere to have the family for holidays? A sound rental investment? Perhaps you want to ditch the 9-5 office life and open a guest house. Or maybe you just don't want to regret not having tried moving overseas later in life. |
| How will your property be used? | Think about what you want and need from your home. Do you want to be able to pop over on the weekends? If so, you'll want a nearby airport. Would you like somewhere for investment, then holidays and eventually retirement? You'll need somewhere that's easy to maintain and in an area with strong yields. If you're relocating, you don't need to be pushed into 'investment' areas. Try unspoilt gems like Le Marche or Basilicata. |
| What must your home have? | What are your absolute must-haves? How many bedrooms or bathrooms do you need? Would you rather a local beach or a pool? What about the style – traditional or bright and modern? |
| What don't you need or want? | It can be quite liberating to write up what you don't want! Do you not want to deal with the maintenance of a garden? Are you not interested in being in a busy tourist resort? |
| What's your budget? | You can't plan without knowing how much you can afford. Right from the off, make sure you have a realistic idea of your budget. Remember that you won't get the interbank rate you see on the news, but a percentage point above or below that. Rates are always changing, so you also need to make sure you plan how to safeguard your budget. |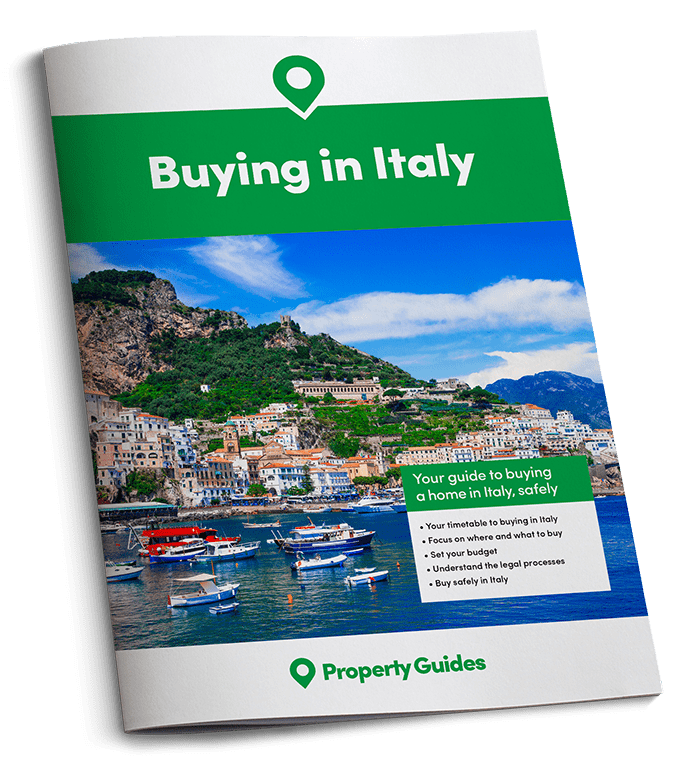 The Italy Buying Guide walks you through each stage involved in buying property in Italy, and offers invaluable insights from expats and experts who understand the process. The guide will help you to:
✔

  Ask the right questions
✔

  Avoid the legal pitfalls
Download your free guide to buying in Italy