Where can you enjoy sunny beaches in summer and skiing in the winter, spot bears in the National park and eat fresh fish caught from buildings on stilts? The region of Abruzzo is Italy's best kept secret and property prices are unbelievably cheap.
Landscape of Abruzzo
From the highest peaks of the Gran Sasso, down to the rolling hills that lead to the Adriatic coast, Abruzzo surrounds you with nature and amazing views. The stunning coastline offers long sandy beaches to the north and pebbly beaches to the south, nine of which have been awarded the Blue Flag. Beach-lovers flock to Tortoreto, Giulianova, Silvi Marina, Roseto and, further south, Ortona, Vasto and San Salvo.
For innovative ideas on raising the money to buy your Italian home, read How to Pay for an Italian Property.
Inland the hills are dotted with interesting villages, as well as monasteries and castles. From the Gran Sasso down to the sea there are areas rich in history, tradition and art. The National Park of Abruzzo, the Parks of Gran Sasso and the Laga Mountains, protect the typical plant and animal species of the area, including the golden eagle, the wolf and the Marsican brown bear. Alongside, the three National Parks and a Regional Park, there are also over thirty Nature Reserves, making the Abruzzo region the largest naturalistic area in Europe, and the green heart of the Mediterranean. Located east of Rome, the Abruzzo region is divided into four provinces, L'Aquila, Pescara, Teramo and Chieti, and has many lovely towns and villages to explore.
Towns and villages of Abruzzo
Going to live in Abruzzo is like travelling back in time, to an era when life was simpler and your neighbours bring you gifts of fresh produce from their garden. The region is full of friendly people living in medieval hill top villages, with stone architecture from times gone by. Traditional crafts and cultural events have been passed down through the generations and there are regular Festas, that everyone is invited to enjoy.
Got an eye on your perfect home but the price is too high? You could double your purchasing power by buying as joint owners wit family or friends. Find out how it works in Buying Abroad with Family. 
Those who love the great outdoors and being surrounded by nature, should check out the areas between the coast and the national parks, where you can easily reach the mountains for winter sports and beaches in summer. One of the most picturesque towns is Scanno, located near an enchanting lake in the Sangro Valley, with its narrow alleys, Baroque gateways and old buildings.
Coastal towns are a good location for those looking for a low maintenance home to retire to, that enjoys a mild climate. The regional airport is at the coastal town of Pescara, which is also a popular area for seaside tourism, boasting numerous long sandy beaches. Penne, Città Sant'Angelo and Loreto are well worth viewing in the Pescara province. Particularly, if you want a holiday home a short drive from the airport.
Going to live in Abruzzo is like travelling back in time, to an era when life was simpler and your neighbours bring you gifts of fresh produce from their garden.
Further down the coast in the Chieti Province, Vasto is a good-sized town with all the facilities you'll need, including fish restaurants, shops and banks. As well as being known for its history, architecture and castle, it is also near a good beach. The town of Chieti itself is perched on a hill near the coast and attracts visitors to its impressive 11th-Century Cathedral and National Archaeological Museum. Other popular towns near the coast include Francavilla al Mare, Spoltore, San Vito Chietino and Pianella.
Another important town is Teramo, with its Medieval Cathedral and the remains of a Roman theatre and amphitheatre. Popular towns in the Teramo Province include Atri and Colonnella.
Food and wine
Each province of Abruzzo has its own culinary specialities. In the ancient fishing villages meals are usually fish based and you can see the characteristic stilt structures, called trabocchi, all along the coast. These structures traditionally use large nets lowered into the sea to catch the fish. Many have been made into amazing fish restaurants, with the fish often served with tomato or used in a broth.
Download our Healthcare Guide to find out how to access medical care while in Italy.
The local pasta is called "maccheroni alla chitarra", as it is made by pushing the pasta through, what looks like guitar strings. In hill top villages pasta is typically prepared with a ragout of lamb (ragù d'agnello) or with veal meat balls and tomato sauce, so-called pallottelle. Prosciutto and Salami are produced locally and the smoked meats produced in the mountains are highly prized as are the truffles. The Italian's know how to celebrate their local food products and you will discover many festivals celebrating everything from chestnuts to artichokes and garlic to pecorino cheese. Of course, to accompany good Italian food is always a selection of the best wines of the Region. In Abruzzo they are Montepulciano d'Abruzzo, Sangiovese and Trebbiano d'Abruzzo. With more and more "foodie" travellers hunting out the lesser known regional recipes, there is the potential for food lovers in Abruzzo to offer cooking holidays and food tours.
Climate
Being located halfway down the country you can get some beautiful springs and summers, made all the more special by the natural surroundings. The weather can vary a lot depending on if you live near the coast or in the mountains. In Pescara temperatures can reach up to 30C in July and August. From April through to the end of June day time temperatures gradually creep up from 20C to 28C. Even in the winter it can be 12C during the day, along the coast. November is the wettest month, when mists can suddenly descend on the mountains. Even in these mountain areas you get great summer temperatures, but it can often drop below zero in January. It is lovely to see the changing seasons and have a log fire. If you want to go skiing head to the highest peaks from December to March. Between 55 and 1000 miles above sea level you can expect settled snow for about 38 days a year and over 2,000 metres above sea level up to 190 days.
Skiing
The Gran Sasso & Maiella Mountains host 22 ski resorts with runs of varying levels. Roccaraso, with 855m of runs and 60km of pistes, is Abruzzo's best known resort, while smaller resorts like Prati di Tivo or Prati di Selva also offer a relaxing ski experience away from the busy resorts of the Alps. It a perfect place to take children and many Rome and Naples city dwellers come here for weekend skiing and snowboarding. The cost of ski passes are much cheaper here than in the more fashionable resorts in the north. A high season adult ski pass costs about €40 a day compared to €61 in the Dolomites. There are also massive discounts for Abruzzo residents. During the rest of the year there are many other sporting events, including mountain biking and hand biking.
How will Italy look for expats after Brexit? Discover in our 

Guide to Italy After Brexit

.
Getting to Abruzzo
Pescara: Abruzzo's regional Airport is at Pescara. Ryanair currently do flights from Stansted to Pescara on Monday, Wednesday, Friday, Saturday and Sunday. With the Friday flight changing to Thursday in April 2019.
Rome: Fiumicino airport and Ciampino airport. Rome is accessible from London and regional UK airports, plus other overseas destinations. Rome is connected to Pescara by the A25 with the driving time between the two being about 2 hours 10 mins.
Ancona: The airport at Ancona can also be useful when travelling to the northern towns of the Teramo Province.
It is possible to buy a two-bedroom detached property in good condition for between €80,000 and €110,000.
Property in Abruzzo
There are a number of very cheap properties for sale in Abruzzo that require some renovation work. When looking at these unbelievably low-priced properties do consider why they are so cheap. It may be that they are in a remote location, need expensive structural work or have been affected by seismic activity. It might actually work out cheaper, in the long run, to buy a house that only needs general updating and decoration, or has already been renovated. It is possible to buy a 2-bedroom detached property in good condition for between €80,000 and €110,000, so why take on major work? A renovation project can become more expensive than you expected, if the work requires a geometra or architect to prepare drawings and apply for planning permission, or if major structural work is needed to ensure the building complies with new safety regulations.
Check out some lovely and affordable and affordable Abruzzo homes at our property pages.
Due to young Italians moving to the cities for work, there are plenty of affordable homes available in villages and rural locations, and prices can sometimes be negotiated down even further. This is great news for many British buyers who tend to prefer a rural location. You will get much more house for your money in Abruzzo compared to more touristy regions like Tuscany. If you've been dreaming of a large stone farmhouse with traditional features, big kitchen, totally renovated with land and a swimming pool, but don't have a few million to spend in Tuscany, take a look at this detached stone house located mid-way between the Adriatic coast and the mountains of the Majella National Park in Abruzzo.
Due to a history of earthquakes in the Apennine mountains, it has put some house buyers off looking for property in the Abruzzo region as a whole. Which is a shame, as Abruzzo is a large region and in the provinces near the Adriatic coast, the seismic risk is no higher than in it is in Rome. There are also houses that comply with anti-seismic regulations and the mountain villages and ski resorts are still very popular with visitors.
Abruzzo has many types of property for sale including holiday apartments, townhouses, detached villas and country houses, often with lovely character features and plenty of outside space for barbeques and swimming pools. In Abruzzo it's even possible to buy a holiday home near the sea with a large garden for under €70,000.
Many countryside houses have such lovely features, such as vaulted ceilings and fireplaces. Once renovated they transform beautifully into luxury residences.
When looking at property in Abruzzo it's important to get good advice from professionals that know the area well and can guide you through every step. I spoke to Christine Purdie from "Abruzzo Property Italy", a UK registered company with offices in London and Pescara who have experience of taking buyers right through the process, from finding their Abruzzo home to managing the property after the purchase. Christine told me why she loves Abruzzo:
"The climate is lovely, and the coast is amazing. The resorts have beautiful wide sandy beaches, which are clean and safe. It is great to be able to see the mountains from the beach or the beach from the mountains. Personally, I adore food and wine, so there is plenty on offer. There are so many beautiful fish restaurants along the coast from those adapted from the famous 'Trabocchi', to the sophisticated lido restaurants in Pescara. Abruzzo still retains its original character and ancient traditions and has not been spoilt by tourism"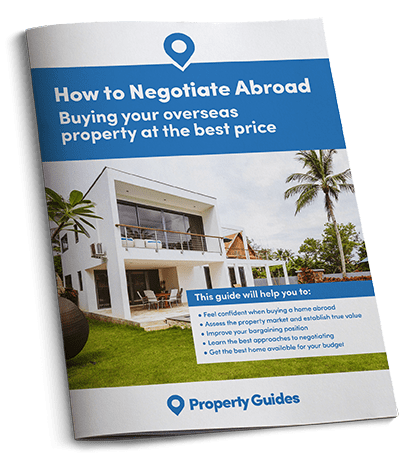 How to negotiate abroad is the guide to put you back in control:
✔

  Feel confident when buying a home abroad
✔

  Assess the local property market
✔

  Improve your bargaining position
✔

  Learn the best negotiating tactics
Download your free Negotiation Guide