Have you ever dreamt of a chalet with views of the snowy Alps? Where you can ski and hike in stunning mountain scenery.
During flights to the UK from Italy, I have often looked out of the window to see the snow caped mountains of the Alps and tried to spot tiny villages and lakes among the stunning scenery. On a satellite image these snowy mountains look like the white fur collar of the Italian boot. This is the highest and most extensive mountain range located entirely in Europe, and Italy is fortunate to have some of the most beautiful parts within its border with France, Switzerland and Austria. These mountains provide water to reservoirs to pump to towns and cities, animals graze on their lush green slopes and millions of people are drawn to their charm and never want to leave.
This dramatic landscape is a dream for artists and photographers with climbers, hikers and skiers enjoying the most amazing views. In the winter you can go skiing, snowboarding, ride the cable cars and visit the magical Christmas markets. Throughout the year there are parks, hiking trails and lots of pretty villages and local cuisine to discover.
Snuggled up in a wooden cabin, with chestnuts and hot chocolate by the fire
These picture-perfect villages have their own unique traditions and customs that set them apart from the rest of Italy and many Italians choose to holiday here, either to escape the heat of summer, or to enjoy winter sports. At Christmas time who doesn't dream of being snuggled up in a log cabin, with chestnuts and hot chocolate by the fire?
Buying a chalet or apartment near the slopes or even within sight of the mountains can offer you a great holiday location, with rental potential for much of the year. Six Italian regions are backed by the Italian Alps: Aosta Valley, Piedmont, Lombardy, Veneto, Trentino, Alto Adige and Friuli Venezia Giulia. So, you can choose to be right in the Mountains or find a location where you can also easily reach the famous lakes and cities of northern Italy. Two favourite mountain regions for winter and summer holidays are the Dolomites and Valle d'Aosta, but there are many more to explore. First decide which airports it is easiest for you to fly into and then decide how far you want to drive from there.
The Dolomites
The Dolomites in the northeast are very popular with tourists and are about a 2-hour drive from Venice and Verona, with Austria as its close neighbour. There is an excellent variety of slopes, offering cross-country, downhill skiing, or snowboarding in elegant resorts such as Madonna di Campiglio, Val Gardena, Sasso Lungo, Val Pusteria, Val di Fassa and Bolzano. But, the most popular is Cortina d'Ampezzo which hosted the Winter Olympics in 1956 and has a cable-car ride that goes up nearly 10,000ft. There are delicious food specialities to try including dumplings, a cured meat called speck and apple strudel. A short bus ride from Cortina you could buy a two bedroom apartment for around 150,000 euros and in Bolzano a small apartment costs from 200,000 euros. It's all about location. If you want to buy a property to rent out, being close to the slopes, restaurants and good access roads will greatly increase your rental potential.
Trentino-Alto Adige is a perfect place to start searching for a ski chalet. It is easy to reach from Venice, Verona and even Milan and is very close to Lake Como. Trentino, is largely Italian-speaking, but as you go into Alto Adige, the language changes into predominantly German. Bolzano is Alto Adige's main wealthy town and is less than 50 miles from the Austrian border. It is also home to Otzi, the world's oldest preserved mummy, whose Bronze Age remains were found in a glacier on the Austrian border.
Valle d'Aosta
In the northwest bordering with France and Switzerland is the Valle d'Aosta. There are great ski resorts across the region, such as Courmayeur and Breuil-Cervinia. You can enjoy hiking and mountain biking in the most breath-taking scenery, where you can still find many villages and castles off-the-beaten track. Rock climbing, kayaking and rafting are also on offer and the Gran Paradiso National Park is simply beautiful with its wild flowers and numerous species of endangered wildlife. The huge Alpine glaciers of Gran Paradiso, the Matter-horn, Mont Blanc and Monte Rosa are simply stunning. There are some very affordable areas to buy property with good rental potential. I have seen 50 square metre apartments for less than 100,000 euros. And Torino and Milan are just a couple of hours away.
You can enjoy hiking and mountain biking in the most breath-taking scenery, where you can still find many villages and castles off-the-beaten track
Whichever area you choose to visit in the Italian Alps you are sure to find a warm welcome, fresh clean air, and breath-taking scenery that invites you to walk, ski, climb and explore.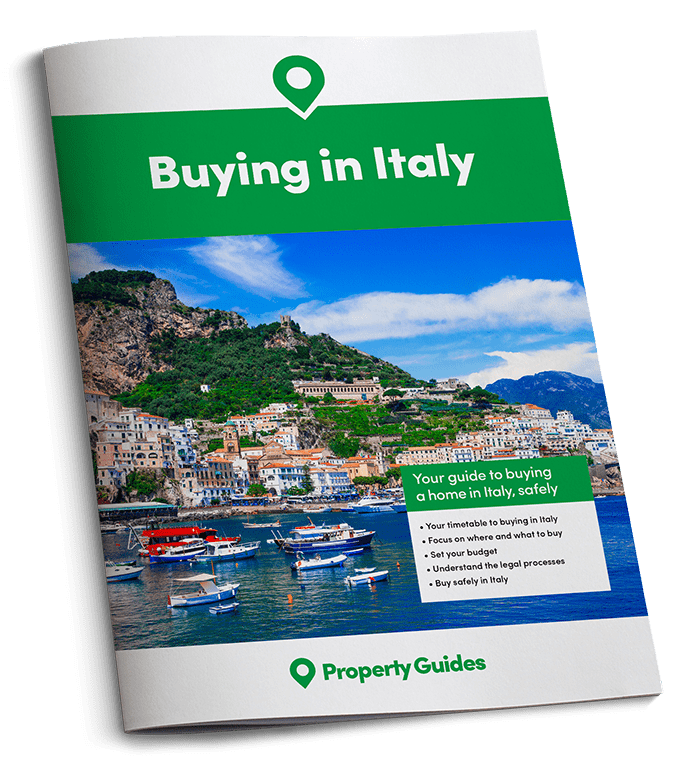 The Italy Buying Guide walks you through each stage involved in buying property in Italy, and offers invaluable insights from expats and experts who understand the process. The guide will help you to:
✔

  Ask the right questions
✔

  Avoid the legal pitfalls
Download your free guide to buying in Italy