Getting connected in Italy
There's little chance of feeling truly settled until you have all of the home comforts associated with owning your own home. We're talking about connecting your home to all of the utilities necessary to be fully up and running.
Before you purchase or rent any Italian property, you will need to ask the agent or current owner which utilities are currently in place. They should also be able to give you an idea of how much you're likely to spend on monthly running costs.
Before you can connect
Whether you're renting or you own, before you can have the utilities signed over to you, you will need a valid tax number (codice fiscale), which you can get from the tax office in your province (Ufficio delle Entrate).
When you first move in to a property, as an owner or tenant, you should immediately contact Italgas to have your meter read, and the gas turned on.
If you are renting, and the utilities are included in the rental contract, you can request that the letting agent or landlord itemise each of the amounts at the end of each year, so you know what sums are going where.
It's worth bearing in mind that there can be waiting times for getting connected – so, in order to ensure you aren't without the essentials for too long, its worth contacting all suppliers as early as possible upon arrival.
If your property is located in a city, town, or any built up area, chances are high that the property will already be connected to the mains services, which means it could make more sense to transfer facilities, like landlines, into your name, rather than have them disconnected and connected again.
Electricity
ENEL are the major electricity supplier in Italy. You can contact them on 800 900 800 (free from a landline), 199 50 50 55 (from a mobile), or +39 023 017 2011 from abroad. As their telephone operators are unlikely to speak English, you might need an Italian speaker on hand to help you, or you could visit the nearest ENEL Electric Service Office to get set up in person.
You'll find that the basic contract is set up to provide 3-3.2 kilowatts of power. If you think you're likely to exceed this, you can request up to 6 kilowatts at an additional cost.
For those purchasing rural property, getting water connected could be trickier as it's unlikely you'll be connected to mains water.
Gas
You'll find that mains gas is generally available in most large towns and cities in the north of the country – to the south things might prove a little trickier, so do check with your estate agent when viewing potential properties.
You'll need mains gas for heating and appliances, and your gas water heater will need to be serviced and descaled annually. You'll be charge by megacalorie's and will receive a bi-monthly invoice. Most opt to make this payment by direct debit, but you can also do so at your local Post Office.
When you first move in to a property, as an owner or tenant, you should immediately contact Italgas to have your meter read, and the gas turned on. Before it can be turned on, the supplier will need:
Registration number of the meter
Name of previous tenant/owner (if possible)
Name and account details of new tenant/owner
If you're purchasing a rural property, it's likely that you will use a gas tank (bombolone), which will be located outside of the property, and will store around 1,000 litres of liquid gas. This gas will be used for heating your property and water. Usually the gas company installs these tanks, which remain the property of that company. You will only be charged for the gas used.
Water
Each administrative division (comune) of Italy has its own water company, and they will regulate the price according to the size of the reserves and rainfall received. To get connected contact the comune offices (Ufficio Acquedotto). You'll find that mains water is limited to a fixed, metered amount for each household per year. If you require additional water for watering your garden, or for a swimming pool, you will need to seek an additional 'outdoor' water contract (uso vario), this is metered separately from mains water.
Before you are connected, you will need to supply your local water company with your tax code, and personal identification documents.
For those purchasing rural property, getting water connected could be trickier as it's unlikely you'll be connected to mains water. If not already in place, you may need have a large holding tank installed in the grounds, or have a well drilled on to the property, which could set you back up to €5,000. If you have a water holding tank, you will have to arrange to have this filled by a water company.
Landline
Italy's version of BT is Telecom Italia. You can call them on 187 to apply for a new connection, or apply online here
Other popular service providers include:
BT Italy – https://www.globalservices.bt.com/pmi/it/home
Tel: 800 920 928 / +30 0919885788 (From abroad)
DigiTel Italia – www.digitelitalia.com
Tel: 800 901 669
Noitel – http://www.noitel.it
Tel: 800 035 137
Olimon Tel Italia – https://www.olimontel.it
Tel: +39 02 8936 7072
To get connected you will need to once again supply your tax code, as well as your address, alternate contact numbers, the type of service you require from them, number of lines you'd like installed, and which model of handset you'd like. You can specify upon application whether or not you'd like to be included in the local telephone directory.
It can take anywhere from a few days to a couple of weeks to get your landline connected.
TV
If you speak fluent Italian, you'll be spoilt for choice with television in Italy – there are over 360 different stations available. However, if you want to be able to watch English-language programmes, you will need to have a satellite dish or cable installed. Sky Europe is the usual provider of choice.
There is a TV tax charged in Italy, which is mandatory for all TV owners, and will cost you €110 per year. You will have to pay this tax even if you don't watch the channels. You can make your payment at the local Post Office, and will need to give over your tax code when doing so.
If you're moving to a larger town or city, you're likely to be able to get connected to broadband and Wi-Fi Internet services relatively easily.
Internet
If you're moving to a larger town or city, you're likely to be able to get connected to broadband and Wi-Fi Internet services relatively easily. If you are moving to a rural area, your only options might be an ISDN connection or dial-up. There are a range of suppliers to choose from, so we recommend you chat to your agent about which providers work best in the area, and then shop around the options for the best deals. You will need to provide them with your address and tax code. The installation timeframe will entirely depend on your service provider – it can be anywhere from a few days, to a month.
Italy's most popular Internet providers include:
Telecom Italia – http://www.telecomitalia.it
Tel: 800 447 788 / 800 187 800
UNO – https://www.uno.it
Tel: +39 02 897481
Ariatel – http://www.ariatel.it
Tel: +39 0187 1852991
Wind – https://www.wind.it
Tel: 155
Other options include, Libero, Tiscali, Vodafone, Fastweb and Poste Mobile.
Mobile Phone
Much like the UK, there are a range of service providers to choose from for your mobile phone service. For this reason, we recommend shopping around to find the best deal for you.
Italy's six main service providers are:
Telecom Italia Mobile – https://www.tim.it/
Vodafone (Omnitel) – https://www.vodafone.it/portal/Privati
Wind Telecommunication Spa – https://www.wind.it
H3G – https://www.tre.it
As a number of mobile phone service providers offer hi-speed Internet throughout the country, it can prove quicker to browse the Internet using your smart phone. For this reason, make sure when choosing a mobile package, you factor in your likely data usage. Remember though, using the Internet like this can be expensive!
If you are located in a rural area, poor service can be a problem. Make sure you sign up with the network that offers the best coverage for your specific location.
To sign a contract, you will need to produce proof of identity, proof of address, and you guessed it…your tax number!
Assistance with getting set up
You'll find that a good estate agent will offer to help you set up all of your utilities, or will at least be able to offer exhaustive guidance on how to do so correctly.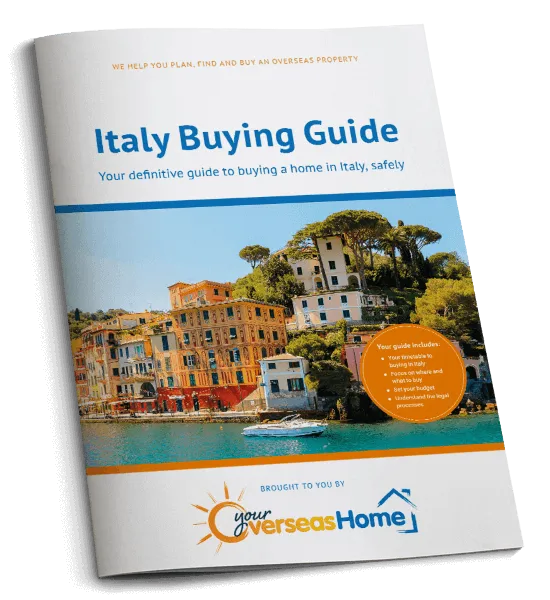 The process of buying property in Italy is significantly different from here in the UK. This is why we've created our completely free Italy Buying Guide, to provide those dreaming of a new life in Italy with all of the practical, legal, and financial information needed to help them realise that dream.
✔

  Ask the right questions
✔

  Avoid the legal pitfalls
Download your free guide to buying in Italy