Getting around in Italy is relatively simple. The road network is well maintained and far reaching, the train network is widely used and liked, there are a huge range of domestic flights, and plenty of bus routes available to transport you to every corner of Italy.
Driving in Italy
Italians drive on the right hand side of the road. You are legally allowed to drive a vehicle from the age of 18, must wear a seatbelt if you're travelling in the front, and headlights should be on at all times whenever you're travelling on a motorway.
In general, parking in Italy is organised based on a disc system. You purchase these blue discs at banks, post offices and petrol stations.
Outside of the major cities, you'll find that Italian roads are relatively congestion free. Driving in cities at rush hour can prove problematic, so where possible, avoid doing so. The speed limit differs depending on the type of road that you are on, but there are plenty of signs everywhere, allowing you to keep track of what speed you can travel at. Italian roads are generally of an excellent standard; it is really only country areas where you'll encounter narrow windy, or gravelly roads, which require extra caution.
You are legally required to keep all of your car's documentation in your car at all times, as well as the following:
A reflective vest
A spare tyre and tool kit
A red warning triangle
As a driver, you're also legally obliged to stop and help if you see an accident.
Parking
Parking regulations in Italy vary from region to region, and each town and city has different rules about the times of day that cars are permitted. This means it's always advisable to check restrictions before parking up.
In general, parking in Italy is organised based on a disc system. You purchase these blue discs at banks, post offices, petrol stations and the like, and then you pay money into a meter and display the time that you arrived in the spot in the windscreen. In most areas where this system is in place, you can park your car for two hours free of charge.
If you have a British driving licence, you have 12 months from the date you become a resident to apply for your Italian licence.
Elsewhere, parking spaces are colour coded:
White lines: These spaces mark where you are able to park your car for free, but you'll often find that the time you can stay is limited.
Blue lines: Where you see these lines, you will have to pay and display, much like in the UK. You can pay with card or cash at a meter, and define how many hours you require. In some locations, there are attendants that monitor these spots, and issue the tickets directly to you.
Yellow lines: These spots are reserved for disabled drivers, and are completely free as long as you have a disabled permit. Holders of these permits can park in any of the lined areas free of charge. If you are disabled but don't yet have your permit, you can obtain one from your local town hall.
Pink lines: Although rare, these spots are reserved for pregnant ladies, or for mothers with small children.
Obtaining an Italian driving licence
If you have a British driving licence, you have 12 months from the date you become a resident to apply for your Italian licence. If you fail to do so and the traffic authorities stop you, your car and licence could be legally impounded. Fortunately, applying for your Italian licence is a simple process that doesn't involve re-taking your test. It is possible that you might be asked to provide a medical certificate of health from your local doctor, especially if you're of retirement age.
Re-registering your vehicle
To buy a car in Italy, you need to be an Italian resident. If you are planning to bring your British vehicle to Italy, you have six months before you have to re-register and insure it in Italy. Technically, you can leave the country just before the six months is up, re-enter and get another six months, but if you're pulled over you will be at the mercy of the traffic authorities, and whether they are in good spirits that day or not.
Image of Italian police checking cars. Caption: In Italy, the carabinieri will regularly stop cars to check their paperwork is in order. For this reason, it's essential you always have all of your registration documents and your driver's licence to hand.
Air travel
Almost all major cities in Italy have airports, in fact, there are over 130 airports dotted across the country. Although easy to catch a flight almost anywhere, this is the most expensive form of transport. Popular domestic carriers include Merdiana, Air One, Alitalia, and Air Italy, but budget airlines like easyJet, also operate regular flights to domestic destinations.
Train network
Travelling by train is one of the simplest ways to travel around Italy, whether that is between major cities, or from region to region. In general, Italians tend to opt to travel by train rather than plane. The major train companies are Nuovo Trasporto Viaggiatori (NTV) and Trenitalia.
Public transport
Italy boasts a great network of buses. Although there is no national bus network, there are a number of respected companies that can transport you from A to B. Each of the major cities boasts extensive public transport systems that include buses, trams, trolleybuses, and water buses (in Venice). More often than not, you'll find Italian train stations located within walking distance of bus terminals, or underground stations, and tickets are very reasonably priced.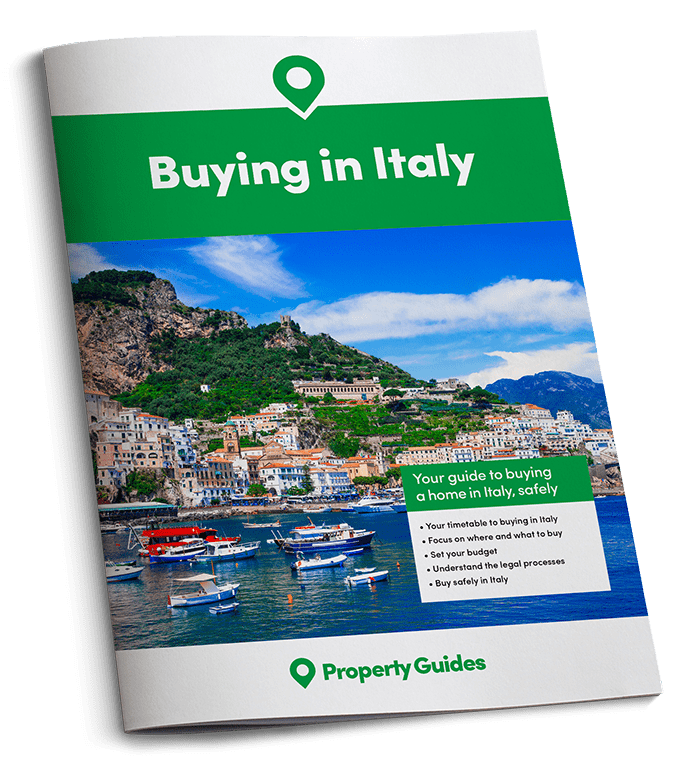 The Italy Buying Guide walks you through each stage involved in buying property in Italy, and offers invaluable insights from expats and experts who understand the process. The guide will help you to:
✔

  Ask the right questions
✔

  Avoid the legal pitfalls
Download your free guide to buying in Italy