Moving your belongings to Italy
As soon as you've decided that you are going to move to Italy on a permanent basis, you will need to start considering how to transport all of your possessions to your new home.
What to take to Italy?
Before you can start getting quotes, you will need to establish exactly what you want to take with you, and what you will leave behind, sell, or give to charity. Now is the time to work out what you use and what you don't.
An experienced removals company will take the worry out of the transportation of your goods, leaving you free to concentrate on the rest of your to-do list.
If you're happy to refurnish your new home entirely once in Italy, you wont have to worry about removals at all. If you're planning to buy furniture once you arrive, it's probably best to make sure you're confident of finding the items you like, at a price you're happy with. After all, it could be cheaper to transport your current furniture, rather than to buy everything new.
When it comes to white and electronic goods, bear in mind that most household items in Italy, kettles, hoovers, microwaves etc, require additional safety plugs. This can make things tricky when you already have to have one adapter plug to get your British items to work. Factor this in when deciding whether to transport goods or buy new. Items like lamps, laptops, phone chargers and so on, don't require these safety adapters, so they will work just fine with a standard adapter.
When considering whether or not to take your electricals, consider how much you could get for them if you were to sell them, and how long they are likely to last if you do decide to take them with you. If you will need replacements in a year or two, it might make sense to purchase in Italy. Also, if they require repairing after you're in your house and all set up, it might prove difficult to find appliance engineers who know how to fix your British items.
It's important to comply with all regulations when your possessions enter a new country.
Transporting your belongings?
Unless you plan on hiring a van, packing up your belongings and driving down to Italy yourself, you will need to employ the services of a moving company. Seek recommendations from friends that have previously moved countries, and make sure that anyone you request a quote from is registered with the British Association of Removals (BAR). We recommend seeking at least three quotes to ensure you secure a competitive rate. Be sure to check the coverage of the insurance they offer, and whether the quote includes the cost of the workers packing and unpacking your belongings at either end.
Tips on how to pack
Make sure that all boxes are labelled clearly with what is inside the box and which room they came from. This will make unpacking at the other end far easier.
Once your belongings are loaded up, you wont be able to access them, so ensure you keep all essential items aside so you don't risk packing them up and not seeing them again for a month or two.
Make sure that keys for your office, car, and accommodation are kept aside, labelled and are ready to hand over to the right people when you leave.
There will be a number of regulations you need to comply with when your possessions enter a new country. Your removals company will be able to supply you with a specific list of what can and cannot enter Italy.
Be sure to drain all oil and petrol out of lawnmowers, or similar equipment prior to transportation to ensure they comply with fire regulations, and to avoid the risk of a leak damaging your other possessions.
Remove all batteries e.g. from torches and radios, as they can leak in transit and cause damage too.
Clean any garden furniture, tools, and sports equipment, and even paint the furniture if necessary. Items covered in dirt can be denied at customs or can severely delay delivery of your items whilst they're stuck in quarantine.
Storage
If you aren't moving straight in to your property, you may need to consider storing your belongings in the interim. You could find it is cheaper to store them in Italy than it is in the UK, so it is worth researching both options.
To be put in touch with our trusted removals company, call the Resource Centre today on 020 7898 0549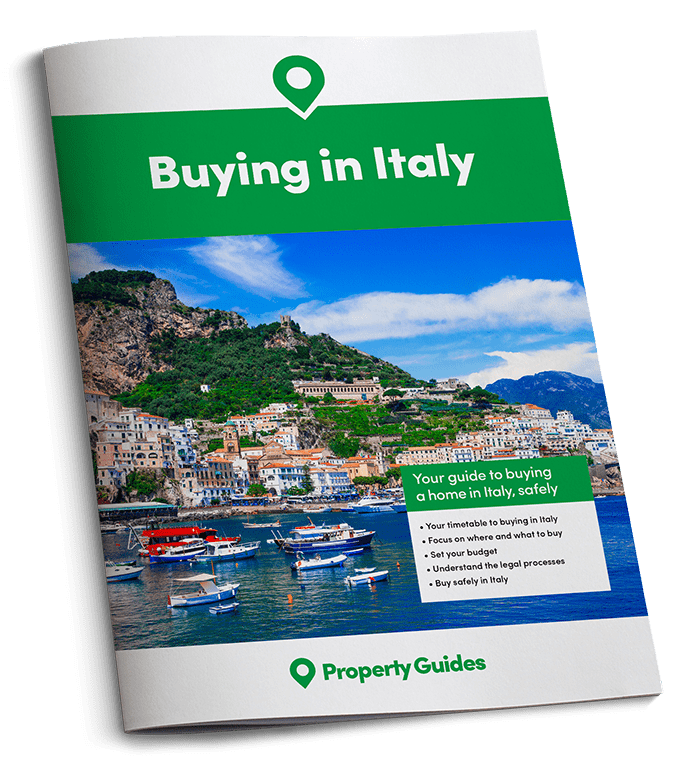 The process of buying property in Italy is significantly different from here in the UK. This is why we've created our completely free Italy Buying Guide, to provide those dreaming of a new life in Italy with all of the practical, legal, and financial information needed to help them realise that dream.
✔

  Ask the right questions
✔

  Avoid the legal pitfalls
Download your free guide to buying in Italy