Understanding the Italian healthcare system
If you're looking for a long and healthy life, Italy is the country to call home. If the Mediterranean diet, climate, environment and natural lifestyle don't keep you healthy, its superb health service should do. But how do you access Italian healthcare? Are you entitled to free services and if not what will you pay for health insurance in Italy? 
For centuries Italy has been a top destination for people looking for a healthy lifestyle combined with a good Mediterranean diet. According to The Bloomberg Global Health Index 2019, Italy is ranked the second healthiest country in the world, and actually came top of the previous survey. (The UK came 19th, Australia 7th and the US 35th).
Read your free Healthcare Guide to find out how to access medical care while in Italy.
You'll see elderly Italians standing in the piazzas with friends, riding their bicycles, working on the land, dancing and cooking up large healthy meals for the family. It is no surprise then that Italy's average life expectancy is 83.2 (85.3 for women and 80.9 for men) compared to 81.7 in the UK and 79.5 in the United States. According to Eurostat, Italy also has the highest percentage of over 65s in Europe, with a healthy percentage reaching 100.
Much of the country is covered by mountains, forests, national parks, nature reserves, olive groves, vineyards and farmland, and thanks to the peninsula shape of the country the fresh sea air is never that far away. It all just feels more healthy!
Italian healthcare system
In the World Health Organization (WHO) World Health Report, Italy was ranked second out of 191 member states. This reflects well on Italy's National Health Service, which is called the Servizio Sanitario Nazionale (SSN). Whether you are an EU or non-EU citizen, once you have become resident in Italy and have registered with the SSN you are entitled to receive the same healthcare and treatment as Italian citizens. The health service is financed from income tax and Government supplements, making the service to the public mostly free or low cost.
Not a full-time resident?
If you intend spending less than three months in Italy, and whilst the UK is still within the Brexit transition period, you should always take your European Health Insurance Card (EHIC) with you to Italy. The card can be applied for free, online at www.ehic.org.uk. UK-issued EHICs are currently valid in Italy. If you need to go to a state hospital, just show them the card and you will receive free or reduced rate treatment.
But note, it isn't an alternative to travel insurance. It won't cover private medical healthcare or costs, such as mountain rescue in ski resorts, being flown back to the UK, or lost or stolen property. The EHIC does however cover all treatment that is needed to enable you to continue your stay including pre-existing medical conditions and routine maternity care. Even if you don't have one of these cards you will be treated in an emergency and any charges will be billed to you afterwards. However, it is recommended to purchase travel insurance to be sure you are covered.
At the pharmacy (Farmacia)
For minor health problems, simply look out for the illuminated green cross. Pharmacists are well qualified to give help and advice, and they even sell some items over the counter which would require a prescription in the UK. This can prove useful when a tourist's inhaler has run out or they need some antibiotics for an infected mosquito bite. Both of these are cheaper over the counter here than a UK prescription charge.
The pharmacy earns its money on less urgent products such as paracetamol, cough mixture, vitamins etc. which can be quite expensive. You can't buy medicines in supermarkets here, so it's worth stocking up your medicine box on trips back to the UK. Once you have your Italian health card you can show it at the pharmacy to get a discount and prescriptions from the doctor are either free or at a subsidised rate.
In an emergency
If you need an ambulance call 118, or the general emergency number which is 112. If you are able to make your own way to the hospital, head to the emergency department (pronto soccorso). Should you need urgent medical treatment and are unable to get to hospital you can also call the local duty doctor service (guardia medica). Numbers can be found in the local telephone directory for where you live. You can read a first-hand account of Italian emergency care here.
Residency before health card
If you are from an EU country, and are going to live in Italy full time, the first stage before registering for your Personal Healthcare Card (Tessera Sanitaria) is to get your residency status certified. To get the residency card (carta d'identità) you need:
A bank statement showing you have sufficient funds to support yourself in Italy
Your passport and four passport size photos
A fiscale (tax) number
Proof of your address in Italy
Proof of health insurance
You'll have your finger print taken and you will also get a visit from the police to check you do really live here. If you are from a non-EU country that doesn't have a specific international bilateral agreement with Italy, you will apply for a "permesso di soggiorno". In addition to the above requirements you will also need to show an entry Visa (visto d'ingresso).
If you need assistance with establishing residency, speak to one of our trusted legal partners experienced in dealing with British buyers in Italy.
Leaving the UK and the NHS
If you are moving abroad on a permanent basis, you will no longer be entitled to medical treatment in the UK under normal NHS rules. This is because the NHS is a residence-based healthcare system. Most people will also not be entitled to use a UK-issued EHIC card to access healthcare abroad.
There are some circumstances in which you might be entitled to healthcare paid for by the UK. The S1 form is a healthcare certificate that can be issued to someone that falls into one of two categories. The first is a posted worker who pays contributions in the UK. The second is someone in receipt of UK exportable benefits, such as a retirement pension. You can find more information on the NHS website.
Getting an Italian health card (Tessera Sanitaria)
Once you receive your Identity card (carta d'identità), which proves you are resident in Italy, you can register with the local health authority (Azienda Sanità Locale A.S.L). They will also ask to see your passport, your Codice Fiscale (tax identification number), self certification of your place of residence as well as the important carta d'identità or permesso di soggiorno.
You will be assigned a GP or given a list of doctors to choose from and a paediatrician for children. Your Tessera Sanitaria card will then be posted to you when it's ready. To cover you until it arrives make sure they print you a paper version of the card. The Tessara Sanitaria card itself is the same size as a bank card and on the back is the tax code, barcodes, a magnetic strip, and the words Tessera europea di assicurazione malattia (TEAM). This means "European health insurance card", allowing you to use it in other EU countries too.
At worst you may have to pay for health insurance for the first five years of residency or apply for voluntary registration which can cost approximately €387 a year
If your application is considered mandatory, for example you are employed/self-employed or have been resident in Italy for over five years, the card is free. However, there can be some confusion on a local level, so it's best not to ask questions and just apply and see! At worst you may have to pay for health insurance for the first five years of residency or apply for voluntary registration which can cost approximately €387 a year.
If you are self-employed, your first step is to register with the Istituto Nazionale di Previdenza Sociale (INPS). Whether self-employed or employed in Italy, as soon as contributions are paid into the Italian National Insurance system you'll be able to get your Tessera Sanitaria.
Children's vaccinations
The 2017 Lorenzin decree, named after former Health Minister Beatrice Lorenzin, made 10 vaccines mandatory for children between 0 and 16. It is mandated that children between 0 and 6 be excluded from day care and kindergartens if their parents don't provide proof they were vaccinated, and there are fines for parents of children between 6 and 16 years old. However, the current government is reviewing this.
At the Doctor's (Medici di Famiglia)
According to a Human Development Report in 2007 by the United Nations, Italy has a very high proportion of doctors for its population. You are likely to find quite a few doctors dotted all around the towns. Often it will be just a door in the middle of a normal residential street with a glass cabinet on the wall displaying the surgery times.
Most days you can just turn up and wait your turn, but there are also some appointment-only days. They often don't have a receptionist so you just take a seat and ask who was last in before you. If someone comes in looking particularly ill, no one minds them jumping the queue. People will also pop in to check the tray for their prescriptions.
General practitioners or family doctors are listed in yellow pages under Medici Generici. Specialists are under Specialisti and their speciality e.g. Ostetrica e Ginecologia (obstetricians and gynaecologists). Note that the word dottore is a courtesy title used to address any university graduate.
Most Italian doctors don't speak English. Medical words probably weren't on your Learn Italian course either. But most will have computers with Google Translate, so by using that, or DeepL, and hand gestures, you can have a constructive and possibly rather amusing consultation. I usually go prepared with my list of symptoms already translated and printed out. You have a better chance of finding an English speaking doctor in the major cities, such as Milan, Rome and Florence. The Gov.UK website lists some English-speaking doctors as does the the US Embassy website.
If the doctor wants to refer you to a specialist or to have a test at the hospital, they print out a small form which you take to the hospital reception/ticket office to make an appointment. All your medical documents are kept by you.
At the Hospital (Ospedali)
An A&E department of a small-town hospital usually works in the same way as the doctor's surgery. You just wait your turn and more urgent cases get priority. Hospitals in major cities tend to have more facilities and specialist departments, so for certain emergencies patients may choose to go directly to a city hospital.
If you have been sent to the hospital by your doctor to make an appointment with a specialist or for tests, you must go to the ticket office first. They will make all your appointments for you on the spot, for whichever department it is, checking dates and times with you and even booking them for another nearby hospital if there is an earlier date available or if they have a specialist department. Then you will be given a print-out of your appointment details.
There are some services that you are required to pay a set "ticket" price for, such as an Ultrasound scan, but it is usually very reasonable. Each local authority is responsible for its own finances and so the "ticket" price will vary from place to place. My local hospital in Puglia is currently charging €46 but I have heard of higher amounts in northern Italy.
Health Insurance (assicurazione sulla salute)
You may choose to take out private health Insurance. If you need in-patient care it might allow you to get a private appointment quicker. In some parts of the country, particularly in the North and around cities, there are some excellent private hospitals. These are among the finest in the world, with short waiting times, impressive facilities and world-renowned doctors.
Treatments vary in cost but they are regulated by the Ministry of Health. Some of the big international Insurance companies you see advertising quote high prices. I was quoted from €1,486 upwards by one company that compares prices from eight different Worldwide Insurers like Cigna, AXA and BUPA.
As I only wanted cover to show the local authorities as part of my application for residency, I just went to a local Insurance agent and asked for the cheapest cover that would be accepted with my residency application. I ended up with the most basic cover, which cost me €150 for the year. Whatever level of cover you want it is worth shopping around both online and locally and asking other local expats for recommendations.
Give our Resource Centre a call on 020 7898 0549 or send us an email at italy@propertyguides.com.
Dental care
By and large dental care operates on a private basis in Italy. The standard is very high. If you wish to receive the dental care offered under the healthcare system, you will need to visit SSN operated public hospitals, or locate a dentist close to you that is managed by the Local Healthcare Authority.
As much as I have attempted to make this guide informative and correct, you may find your local authority has a different interpretation of the complicated guidelines they are given. From the stories I have heard from other expats this situation more often than not has worked in their favour, as healthcare providers are more concerned with helping someone who is sick or injured than filling in forms and taking your money.
What happens to access to Italian healthcare after Brexit?
For anyone already living and registered in Italy, access to healthcare won't change after Brexit. Anyone who moves and becomes a resident before the end of the transition period will also have the right to access Italian healthcare. So start planning now to be in place before the end of December 2020 and you will have your rights guaranteed, as long as you are registered as resident.
It's still not entirely clear what healthcare coverage will look like after the transition period, but the Italian government has said that it will look "to continue the arrangements for reciprocal health care" with the UK. Many observers expect there to be little practical difference, because there would be no benefit to changing the current situation, as long as it is still based on reciprocity.
Find out more about living in Italy after Brexit in your free Brexit guide.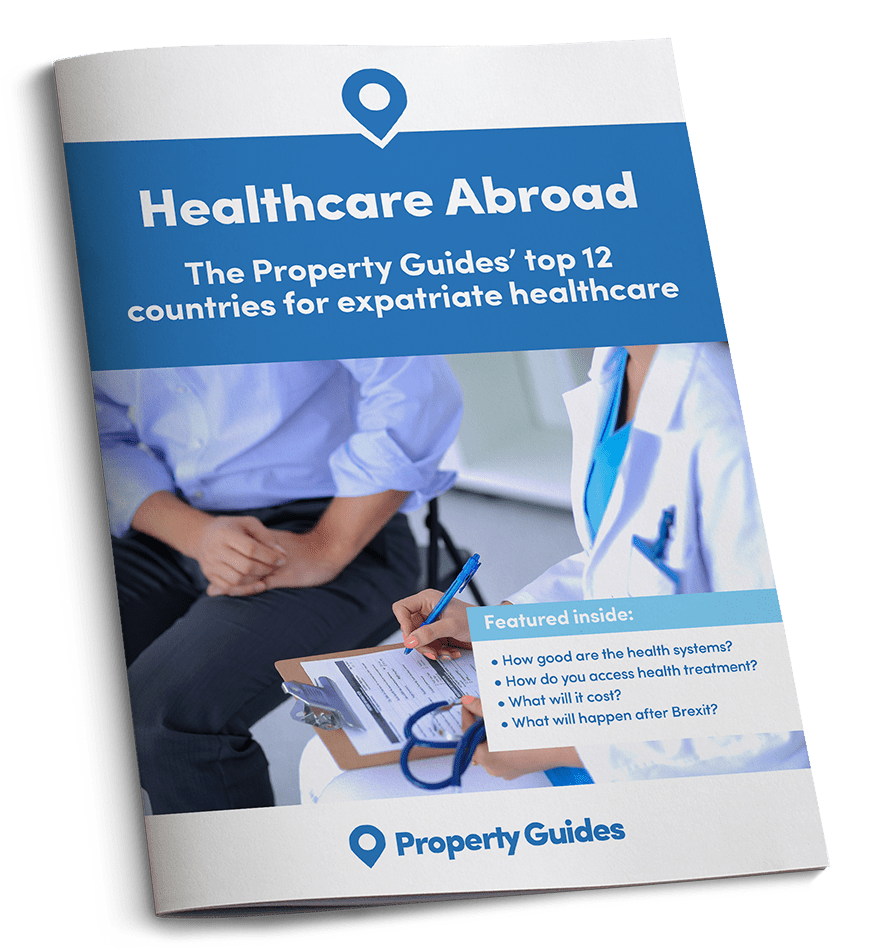 The Healthcare guide will provide information on
• How to get Italian healthcare
• Private medical insurance
• Planning ahead
• How overseas services compare with the NHS
• What could happen after Brexit
Download your free Healthcare guide