The Ireland Property Guide takes a look at some of the most popular rural areas in the Emerald Isle.
When you picture yourself in Ireland, what do you see? Are you walking the cobbled streets around Dublin's Temple Bar? Are you enjoying sunny but blustery strolls along the beaches of Kerry and Cork? Or, do you see yourself living in the Irish countryside, close to its numerous charming villages, but far enough away to feel like you've really found your own corner of Ireland?
If that's you – you'll be pleased to hear there are lots of benefits to living rurally, including cheaper housing, cleaner air, beautiful scenery and friendly neighbours. Today we're taking a look at rural Ireland, what's on offer property-wise, and we'll be running through some vital dos and don'ts for buying rurally.
There are lots of benefits to living rurally, including cheaper housing, cleaner air, beautiful scenery and friendly neighbours.
Popular rural areas
County Kilkenny
If you're looking for an area known for its history, its sprawling woodland, riverside living, and sweeping vistas of hilly terrain, you might want to set your sights on County Kilkenny. Many of the county's towns and villages are dotted along the banks of its three main rivers, the Nore, the Barrow, and the Suir, meaning there's ample opportunity for fishing, boating and watersports. Rightmove has country cottages in County Kilkenny from under €200,000, or rural building plots from around €50,000.
County Cork
The largest and southernmost county of Ireland is another popular choice with those hoping to live rurally, while not being too far from the job opportunities and delights of Cork City. There are charming villages like Kinsale and Cobh to direct your search around, where you'll find colourful houses, sailboats bobbing on the water and fantastic restaurants, galleries and shops. The county is mountainous, which means you'll be able to enjoy walking in the Caha or the Shehy Mountains, but County Cork is perhaps best known for its peninsulas, including Beara Peninsula, Mizen Head, Brow Head and Sheep's Head. There are also many windswept islands just off the coast of the county.
Rightmove has plots and ruins from as little as €17,000, and you can even net a cottage with river-frontage and fishing rights for less than €200,000.
County Kerry
For peace and quiet in the shadows of steep hills, County Kerry is a wonderful option. Known for its mountains, lakes and Atlantic coastline, this is one of the most significant tourist destinations in all of Ireland. Even in this popular tourist area, a budget of under €300,000 could get you an attractive and spacious house with stunning views.
Fancy a renovation project?
Good news for those of you hoping to find a renovation project to tackle in the Irish countryside – homebuyers are being offered cash grants to restore properties located in rural Ireland. This is part of the government's initiative to revive rural Ireland, which really suffered during the recession when smaller locations were drained of the young and skilled who moved to Ireland's bigger cities, or emigrated overseas. In January of this year, Ireland's Minister for Regional Development, Rural Affairs, Arts, and the Gaeltacht, Heather Humphreys announced the government's Action Plan on Rural Development.
Dos and don'ts of buying rurally in Ireland
Do investigate local amenities
If you decide to live rurally, check how close you are to your essential amenities before you commit. How close are you to a hospital? To an airport? To local schools? Ireland isn't too big, which means it should only be a short drive to find what you need, but include how close you'd like to be to certain amenities in your property wish list.
If you decide to live rurally, check how close you are to your essential amenities before you commit.
Don't give yourself a huge commute
The fantastic thing about Ireland is that you don't have to venture too far out of the major towns and cities to find the rolling hills the country is so well-known for. Do of course consider where you'll be working before you purchase your rural property. Make sure that you aren't swapping your stressful commute in the UK for something similar in Ireland, especially if this was the one of the reasons why you wanted to escape the UK.
Do check whether you'll have internet access
If you're avid users of the internet, or it's an absolute deal breaker given the fact you plan to work from home – you need to check whether you'll have access to phone and internet coverage. Ask around for the best service providers and chat to neighbours or those in the local pub about coverage – they may be inclined to be more honest than the agent trying to sell you the property.
Don't forget to check the property's facilities
Living rurally, you're going to have to consider matters like your septic tank, and your access to gas and water. Make sure that you know how old the septic tank is before you move in, and that it's got all the necessary certifications. There are laws in place now from the Irish Environmental Protection Agency guiding the registration and inspection of these tanks. Your agent will be able to outline these for you, and present you with the necessary certification.
Do clearly outline access rights
It's vital that access rights to your rural land are permanent, legal and specified clearly in the deed. Do not buy a property without this. It's nice to have a friendly agreement with a neighbour that allows you to use their land, or vice versa, but get it in writing or you could be storing up problems for the future. Do employ an engineer to carry out a planning search to confirm that the boundaries of the property are the same on the ground as they are on the map.
Don't neglect a structural survey
You need to have a structural survey conducted on all of the buildings on the property, including any outbuildings, or those you plan on using for agriculture. A pre-purchase, independent survey will highlight anything that needs to be repaired or replaced pre-purchase. This helps you to make an informed decision. Just because something needs to be repaired, or will need to be repaired in the coming years, doesn't have to be a deal breaker – it just allows you to get a full picture of the commitment that you're taking on.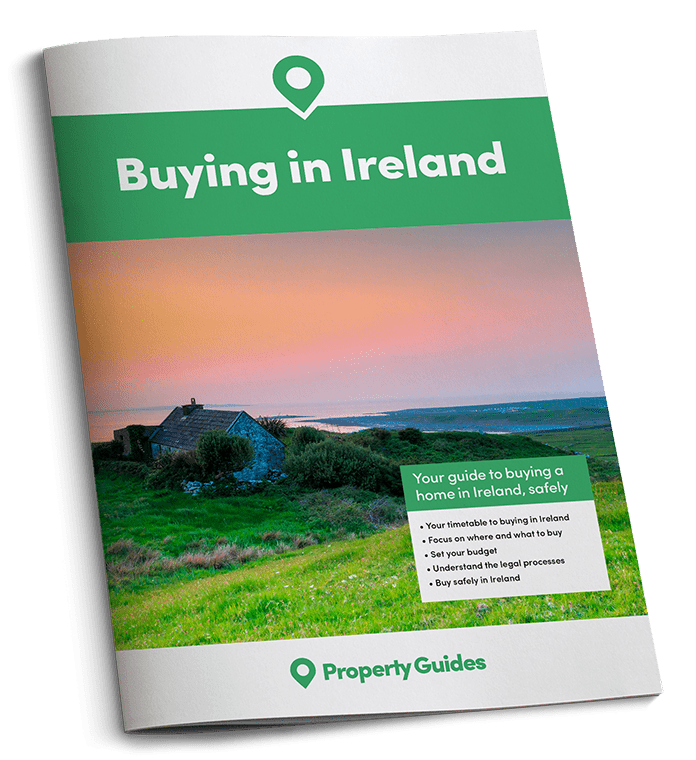 The Ireland Buying Guide takes you through each stage of the property buying process, with practical recommendations from our experts who have been through the process themselves. The guide will help you to:
✔

  Ask the right questions
✔

  Avoid the legal pitfalls
Download your free guide to buying in Ireland