When choosing a new place to set up home it's often tricky to determine the best spot for you. To help you make that all-important decision, today we look at five Irish locations that have proven particularly popular with British arrivals.
It's easy to see why Ireland holds such appeal for British expats. There's no language barrier, you're still close to the UK, housing is affordable and the country's incredible countryside affords the peace and quiet and slower pace of life that many Brit expats are hunting for. However, when a country is as beautiful as Ireland it can prove difficult to make a final decision about where to lay your hat. To help you determine which corner of the Emerald Isle should be calling your name, today we're looking at five places that have proven particularly popular with British expats.
Most of the Brits that congregate in West Cork are to be found close to the Atlantic Peninsula around Mizen Head, in a number of charming little villages.
1 – West Cork
Down in the far south-west corner of Ireland you'll find a magical landscape of misty valleys, islands and rocky beach inlets. Most of the Brits that congregate in West Cork are to be found close to the Atlantic Peninsula around Mizen Head, in a number of charming little villages. Popular choices are Baltimore, Glandore, Schull, Skibbereen and Castletownshend. The area is home to the biggest concentration of British residents in all of Ireland.
Why do we love West Cork?
Friendly people, breathtaking scenery and a population of artists, musicians and craft makers make this corner of Ireland a particularly laid-back and bohemian spot. Whether you fancy setting up shop in a quaint fishing village or in a more isolated countryside location, there are affordable housing options to be found. The mild climate in West Cork is another major selling point. The Gulf Stream warms the area, meaning that average winter temperatures rarely dip below nine degrees, and the average summer temperature is a very respectable 20 degrees.
Living in West Cork means you have access to Ireland's Atlantic coast and can enjoy activities like whale watching, surfing, sailing and kayaking. If you're moving from a big city, you'll be delighted to discover that the region's events calendar is full to the brim. Keep an eye out for Skibbereen Arts Festival in July and West Cork Food Festival in September. Oh, and we can't forget the fact that West Cork's seafood is some of the very best – expect menus to be full of prawns, mussels, scallops, hake and monkfish. Yum!
Ireland's capital is a popular spot with many Brits – especially those who will need to seek employment.
2 – Dublin
Ireland's capital is a popular spot with many Brits – especially those who will need to seek employment. The relatively small city has the best selection of shops in Ireland, fantastic transport links with the UK, the rest of Europe and the USA, and all the world-class restaurants, cafes and bars that you'd expect from a city well known for the 'craic'. Dublin has an international population and is incredibly welcoming to new arrivals. Being the cultural capital of Ireland, history and art lovers will also be kept very busy.
Why do we love Dublin?
Wherever you happen to be in Dublin, you are rarely more than twenty minutes away from the countryside. If you feel the call of the wild, you can hop on the DART either north or south and be in one of the city's nearby fishing villages within 15-20 minutes. Should you fancy a good hike, there are lots of coastal walks to enjoy or you can head to the Wicklow Mountains, which are a mere stone's throw away. In the city itself, Dubliners can head to Phoenix Park, Europe's largest city park, which is home to a large population of wild deer. The city is also enjoying a health and wellness revival, which means there are lots of fun opportunities for exercise and for dining out at healthy restaurants.
An influx of international company headquarters means that Dublin's job market is the country's best. There are also excellent schools, colleges and universities, and the city itself feels very safe.
3 – Galway
Looking again to the west of Ireland, Galway is another popular spot attracting Brits to the city streets and the surrounding towns and villages in high numbers. Galway is a university town, which means it has a young, vibrant population and all of the perks that come with that – namely, fantastic gigs, bars, restaurants, museums, galleries and cinemas.
Why do we like Galway?
Galway is a culture-lovers dream. From May until late September, almost every weekend is taken up by some festival or another. Some of the highlights include Galway Film Festival, Galway Jazz Festival, Galway Oyster and Seafood Festival and Galway Races. The city is also close to some of Ireland's most scenic spots including Barna Woods and Connemara National Park.
4 – Waterford
Many British people have been drawn to County Waterford on Ireland's south-east coast. Housing is astonishingly affordable here as the area is only just starting to appear on the radar of international buyers. Four bedroom family homes on large plots of land are available for just £250,000, flats from £50,000. Founded by the Vikings back in the 9th Century, Waterford City was once one of the most important cities in all of Europe, meaning the area is rich in history and ancient landmarks.
Why do we love Waterford?
As one of the sleepiest corners of Ireland, Waterford is particularly popular with retirees enticed by the promise of peace and quiet by the seaside and cheap property. Spend your days enjoying blustery walks along the region's beaches, or hiking the many trails found in the Comeragh Mountains. Waterford is conveniently located just an hour's drive from both Cork and Dublin, making it simple to access the transport links to other Irish cities and further afield in both locations.
Wexford has a reputation for being one of the friendliest places in all of Ireland
5 – Wexford
This small town of around 30,000 inhabitants has been attracting British buyers for some time. Wexford has a reputation for being one of the friendliest places in all of Ireland, so if you choose to visit or make it home, expect to strike up conversations with everyone you meet, many of whom are incredibly curious about who you are and what led you to their corner of the world. This is a lively spot on the water where freshly caught seafood is consumed by the bucket load. Fun fact: The Wexford coast is the ancestral home of the Kennedy Family.
Why do we love Wexford?
Property in Wexford is very affordable and the area boasts some of the country's best sandy beaches, including Courtown, Morriscastle, Ballinesker and Curracloe, where the opening scene of Saving Private Ryan was filmed. Other fantastic attractions to have on your doorstep include Hook Lighthouse and the Saltee Islands, which is a bird-watchers dream – keep your eyes peeled for puffins, gulls, gannets and razorbills.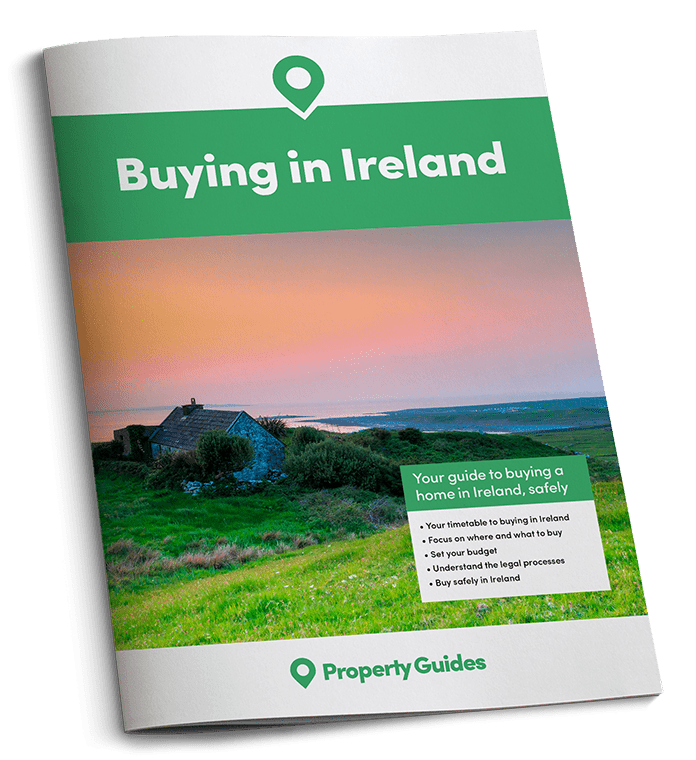 The Ireland Buying Guide takes you through each stage of the property buying process, with practical recommendations from our experts who have been through the process themselves. The guide will help you to:
✔

  Ask the right questions
✔

  Avoid the legal pitfalls
Download your free guide to buying in Ireland