If you thrive on city living but are done with long commutes and crowds, Dublin could be the perfect city for you. The Irish capital is one of Europe's smallest…and one of its friendliest. You can walk anywhere in the centre in half an hour, WIFI is free on all the buses, and you are in easy reach of the seaside and the mountains.
Plus, given Ireland isn't enormous – no part of the country is off-limits for all those weekend getaways you'll be enjoying. You can hop on a train to Cork or Galway and be there in under three hours. Furthermore, Dublin is a centre of Irish culture and tradition, and due to its flat rate corporation tax of 12.5 percent some of the world's biggest companies have settled in the city, including Microsoft, HP, Lufthansa, Twitter and Google, ensuring exciting opportunities galore. Today, we're taking a closer look at life in Dublin, to see what it offers and to give you an idea of what to expect if you decide to make the move to Ireland.
Why Dublin?
Dublin offers all the excitement and buzz of a capital city, but on a more human scale than many of its larger counterparts. Dublin's city centre itself is very compact, plus there's a distinct lack of those high-rise buildings you find in other cities, which can really make you forget you're on planet earth sometimes. Additionally, Dublin is a very green city. Phoenix Park is great for hiking, cycling and running, just ensure you give the herds of wild deer a wide berth. The Wicklow Mountains are within easy reach, and, of course, being next to the sea means plenty of coastal walks, such as at Howth (and clean, fresh sea air!).
There's a reason why tourists can't get enough of Dublin! The city boasts everything you need – great food, world-famous stout, whiskey, live comedy, and of course, raucous pubs with the sounds of live music streaming under the door every day of the week. The Irish don't bang on about craic for nothing – and Dublin has more than its fair share!
The major hurdle of buying in Ireland is the risk of purchasing in a different currency – and that is easily controllable. Find out how with the Property Buyer's Guide to Currency, written by our partner Smart Currency Exchange.
Getting to and around Dublin
If you're looking to move to Ireland permanently then Dublin is a highly convenient option. You will enjoy short flight times to Gatwick (1.5 hours), Manchester (1 hour) and Birmingham (1 hour 10), and with a regular price tag of just £26 for a one-way ticket, you can pop back to see your friends and family whenever you want. It's possible to hop on ferries from Dublin to Liverpool, or Holyhead, but when flights are such a bargain, you'll be forgiven for handing your money over to Ryanair.
Plus, you can easily get around without a car. Although Dubliners like to complain about the city's transport, it is generally efficient and affordable. The Luas, or tram system, links the centre to the western and southern suburbs, while the DART links the city from north to south. Plentiful buses serve the remaining suburbs.
Transport in Dublin is generally efficient and affordable
Cost of living
When establishing whether a move to Ireland is a sensible option, it's important to factor in the cost of living, so you'll know exactly how much you'll have left over every month to spend on Guinness!
When comparing our nation's capital's, Dublin works out as cheaper than London across the board in all but grocery costs. According to Numbeo, a four-person family will incur costs of an average of €3,029 per month, excluding rent, and a single person's monthly costs will amount to €856 (£763). The average monthly salary in Dublin is currently €2,545.
Cost of renting
Ireland is suffering from a distinct lack of housing supply at present. With people flooding in to snap up jobs and to ensure they remain living in the EU, the country has struggled to keep up with demand. Last year 18,000 new-build properties were completed in Dublin. This number is set to creep up to 23,000 in 2019, but it still remains well below the estimated 35,000 new homes required to meet the demand. While property developers are hard at work and there are many exciting new developments under way, until Dublin's housing stock is replenished, renting is set to remain a significant financial outlay for those wanting to move to Ireland.
According to Numbeo, the average cost of renting in Dublin is currently €1,680 per month for a one-bed apartment in the centre of the city. Outside of the city, a one-bed will set you back on average, €1,315. For a three-bed apartment in Dublin city centre, you're looking at €2,942 per month, or €2,234 outside of the city centre. While Numbeo's figures are compiled from real life costs of people living in each city, there are conflicting ideas about how much it currently costs to rent in Dublin.
Demand outstrips supply for housing in Dublin, so make sure to move fast.
A recent survey conducted by Daft, one of Ireland's leading property sites, found that the average cost of renting in Dublin is now over €2,000 per month. The report states the following averages across Dublin County: City centre €2,046, North City €1,880, North County €1,670, South City €2,131, South County €2,190, West County €1,778. The same Daft.ie report states that rent in Dublin is up by 6.8 percent on where it was in 2018. Across the country, rents are 33 percent higher than their 2008 peak, which amounts to €337 more per month.
Cost of buying
With a shortage of homes available to rent across Ireland, it works out way more beneficial to buy a property either with cash (if that's an option) or with a mortgage. A good example of this is in Dublin 8 where a three-bedroom house would require mortgage payments of €1,598 per month, but rental costs would amount to €2,218 per month. Mortgage rates in Ireland are currently 3.6 percent, only slightly higher than the UK average of 3.2 percent.
Prices in Dublin are higher than the rest of the country, so use the tips and tricks in our Negotiation Guide to make sure you get the best deal possible from your estate agent.
The average price per square metre for an apartment in Dublin city centre is currently €5,656, and outside the city centre is €4,309. This remains significantly less than in London, where you're looking at £12,903 per square metre in the city, and £7,378 per square metre further out. The priciest area of the city (and the whole country) is South County Dublin where the average property price is now €609,000. South Dublin City is hot on its heels with an average price of €422,000 and North Dublin City is a close third at €350,000.
According to the Real Estate Alliance (REA) average house price survey for the first quarter of 2019, the cost of buying property in Dublin has fallen by €7,500 since the start of the year. The same report found that the time it takes to have a sale agreed has now increased to eight weeks, double the length of time in the same period in 2018. The REA believe this is a result of it taking longer to secure a mortgage.
What kind of buy-to-let returns can I expect?
For the best buy-to-let rental yields for one-bed apartments in Dublin according, look to Dublin 17 (12.8 percent), Dublin 10 (12.2 percent) and Dublin 22 (11.9 percent). For two beds, Dublin 10 (10 percent) and 17 (10.4 percent). For something more central, expect yields of between 3-8 percent. As a general rule, it seems that the larger the property, the lower the yield.
Historically, south Dublin was considered more affluent, but that divide is becoming much less distinct, with some exciting regeneration projects going on.
Dublin's best areas
Dublin is divided into 24 postal districts, which are all numbered. Odd numbers are located to the north of the River Liffey, even numbers are located to the south. Historically, the north of the city was more popular with working classes, and the south had more of a middle and upper class population. Nowadays this divide is far less distinct, and some of Dublin's most beautiful and sought-after neighbourhoods are located north of the river, including Smithfield and Howth. Here's a little rundown of the most popular districts…
Dublin 1 – Right in the middle of the action, but tends to be quite noisy. It's possible to find affordable properties, but the houses are older.
Dublin 2 – This is one of the city's most expensive districts, and is home to the most regal homes. If you're in the market for something to impress, begin your search here.
Dublin 4 – Check out District 4 favourites Ballsbridge, Donnybrook and Sandymount for convenience, large family homes and good restaurants. All of these neighbourhoods are safe, affluent and well-connected to downtown Dublin by bus.
If you're heading to Dublin to have a look at your shortlist of properties, don't miss your free Viewing Trip Guide. It covers everything you need to know and look out for.
Dublin 6 – This district wins the Dublin popularity contest, particularly areas like Rathgar, Rathmines and Ranelagh. Located just outside the city centre, only a few stops on the LUAS, these neighbourhoods are known for their culinary delights, shopping options, and for their nightlife scene, which is a welcome break from the madness of Temple Bar.
Dublin 7 – This is a great option for new builds at decent prices. The most popular neighbourhoods in the district are Smithfield, Phibsborough and Four Courts.
First time buyers, or those with a smaller budget, should set their sights on Grangegorman, Stoneybatter, Phibsborough and Broadstone.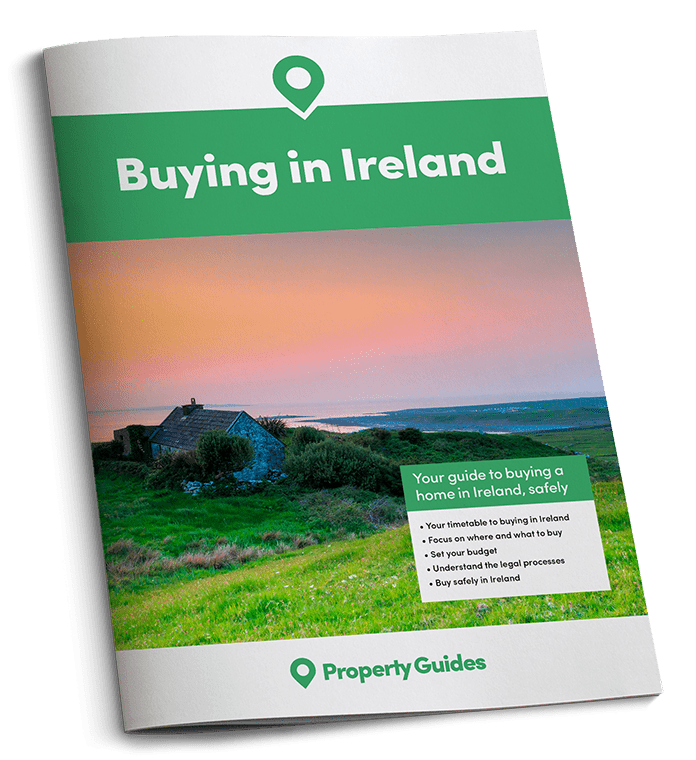 The Ireland Buying Guide takes you through each stage of the property buying process, with practical recommendations from our experts who have been through the process themselves. The guide will help you to:
✔

  Ask the right questions
✔

  Avoid the legal pitfalls
Download your free guide to buying in Ireland