There's nothing like local advice when you're moving overseas, so this week we're taking tips from the Greeks. Over 90% of domestic tourists stay in private accommodation – so where are the most popular spots for a holiday home? Find out as we explore some of the best areas in Greece that are often overlooked by international buyers.
Euboea/Evia
Euboea offers the best of both worlds. On the one hand, you can enjoy typical Greek island life, with easy access to the coast and inland mountains, numerous excellent beaches and just a general lack of bustle and rush. On the other hand, since the bridge opened, Euboea is accessible by train from Athens, meaning you can easily visit the island even in the winter months. Perfect for anyone looking to spend winter in the sun!
The southern and northern tips of Euboea are generally the most picturesque, with the centre a bit more developed. In the north, Edipsos is famous for its 80 hot springs and its historic architecture. Head south to Karystos and you'll find some of the island's best beaches, as well as excellent restaurants around the beautiful harbour. If you are looking more centrally for property in Greece, try the village of Amarynthos, also known as Vathia. Located by the sea, it also has easy access to the Skotini plain, with its mountain biking trails and many Byzantine churches and monasteries.
One things Greeks don't need to contend with when buying in Greece is the risk of sending money on the currency markets. Learn how to protect your budget by locking in an exchange rate in the Property Buyer's Guide to Currency.
A detached house costs around €250,000-€400,000, although prices can run lower in the centre.
Pelion
The unspoilt Pelion peninsula, named for its central mountain, is authentic Greece at its finest. While within easy driving distance of Athens, its mountainous terrain has protected it from overdevelopment and the largest settlements you'll find here are small fishing villages or mountain towns clustered around historic monasteries.
Agios Ioannis, on the Aegean coast, is a fantastic little village to buy a holiday home. It has a large sandy beach and a number of traditional tavernas serving delicious local cuisine. This is a local area, so you can trust the food to be authentic! Just outside the village, you'll find another sandy beach, called Plaka. The village backs onto the forested slopes of the Agios Dimitrios hills.
On the other side of the peninsula, overlooking the Pagasetic Gulf, is the small beach village of Chorto. It may only have a population of a few hundred, but it has its own theatre and several restaurants. Ten minutes' drive up into the hills takes you to Argalasti, with a popular weekly food market, a farm shop, further restaurants, banks and key services.
The unspoilt Pelion peninsula, named for its central mountain, is authentic Greece at its finest.
There's a big price range, with detached houses selling for anything from €130,000 in places like Argalasti to €600,000 in the regional capital of Volos.
Argolic Gulf
The beautiful Argolic Gulf enjoys a warm climate year-round, and is protected by the 'Meltemi' wind much of the wider region experiences by the surrounding mountains. Its relatively calm waters are a popular spot for yachting fans. If Euboea attracts families looking for beach holiday homes and Pelion holidaymakers seeking to get away from it, the villages of the Argolic Gulf are perfect for a more active lifestyle.
The headline location is, of course, Porto Heli, the home of Greece's jetset. Its small harbour is lined with upmarket boutiques, restaurants and, of course, has one of the country's best yachting marinas. Two luxury resorts, Amanzoe and Nikki Beach, have been built in recent years. Sean Connery is said to have purchased a home here, while Greece's former King Constantine has also made it his permanent residence.
Find out what you need to know about moving to Greece before Brexit in our free guide.
Property prices in Nafplion are more accessible, and the town gives you easy access to a number of great beaches, including Kantia. Nafplion itself has a fantastically preserved historic centre, leading up to its fortified acropolis. Most houses are in an Italianate style, the legacy of the town's long period of Venetian rule.
Thinking of buying in Greece?
Don't miss your free Greece Buying Guide below. It's packed with information about finding your dream home, the actual buying process itself, the legalities, taxes, currency exchange and more.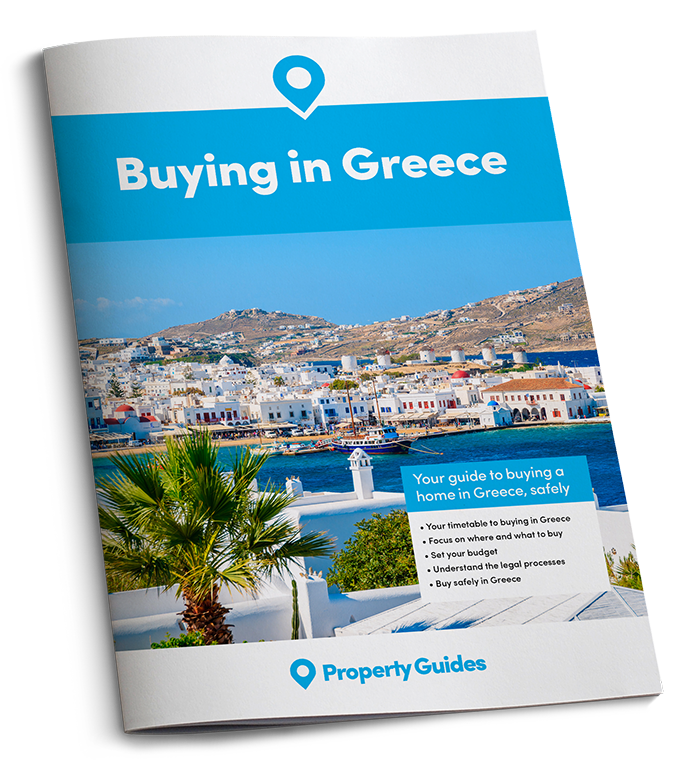 The Greece Buying Guide takes you through each stage of the property buying process.The guide will help you to:
✔

  Ask the right questions
✔

  Avoid the legal pitfalls