Greece is about as far as you get in Europe without needing to fly or sail, which means you have plenty of removals options, including doing it yourself.
You've successfully negotiated the overseas buying process and you're finally moving into your dream home. Time to relax? Not quite, now you've got to move your stuff in and get the sofa up the stairs. Leave the champagne on ice for the time being because there's still some planning to be done before you're settled in.
Don't be daunted, however. If you can buy a property in another country, then arranging to send a few things overseas should be a breeze. Let's take a look at your options for making this happen as smoothly as possible.
If speed is of the essence air freight is your best option, taking one to three days.
Shipping options to Greece
Whether you are moving to Crete, Athens, Rhodes or somewhere more remote you can arrange for your possessions to be packed, shipped and delivered to your new pad, before being unloaded inside. So how do you go about getting them from A to B? If you're moving to one of Greece's 227 inhabited islands you will have to move your possessions to your new home by land, sea or air.
Land
It's a 3,000 kilometre drive from Calais to Athens, which Google calculates you can do in about 30 hours. The route takes you through France, Germany, Austria and various Balkan countries, but what an adventure! Another option is to drive as far as Italy and then get a ferry across to Greece from Bari or another of the Adriatic ports. This is around a thousand kilometres less driving, but does involve a ferry cost from around £250-300 for a medium sized van.
The downside is that you then have a car or van in Greece that you might not want. There is always the option of buying a left-hand-drive car in France and continuing to use it in Greece.
Air
If speed is of the essence air freight is your best option, taking one to three days. The convenience comes at a cost, however, particularly if you are shipping a large amount. This might be more affordable if you're buying a holiday home and don't need to move all of your worldly possessions out to Greece. If you're on a smaller island, you will then have to arrange further transport out by ferry, but these are relatively well-trodden paths so hiring a woman/man and a van from Athens should not be problematic.
Sea
If there is one thing the Greeks know about it is shipping, so this is usually the easiest option, especially if you are on an island. Transporting your belongings by sea will take at least four to seven days from the UK, but this is certainly the most cost-effective option if you are taking bulky items like furniture. We've calculated the estimated shipping costs to Greece that you'll need to budget for, by obtaining quotes for shipping the contents of properties of different sizes:
• Contents of a small flat by sea: £850 – £1,000• Small flat by air: £3,500 – £3,800
• Three-bedroom house by sea: £1,500 – £1,500 (20 foot shipping container)
• Five-bedroom house by sea: £2,000 – £2,500 (40 foot shipping container)
If you are ready to buy in Greece in the next three months, call our friendly Greece Resource Team on 020 7898 0549 or email greece@propertyguides.com. We can put you in touch with a currency specialist.
Why bother?
If you don't fancy getting involved in any of that, one good thing about your new life in Greece is that the Mediterranean lifestyle is more about being than belongings. Greek people tend to have far fewer possessions and keep their properties less cluttered. Greek furniture bought locally will tend to suit the climate better than the soft furnishings that suit you so well in the UK, but if all else fails, you can always find an Ikea – there are at least five shops and/or pick-up points.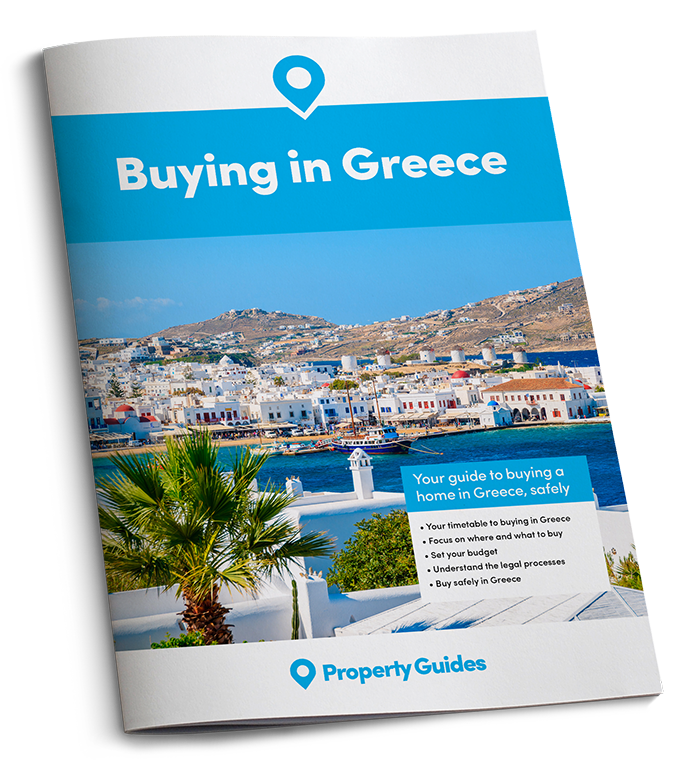 The Greece Buying Guide takes you through each stage of the property buying process.The guide will help you to:
✔

  Ask the right questions
✔

  Avoid the legal pitfalls