The island of Skopelos was made famous when the movie Mamma Mia! was filmed there. Does this small island community really offer the dream lifestyle depicted? We're going in search of Greek paradise…
Mamma Mia! The Party – a "dining experience" based on the movie and stage show – has been a huge success in London. But with tickets going at up to £250 each for the 4-hour extravaganza, why not travel to Skopelos and sample the real lifestyle?
If you need to raise a little more money to buy your dream home in Greece, read how in our guide, How to Pay for an Overseas Property.
There's no airport on Skopelos, which is in the Sporades islands in the Western Aegean. But it's quite easy to reach via the airport on the nearby island of Skiathos and then water taxi, which takes around 15 minutes. It feels that little bit extra special when you arrive in Skopelos by water taxi. A year-round option is to fly into either Athens or Thessaloniki and get the ferry from Agios Konstantinos or Volos, of which there are several each day.
You can just about walk across Skopelos in a day, being around 25 kilometres long. And what a beautiful walk it would be, through the green hills, among goats and sheep used to make local feta cheese, through plum orchards and almond, oak and pine trees. The Mediterranean always shimmering in the distance. Eagles, owls and great cormorants float on the thermals and strong sea breezes.
Beaches
There are few beaches along its coastline, although Glysteri is very pleasant and just two kilometres from the port, while Stafylos beach is most popular with families and is very handy from Skopelos town. Most of the beaches are rocky or shingle, but outside the summer months you may well have them to yourself. Being a little off the usual tourist trail, naturists have adopted Velanio beach.
Don't spend any money on your move to Greece until you've read

The Currency Guide to Emigration,

 free to download.
The island is especially good for boating; everything from kayaking to yachts. The Daily Telegraph described Skopelos as the perfect Greek island, pointing out that despite the success of the movie, the island has not become over run with themed bars. Instead, it says, Skopelos represents: "unspoilt island life; unpretentious food and accommodation; quiet beaches; walks through green, mountainous interiors; and a complete removal from the stresses of modern life."
Where to live on Skopelos
For property, Skopelos only has a population of around 5,000, so there is limited property available. The main town is Skopelos Town (or Chora), which has a population of around 3,000. It is set around a bay, filled with boats, and has Italianate homes with red roofs and green shutters. Superbly rentable in summer, even in winter there is plenty to see from your balcony here.
Skopelos town is set around a bay, filled with boats, and has Italianate homes with red roofs and green shutters.
The second-largest village is Glossa, a tumble of red-roofed homes at around 250-300 metres above Loutraki Harbour. There are several other smaller villages dotted around the island, as well as country homes in the interior.
You can expect to pay just under €100,000 for a small home – either a one-bedroom apartment or maybe a small townhouse. A reasonable-sized house, perhaps with a courtyard garden will be closer to €200,000. For a villa with a more spacious garden you will need to up your budget to €300,000.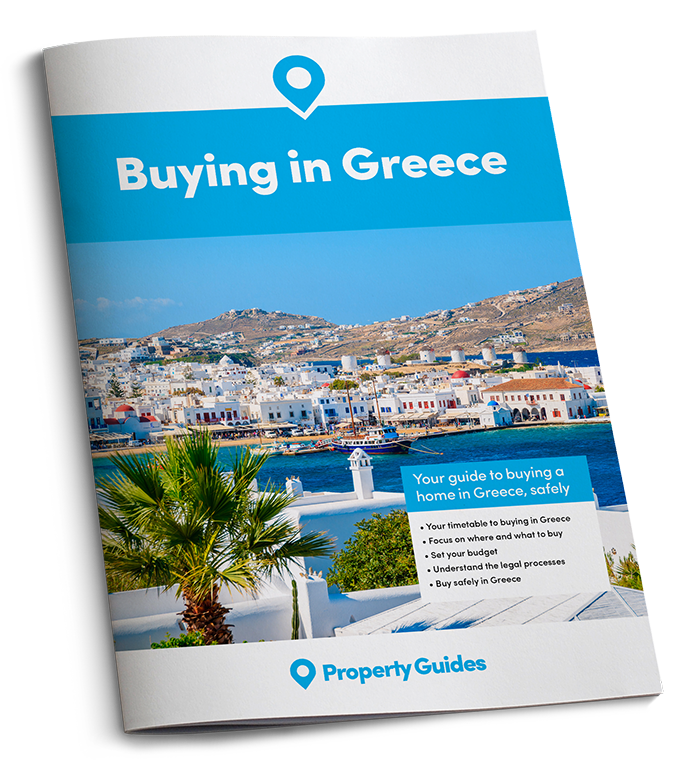 The Greece Buying Guide covers every stage of the property buying process, sharing our experience and knowledge to ensure a safe and successful property purchase. The guide will help you to:
✔

  Ask the right questions
✔

  Avoid the legal pitfalls
Download your free guide to buying in Greece