Greece is beautiful, affordable, friendly and on the rise again economically. With property prices at rock bottom, is now the time to beat the rush and make the move?
Moving to Greece is a big step for anyone, but with a family the challenges are even greater. Yet thousands of us do, and with good reason. Despite the financial crisis, or even because of it, the cost of living is low and housing has never been cheaper. If your income comes from abroad or you're a digital nomad who can work from anywhere on your laptop, moving to Greece and its islands could be a wonderful new life.
The first step in your planning should be to take a good look at your reasons to move to Greece. You may want to enjoy a more relaxed way of life. You may have seen how the Greeks are able to work hard and yet have time to spend with family. You may have also noticed how close family ties are in Greece. If that is what is driving your move, the good news is that you can all be assured of finding what you are looking for in Greece, especially if you go to the smaller towns or villages.
To test the water, rather than staying in a hotel, rent an apartment or a villa – there are thousands on Airbnb – or do a house swap.
There's a community spirit in Greece that is heart-warming. Even as newcomer from overseas you will invited to weddings, name day celebrations and parties. Children are adored: they are spoilt rotten as small children and then disciplined as they get older. It's a balance that seems to work: children have enormous affection for their parents but also respect and honour them.
One way to test whether the whole family is up for the move is to 'play house' at your projected overseas location. Try to stay for as long as possible on your next visit. Then plan to experience the place as someone who lives there would. To test the water, rather than staying in a hotel, rent an apartment or a villa – there are thousands on Airbnb – or do a house swap. Instead of visiting the main attractions, check out all the things that the locals do.
If you have school-going children you will need to make sure that there is a school within an accessible distance from where you plan to stay and that preferably there is public transport for those days that you are unable to do the school run. Travelling by bus is also a good way for kids to make contact with other local school goers. If you want your kids to attend an English school your options are very limited in Greece so you need to make sure that if you are buying a house you have sorted this out in advance.
You may want to test public transport to see how reliable it is, stroll through the area at different times of the day to listen out for noise, buy the type of groceries you normally purchase to determine if they are available and at what price – and definitely check out health services. How far away are they and will they cater to all your needs?
If you're making the move, you should speak to a currency and payments specialist about how to get money sent to you in Greece. We recommend Smart, ranked highest on Trustpilot for money transfer and currency exchange.
If you have a beloved pet that needs to relocate with you then I suggest you go to the DEFRA website which contains full details for the Pet Travel Scheme. This should be consulted to check all up-to-date requirements of the scheme – www.defra.gov.uk
By giving yourself and your family time as residents rather than as tourists you will get a more realistic idea of daily life in your desired location and you will all be better able to assess whether you are all up for the move.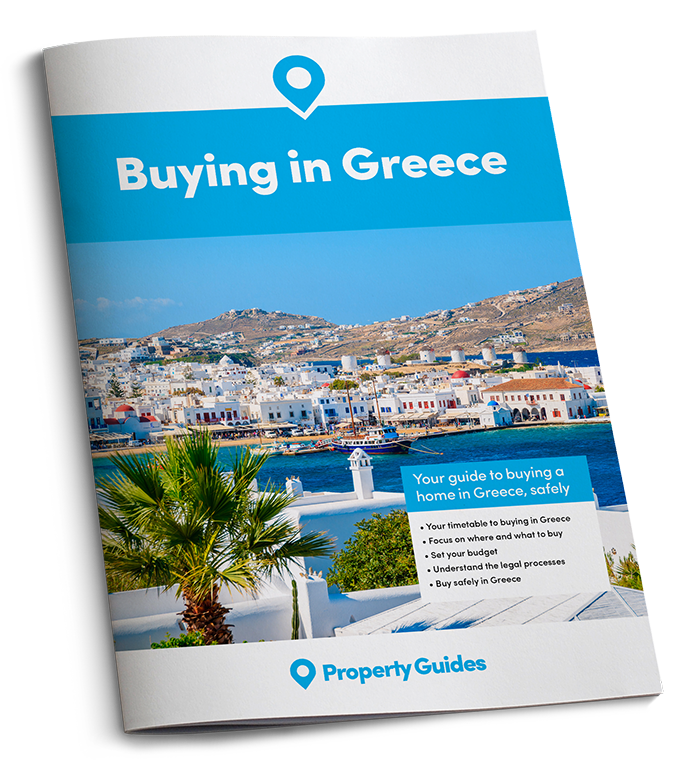 The Greece Buying Guide takes you through each stage of the property buying process.The guide will help you to:
✔

  Ask the right questions
✔

  Avoid the legal pitfalls