Whether you're moving to Greece before or after the Brexit transition period ends, you'll need to apply for Greek residency. Our writer in Greece has been through the process and explains the niceties.
When I first moved to Greece in the late 1970s, Greece wasn't in the EU. It became a member state in 1981. I had to apply for a visa and residence permit before leaving the UK. Back then, if you had a visa you had to renew it every three months, so Brits would go to Turkey to get their passport stamped and then return to Greece for another three months.
For help in all aspects of buying or moving to Greece, including residency, click the link for legal help.
The only problem with this state of affairs was that if you forgot to get a new visa you had to pay a fine when you left Greece. Now, many years later, you will instead have a range of visas available, and you apply for a residence permit when you are in Greece rather than before you leave your own country.
Types of visa in Greece
If you have a holiday home in Greece, then you will likely be fine with a tourism visa, which allows you to stay for 90 days in every 180-day period. However, if you're looking for residency, there are a number of visa options available to you.
Firstly, you have the working visa, which can be converted to a work permit and a residence certificate at the same time once you actually arrive in Greece. Usually both documents are valid for five years. The residence certificate is not the same as a permanent residency permit. To get a work permit you have to visit the local aliens and immigration department in Attica and the city of Thessaloniki.
Before you can apply for a work permit, you need a job so that your employer can be contacted. This sounds mad, but I know this because of my own experience.
Ask where you should go to apply for a residence certificate or permanent residence permit at your nearest KEP office. These offices are basically Citizen's Advice Bureaus. They can help with numerous queries relating to residency permits, renewal of documents and so on. I have always found the staff helpful and knowledgeable at these offices.
Find out your options for financing a purchase abroad in our new guide, How to Pay for an Overseas Property.
Another popular option is the so-called 'golden visa', which provides a residency permit, renewable for up to five years, in return for purchase of real estate at €250,000 or more. With this option, you don't need to find employment or anything of the like, and you can be accompanied by your spouse and close family, who may also qualify for residency through you.
Dealing with Greek bureaucracy
If you have bought a Greek home, you will have a Greek tax code, a Greek bank account, health insurance and proof of income and your National Insurance [AMKA] number. When you apply for a residency permit you should take as many documents as you can with you. These should include bank statements so that you can prove that you are financially secure. All documents in English should also be translated into Greek and notarised.
You can get documents translated in the UK before you leave, so birth and marriage certificates can be translated and notarised in the UK. Take lots of photocopies so that you don't take originals with you unnecessarily.
Greek bureaucracy can be infuriating, so be prepared for long waits and further visits to government offices. If you get as much paperwork and photocopying done as you can before leaving the UK, it will help.
If you have done the preparatory work before you leave the UK, you will not have so many bureaucratic headaches when you get to Greece.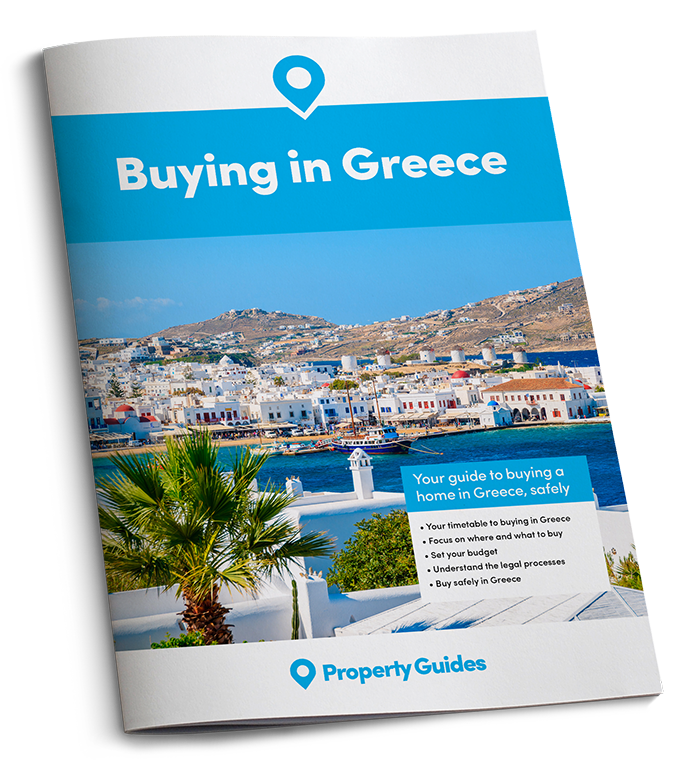 The Greece Buying Guide takes you through each stage of the property buying process.The guide will help you to:
✔

  Ask the right questions
✔

  Avoid the legal pitfalls