When you're thinking about moving to Greece, you have thousands of places to choose from. As part of our tour of the best islands for property buys, this week we look at Santorini and Mykonos.
Over 3,000 islands make up Greece, with over 200 inhabited, meaning you are spoilt for choice when looking for an idyllic location for your perfect beachfront property. To help with your
The popularity of Mykonos with the fashionable elite means that many businesses stay open all year and there's something to do all year round
Mykonos
Mykonos is one of the most well-known islands in Greece, idealised for its white-washed houses with blue roofs, perfectly mirroring its white sandy beaches and azure seas. If you are looking for a classy seaside home but also great nightlife, look no further than Mykonos.
The island has a typical Mediterranean climate, with around 300 days of sunshine a year. Temperatures can rise as high as 40ºC in the summer, with the hot, dry "meltemi" wind blowing off the sea. In the winter, the average high temperature is 15ºC and frost very rare. Although mild, the weather will occasionally be wet.
Popular with British and European tourists and property buyers, Mykonos is always fashionable – its nightlife rivalling the Balearics and particularly noted for its gay-friendly attitude. Here you can find designer shops and restaurants too, which inevitably means that property can come at a premium. A three-bedroom villa in Mykonos Town, for example, can set you back over €500,000 However, the popularity of the island with the fashionable elite also means that there is usually something to do all year round, and if you chose to rent your property out in the summer you will be able to do so for a tidy sum!
If you want a Mykonos home but have a more mainstream budget, you'll need all your negotiating skills. Download our guide: How to Negotiate Abroad. It's packed with insider tips on getting a great deal.
Like much of Greece, the architecture of Mykonos is beautiful, with famous churches to visit and numerous popular landmarks, such as the Municipal Library, the Armenistis Lighthouse and the renowned Mykonos windmills.
Mykonos is easily accessible from mainland Greece, with a five-hour ferry trip or a 25 minute flight from Athens.
Santorini
Santorini, formed after an enormous volcanic eruption, is known as one of the most romantic islands of Greece, and is popular for destination weddings and for having one of the best sunsets in the world in Oia. Where could be more perfect to start your new life abroad with your loved ones?
The island is one of the most beautiful in Greece with white-washed houses, centuries of historical architecture and its unique beaches.
The island is one of the most beautiful in Greece, if not the world, with white-washed houses, centuries of historical architecture and its unique beaches – its volcanic landscape means you can often find black pebbled beaches, and its famous Red Beach.
Its popularity and beauty means that Santorini is one of the more expensive parts of Greece to buy property. In Pyrgos, one of the larger villages on the island, for example, generally a three- to four-bedroom property will set you back around €400,000. This also means that if you decide to rent out your property in the summer months, you can expect to receive a premium.
Like Mykonos, Santorini is also easily accessible from mainland Greece in summer, with a choice of at least 20 flights per day from Athens. You can also take a boat, all year, in around five to seven hours.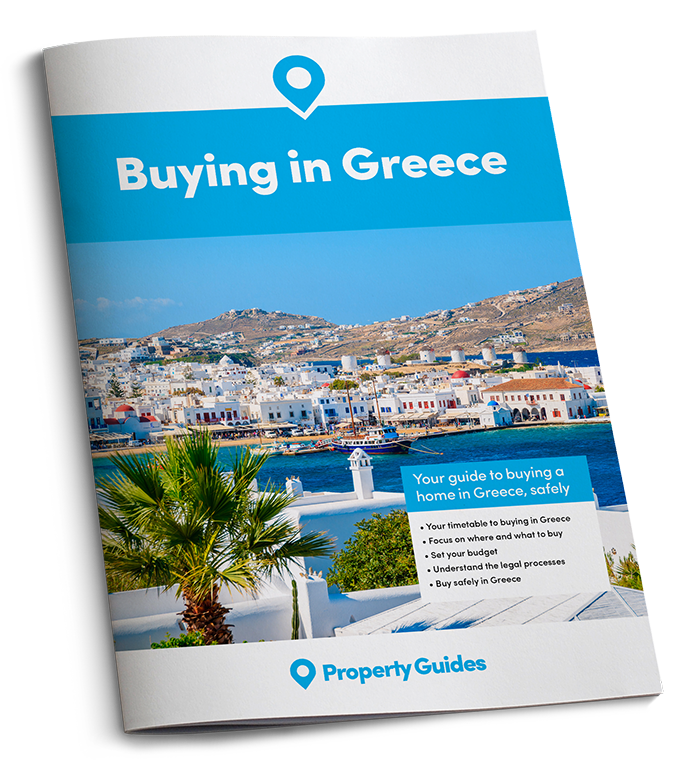 The Greece Buying Guide takes you through each stage of the property buying process.The guide will help you to:
✔

  Ask the right questions
✔

  Avoid the legal pitfalls