Could Chania be your home from home? The British have long and deep ties to Greece's largest island, and the island's second biggest city combines lovely Italianate architecture with a lively expat lifestyle.
Chania, which is pronounced and often spelled Hania, is Crete's second city, with a population of 55,000, roughly the same size as Littlehampton or Corby. It has rather more recorded history than either of those towns though, as it was founded by the Minoan civilisation from around 2700BC.
It was an important city of ancient Greece and the endless traffic of new civilisations has enriched its culture, including, Greek, Roman and Arabian remains. More recently, the Venetians left their mark in beautiful architecture – they really know how to make a photogenic reflection in the water, did the Venetians! There is also a strong British connection, with the graves of 1,500 Allied soldiers in Chania cemetery testament to the fierce defence of the island made by British, Commonwealth and Greek soldiers, side by side, in 1941.
There is good reason to believe that if you buy a home or move to Crete before Britain leaves the European Union your rights will be protected.
Chania today
Chania is generally regarded as Crete's most beautiful city. It has an Old Town and harbour where the jumble of beautiful buildings seem to glow pink at sunrise and sunset. The modern city extends inland and there's a rocky peninsula called Akrotiri, which also has the airport (direct flights are plentiful in summer but in winter you'll normally need to go via Athens) and as a busy port from which ferries leave Chania both for other parts of the island and Athens, nine hours away.
As a tourist, Chania has huge people-watching potential, as well as ancient ruins, of course, and an Archaeological Museum. Shoppers will love the indoor market, sunbathers love the Nea Chora beach and pescatarians will enjoy the fish restaurants.
When you come to live there and explore the island further, you'll see that the island's greenest hills are around Chania, with plains full of olive groves and vineyards. It is wonderful hiking country too, with the White Mountains just south of the city, leading to the Samaria Gorge, a 16-kilometre canyon that leads down to the sea. The biggest attraction has to be the sea. In the summer it is heaven, but even in winter the sea stays at around 16ºC (that's higher than Littlehampton's summer temperature!)
Moving to Chania
British people are permitted to live and work in Crete, for the time being at least, and there is good reason to believe that if you buy a home there or move to Crete before Britain officially leaves the European Union by March 2019 that your rights will be protected. Work options are limited. There is a large retired expat population who always need caring, cleaning or key-holding help, but Greece in general has high unemployment and employers will tend to favour the local Greek-speaking workforce. There are also tourist businesses needing English-speakers, and that old standby English teaching, or the life of the "digital nomad", sitting on Chania harbour with your laptop. Not a bad life! An income of around €15,000 (£13,000) will be more than enough for most people to enjoy a happy lifestyle
There are attractive properties in and around Chania, including Halepa, in the east of the city, and Koum Kapi with a beach and lots of cool restaurants. The Old Town tends to be thronged with tourists in summer, but you could winter in Chania's warmth and rent it out for profit in summer. Look out for Topanas, the old Christian area, or the Jewish quarter. Other popular spots are Akrotiri, with modern developments at Stavros and Kalathas, and Kolimbari, a traditional fishing village a 30-minute drive further west with a pebbly beach and a few restaurants. Don't forget the villages too, such as Douliana, Gavalohori and Stylos.
The Property Market
Crete hasn't traditionally been a cheap option for property, but as Mediterranean island properties go, neither is outrageously pricey either, and prices have fallen by around 40% since the boom years of the mid-2000s.
One-bedroom/studios from €50,000
Two bedroom apartments from €80,000
Small townhouses from €85,000
Family villas with pool from €150,000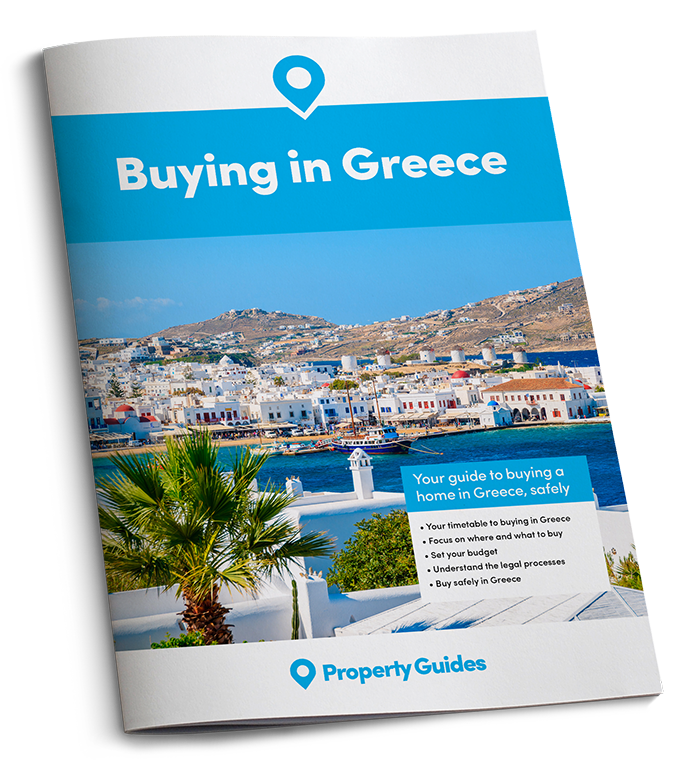 The Greece Buying Guide takes you through each stage of the property buying process.The guide will help you to:
✔

  Ask the right questions
✔

  Avoid the legal pitfalls