In Part Four of your six-part guide, Buying in Greece, you'll find out how to pay for a property you're purchasing over here. We're exploring the different avenues open to you for raising finance, through to the main players in the process.
What are the key financial points when deciding how to pay for a property?
Funds available: Work out what funds you'll have available to buy the home. Take into account different aspects open to you, from cash, savings, saleable items, investments you could cash in or pensions you could drawdown.
Additional finance: If you're not a cash buyer, could you buy with a mortgage? Speak to an estate agent, IFA or lender like a bank to assess your options. Don't forget to also take into consideration how to pay if you are ill or lose your jobs.
Ongoing finance: Remember the costs that will come after you purchase, from local property taxes to maintenance and even the travelling expenses to get to your new home. Decide how you'll cover these, including the risk of changing currency exchange rates.
Investments: If you're moving to Greece for good, it could be beneficial to take your pension with you, so to speak. You could move it into a QROPS (Qualifying Recognised Overseas Pension Scheme) or a SIPP (Self-Invested Personal Pension). Bearing in mind any conditions that apply, you could gain greater control over your pension and cut down your tax bill.
Getting a mortgage
With interest rates so slow, it's small surprise that many of us are choosing to take out a mortgage to buy in Greece. You'll need the following things when you apply:
Past two years' income tax declaration
Past year's bank statements
Past six months' proof of income
List of mortgage loans already held
Statement of your assets and liabilities, confirmed by an accountant
Copy of your passport
Managing your currency risk
Exchange rates never stop moving and we live in a time of extreme volatility. When considering how to pay for your property, don't forget to factor this in. Consider that a property's quotes price in euros can change in pounds between making an offer and paying the initial deposit. Just consider that a €300,000 property has changed price in sterling by over £10,000 in the last year alone.
Reading our Family Buying Guide to find out how joint ownership can halve the costs and double the buying power.
Buying costs
In addition to the actual cost of the property, there are a number of other costs that you will need to factor in on top of this. There are a number of factors that will affect how much these costs total, such as whether the property is new-build or resale property and how you are paying for the property – cash or mortgage. We recommend budgeting around 10-15% of the purchase price to ensure all taxes are fees are covered.
Most of the fees payable will be based on the 'assessed tax value' of the property, which will usually be lower than the actual price you are paying. This has been previously calculated by local tax authorities using government criteria and you will usually find this is fixed. These fees will usually include:
Purchase tax: This is around 7% of the first €15,000 of the assessed tax value of the property, and 9% on the remainder. For example if you are buying a property valued at  €120,000, you will need to pay €10,095 in purchase tax. This must be paid before the final purchase contract is signed.
Value added tax (new build only): New build properties with a licence issued from January 2005 are subject to VAT at a rate of 18%.
Land registry fees: These will be from 0.3-0.5% of the assessed tax value of the property.
Notary fees: The fees charged by the notary for drawing up the final purchase contract will usually cost up tow two percent of the property's assessed tax value.
Get your copy of our free Viewing Trip Guide, so you know exactly what to look out for when seeing properties.
Legal fees: The conveyancing of the property will usually cost up to 1% of the assessed tax value, but this will need to be agreed in writing beforehand. You do not have to engage the services of a lawyer for your purchase, but this is highly recommended.
Community fee: Paid at the same time as purchase tax, you will need to pay a community tax of 3% for general public services such as road maintenance.
Agent's fees: These are split between the buyer and the seller and will usually be between two and five per cent of the purchase price. The seller's part may well be included in the purchase price of the property, meaning that in effect the buyer pays all fees.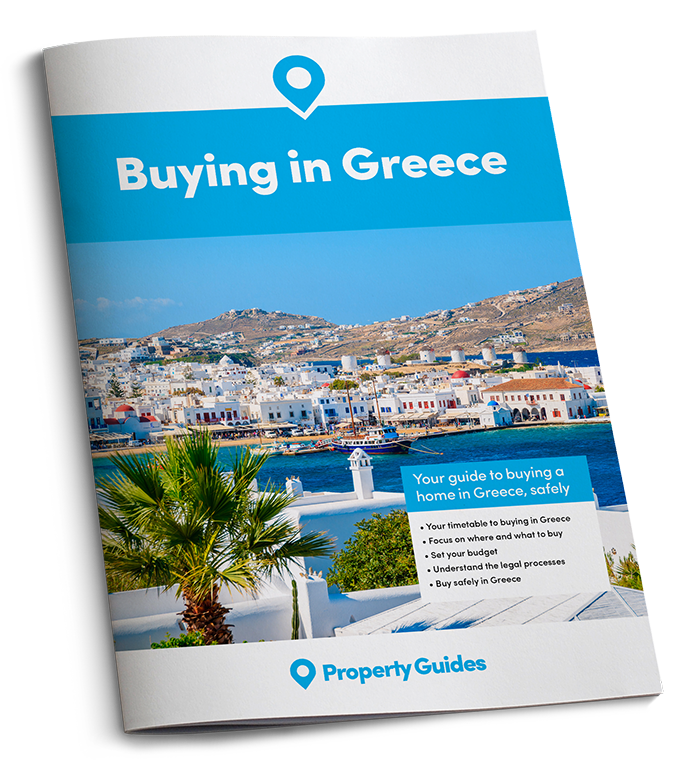 The Greece Buying Guide takes you through each stage of the property buying process.The guide will help you to:
✔

  Ask the right questions
✔

  Avoid the legal pitfalls