It could be the warmer weather, or the healthy diet, or the fact that Greece has twice as many doctors as the UK, but the Greeks are in great health. You could be too.
Although many Greek people have suffered unemployment, bankrupt businesses and depleted pension in these years of austerity when it comes to their health service, Greeks still enjoy generally better health than in the UK. This is despite a serious cut in public spending on health.
The Greeks scored above averagely for general life satisfaction.
According to the Organisation for Economic Co-operation and Development (OECD), a club for 35 of the most democratic and developed countries in the world, Greece has the 13th best health outcomes while the UK has the 14th. And these weren't opinions from before the economic crisis , they were from a year ago.
Where Greece scored highly was in the health of children (at all income levels, rich and poor) and self-reported health – i.e. how the Greek people feel within themselves – where 75% of Greeks declared themselves to be in good or great health, compared to just 60% across the 35 countries as a whole. The Greeks also scored above averagely, perhaps surprisingly, for general life satisfaction.
Why should this be? It is partly down to the Greeks really caring about their health – it was voted the most important matter by a survey of the Greek people. They also care about each other's health. Indeed they don't have much choice, given that if you're in hospital it's your own family who are expected to come and look after you. In the UK we complain enough about hospital parking charges – imagine if we had to come up and clean out relatives bedding too!
When it comes to staying in hospital, Greece has nearly five hospital beds per thousand people in the population, while the UK has just 2.9. Greece has more than 600 doctors per 100,000 people while the UK has fewer than 300. The Greeks also spend much more on pharmaceutical drugs than the British.
Accessing health
Anyone – whether European or not – requiring medical help in Greece should receive basic care free of charge even if uninsured, albeit with a €1 charge for prescriptions. The right to access healthcare has been a big issue during the migrant crisis, and the government has come down on the side of being generous to immigrants requiring healthcare, really to help refugees, but of help to British expats too.
British people visiting Greece, for the time being at least, and possibly even after Brexit, can use their European Health Insurance Card (EHIC) for medical services just as if they were Greek. British pensioners living in Greece need to apply to the UK Pension Service to get the form they need (an S1 form) by calling 0191 218 7777.
The British make up the biggest group of foreign buyers of property in Greece, so with Brexit on the horizon it is highly likely that the market will develop for private healthcare in Greece and the price come down
Those below retirement age and staying for the long-term should be paying into the state health system to use services, just like with national insurance. They do this via their Citizens Service Centre, known as the KEP. The body responsible for health is the National Organisation for Healthcare (EOPPY), like Britain's DHSS. Contact your local EOPPY office online at eopyy.gov.gr to find out how to register with a doctor.
Private health insurance
Although Greece has historically enjoyed excellent health services, it has certainly suffered in recent years, with complaints of hospitals running out of drugs. What is more, the cutting of expenditure continues, with severe cuts in health spending expected. So if you can afford it, it will be worthwhile taking out private insurance. The British make up the biggest group of foreign buyers of property in Greece, so with Brexit on the horizon it is highly likely that the market will develop for private healthcare in Greece and the price come down. For the moment, budget for around €500 for a family of four per month or €800 for a retired couple.
For those without family to help look after them in the case of emergency, or wishing to be repatriated to the UK in case of serious injury (or death) ensure your insurance covers you for this. The Greek people are not in a position or the mood to help out foreigners who can afford a holiday home!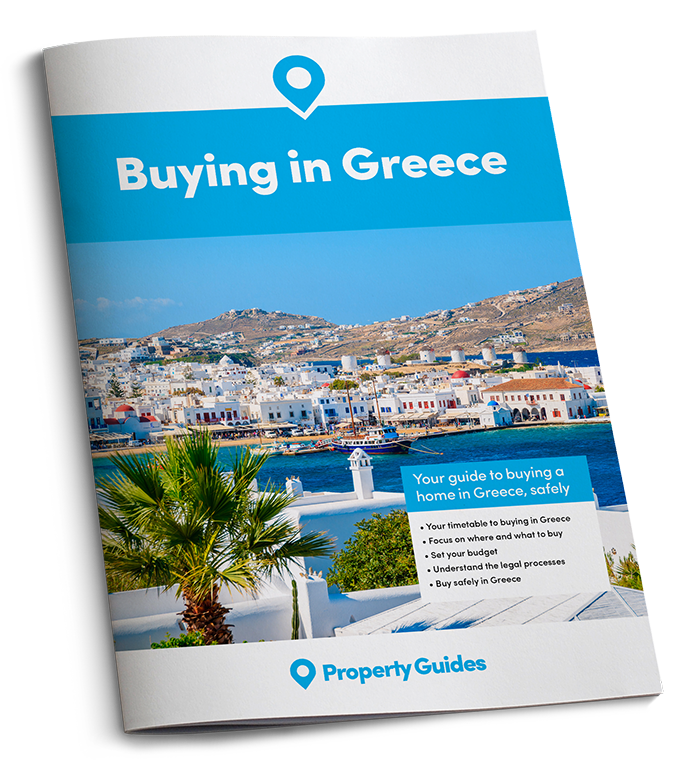 The Greece Buying Guide takes you through each stage of the property buying process.The guide will help you to:
✔

  Ask the right questions
✔

  Avoid the legal pitfalls