Types of property to buy in Greece
Now for the fun bit: what style of home do you want? Thousands of years of history, widely dispersed geography and many foreign influences all add up to a bewildering choice of types of property in Greece. You could choose from a modern villa using classical Greek columns, a converted windmill, or even city-centre apartment with a view of the Acropolis.
The main types of property in Greece
Since The Durrells became a Sunday evening treat on British TV, how many of us have pictured ourselves in a shabby-chic Italianate villa?
Architecture in Greece reflects the geographical diversity of the country and the many people and cultures that have visited. Each region has its own distinctive elements and styles, like in the UK. In the west and south, you'll chiefly find Venetian-influenced homes. In the interior of the mainland, it's largely rustic stone styles. Over in the east, you've got the typical whitewashed styles. 
Italianate villas
Let's start in the Ionian Sea, former territory of Venice. These islands in the west, such as Corfu, are noted for their stylish Italianate villas and waterfronts. Indeed, most islands' harbour fronts are that style, reflecting the influence of the Venetian and Genoese sailors and merchants. These have become especially popular types of property in Greece among expats for conversion to small hotels and B&Bs. Since The Durrells became a Sunday evening treat on British TV, how many of us have pictured ourselves in a shabby-chic Italianate villa?
Likewise, you'll also find a few buildings of this style in Crete, one of the southernmost former Venetian possessions. They're especially common in Chania and Rethymnon.
City apartments
Normally when you think of Greek architecture, Doric columns and statues may come to mind. However, while classical-style villas have been making a comeback in some upmarket resorts, most modern Greeks live in apartment blocks. Most, in Athens anyway, are six storeys high, each with a balcony on which you can sit out and enjoy the warmth of a summer's evening and the sounds of the city below. In fact you pay more as you go higher precisely to avoid the sounds of the city! For new international buyers, however, isn't that part of the appeal?
Don't get the wrong idea, however. These aren't flashy glass constructions, like the high-rises that blight the coast in some parts of the Mediterranean. Most are more traditional-style, white or pastel constructions with coloured awnings. Generally speaking, the Greeks have protected their landscapes better than some countries. The types of properties in Greece that developers can build are tightly regulated.
Whitewashed village homes
In the Cyclades and Dodecanese islands, closer to the old Asia Minor, properties have more of a Middle Eastern look. Think of whitewashed houses with brightly coloured domes, doors and balconies. We're all familiar with the images of Santorini's bright white villages with their blue roofs.
Many were built before air con, so they have great natural cooling, with smaller windows for plenty of shade. You'll find in the towns that they rarely have gardens – but that's a small price to pay for stunning sea views!
Sturdy stone farmhouses
Similarly, village properties in the interior, both of the islands and the mainland, are normally built of local stone and timber, generally of sturdy construction. This is particularly the case up in the mountains, where winters can get a little chilly (by local standards). You don't have to go to the back of beyond for these. There are beautiful cottages to renovate in expat-friendly islands such as Crete.
You won't see many high-rise apartment blocks blighting the coast. The Greeks have protected their landscapes better than some countries
Modern villas
Modern properties tend to be in the same Mediterranean style that you'll find in Italy and Spain, with white walls, tiled floors and red roofs. Most will have either a private pool or a shared pool. Many older properties built before a/c will have small windows for extra shade, but these homes take advantage of air con to have bright, large windows that fill the property with light. Open-plan floorplans are the norm.
Tourist business
Property investment, a new career and living the Mediterranean dream can all come together if you buy a hotel or tourist business. The good news is that many are for sale, despite tourist numbers breaking records in recent years. The website xe.gr lists commercial property sales. Nonetheless, a better option is to find the area you like and speak to local agents who may know of hotel owners considering a sale before it comes on the market. Another possibility is tourist facilities owned by the Greek government that they are being forced to sell to make repayments to the EU Commission.
There are more than 700,000 such assets. They include land, 600 islands and tourist facilities such as hotels, marinas and golf courses.
Renovations
The idea of owning a home within a Greek village, close to the shops and bar, with all the social and cultural advantages of being at the heart of the community, appeals to many foreign buyers. Some of these will have been abandoned many years ago as Greeks left the country or moved into modern apartments, so there are plenty of renovation projects wherever you go in Greece. Social changes in Greece in recent years raises the potential for purchase of a more interesting property: maybe a former windmill in the Cyclades, a farmhouse in Corfu or a former monastery on the mainland.
Un-renovated properties may not have much of a bathroom or kitchen by northern European standards, but there is no shortage of under employed builders to help with a renovation project. Most builders in Greece are small scale due to the geographically scattered nature of the country, and any community will have a couple of builders to choose from. Do not try and flout building laws, however – build ratios are strictly enforced and outside of towns and village centres you can normally only build on around 20 percent of the plot.
Find this information helpful? Share with your friends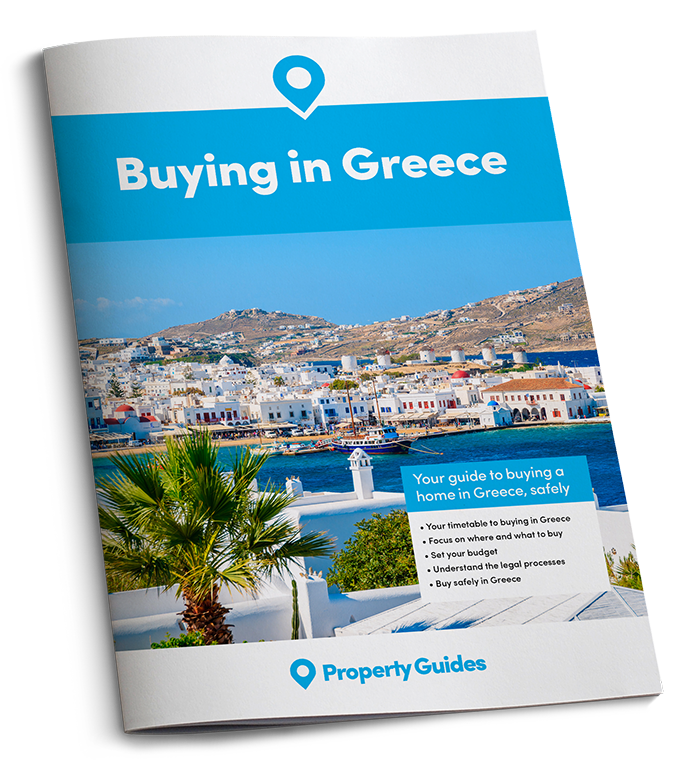 The Greece Buying Guide takes you through each stage of the property buying process.The guide will help you to:
✔

  Ask the right questions
✔

  Avoid the legal pitfalls