Valuing Greek property
Most of us want to buy a property that makes a little money in capital appreciation, but working out how much prices are rising and falling and where offers the best returns is not as straightforward as in the UK. Prices in Greece have dropped by around 40 percent from the peak of the market in 2007, but are beginning to pick up again in the main tourist hotspots.
The most authoritative source of data on prices is either Eurostat, the EU's office for statistics, or the Bank of Greece, Greece's central bank, which produces regular reports, in English, on property prices. International buyers heading to Greece looking to make a killing from desperate sellers offloading places for peanuts have come away disappointed, however. Even in their current financial predicament, Greeks value their property highly and if they were going to sell it cheap, most would have already done so. The Greek government has not forcibly repossessed many properties as they have in Spain and the US, and ridiculously low offers will be viewed as an insult and risk you losing your dream property altogether. It is certainly reasonable to make an offer, though, certainly of 10 percent or so below the asking price.
As in many countries with a Mediterranean coast, property on islands tends to be more expensive than on the mainland. The Royal Institution of Chartered Surveyors has members in Greece, some of whom offer independent surveys of local prices, and can be found via the RICS website.
You won't find many mortgages on offer in Greece, and this has helped to keep prices low, combined with the fact that there is no shortage of available property to buy. Hence the rise in demand for Greek property has not translated into higher prices, yet. That makes it clearly a good time to buy.
Buying costs
Don't forget to factor buying costs into your purchase. These have come down in recent years, since transfer tax was reduced, and now add up to around 6 to 9 percent in total, depending on the value of the house. Taxes include transfer tax of 3 percent plus VAT on all the other fees. Notary, Legal and Registration fees each add between 0.5 and 1 percent, plus 24 percent VAT on top. Estate agent fees are usually split between buyer and seller, adding another 1 to 2.5 percent.
You need a lawyer or accountant who is up-to-date with the new tax rules on the island or region where you are buying.
Money is a serious business in Greece these day. Needing to pay off its international creditors, the Greek government has imposed new taxes on everything from getting an internet connection to buying a cappuccino in your local café, and has clamped down seriously on tax avoidance. The rules are complicated and can vary even between islands. There are also various capital controls left over from the 2015 crisis that may affect a purchase or sale of Greek property and how you organise your funds. There are penalties if you fail to pay a tax – and as a foreign buyer, you can expect no mercy if you get it wrong. You need to find a lawyer or accountant who will be up to date with the new tax rules on the island or region where you are buying.
For example, the age of the property can make a big difference. On homes less than ten years old, you must pay VAT, so most buyers opt for either off plan or older homes, neither of which have VAT added.
To buy a property in Greece, you will need to get a Greek bank account and Greek national insurance number. For these, you will need your passport, tax return and proof of your permanent address.
Find this information helpful? Share with your friends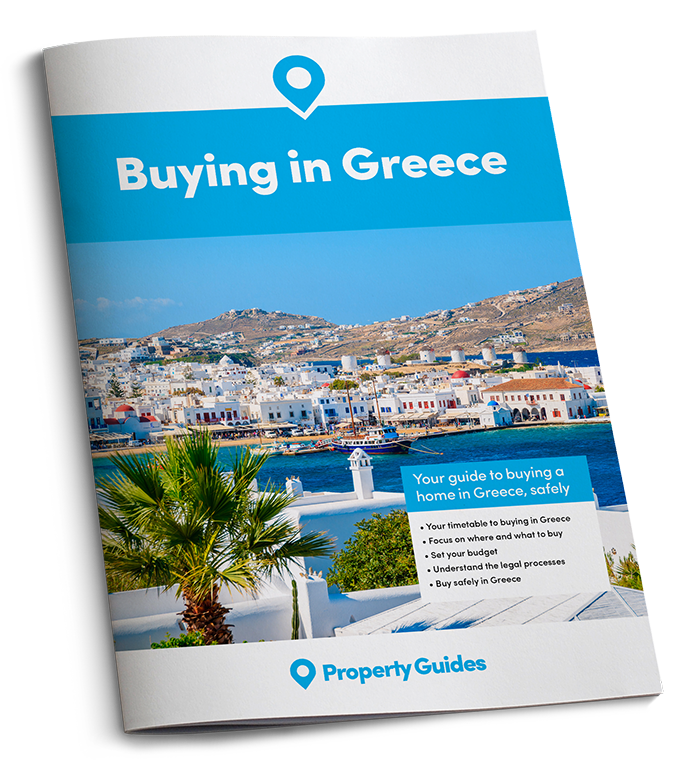 The Greece Buying Guide takes you through each stage of the property buying process, with practical recommendations from our experts who have been through the process themselves. The guide will help you to:
✔

  Ask the right questions
✔

  Avoid the legal pitfalls
Download your free guide to buying in Greece