Finding the right estate agent in Greece
We discuss how you should find the right estate agent in Greece to help you successfully buy property.
Greece has far less nationwide data on its property market. You won't find the kind of Rightmove/Zoopla/OnTheMarket type property websites, brimming with the data and features that we use in most of Europe and the US. The Bank of Greece's regional price data is only top-level and usual only available in Greek. This means that you really will need to go to Greece and find your property in person, but that isn't exactly a chore! Make the most of your viewing trips to Greece and get to know the areas and the estate agents operating there.
Before you go, however, you can look at the Rightmove Overseas' property website, which has thousands of Greek properties for you to get a good idea of prices and speak to local agents. Another advantage is that most Greeks involved in the property business – at least in the islands – will speak English.
Estate agents
The Greek for house is σπίτι (spíti). Greece licenses and regulates its estate agents, who must all be qualified. Check out the site of the Hellenic Association of Realtors (www.sek.gr) for a suitably qualified agent. There is additionally a branch of FIABCI, the International Real Estate Federation in Greece. Any member of the London-based Association of International Property Professionals should be of the highest quality.
Agents normally charge between 2% and 5% of the property price, which is split between buyer and seller. You will also find some property search companies, offering to do your search for you. They'll either ask in return for a commission when you buy, or for a fee up-front. Online expat forums are an excellent way of finding a good agent, or indeed bypassing the agent entirely and buying direct from a seller. Agents will normally accompany you on viewing trips, as in the UK. If buying a brand-new home, check whether the price includes VAT.
Greece has a lot of public holidays and celebrates Easter according to the Greek Orthodox Church, which is a month separate from when we celebrate it in the UK, so it is wise to check your agent will be working before booking any flights.
Find this information helpful? Share with your friends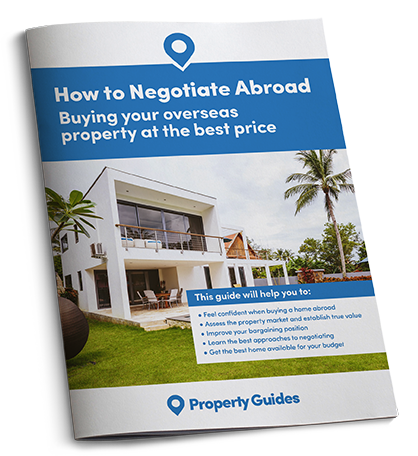 How to negotiate abroad is the guide to put you back in control:
✔

  Feel confident when buying a home abroad
✔

  Assess the local property market
✔

  Improve your bargaining position
✔

  Learn the best negotiating tactics
Download your free Negotiation Guide