A small triangle near the centre of France is where you'll have the best choice of affordable homes, according to notary data. In beautiful Châteauroux, Limoges and Poitiers, you'll find the only places in France where homes sell on average for less than €150,000. We take a closer look, and point you in the right direction for your budget.
Where are the most affordable homes in France?
No more than six hours south of Calais and slightly south-west of the country's geographical centre-point at Bourges is a pocket of France's most affordable homes. According to Notaires de France, the median sale price of resale houses during the last three months of 2018 was €150,000 or less in only three places – Châteauroux, Limoges and Poitiers.
These three metropolitan areas (city and suburbs), located in Indre, Haute-Vienne and Vienne départements respectively, form a neat triangle approximately 1.5-2 hours' drive apart. Prices are lowest in Châteauroux, where properties were typically selling for €110,000 during the last quarter of 2018, representing an 8.9 per cent year-on-year rise. Meanwhile, in Limoges the median sale price for this period was €142,900 (-2.8 per cent) and in Poitiers it was €150,000 (+3.4 per cent).
The appeal of this triangular area isn't limited to urban areas though, with many buyers attracted by the great value property in the small towns and unspoilt villages dotted across the rolling countryside, which borders the famous Loire Valley to the north. For the main part, the median prices recorded by Notaires de France are representative of prices throughout the whole of the corresponding département.
Indre to Limoges
In Indre between Poitiers and Châteauroux, villages along the banks of the Creuse river are great hunting grounds for affordable character homes in pretty surroundings. These include Argenton-sur-Creuse, Le Blanc and Ruffec. Further south towards Limoges are Coulonges and Bellac, two other gems. The two regional natural parks either side of Limoges, namely Périgord-Limousin and Millevaches en Limousin, are popular hunting grounds for buyers looking for a rustic, outdoorsy lifestyle.
Northern Brittany, Normandy and Hauts-de-France
Buyers with more typical budgets of €150,000-€200,000 are even more spoilt for choice in France. This price bracket includes the median sale prices for more French metropolitan areas included in Notaires de France's data than another bracket. The northern regions of Brittany, Normandy and Hauts-de-France in particular feature heavily, including Amiens (€165,000), Rouen (€162,000), Le Havre (€164,500), Brest (€165,000), and Lille (€195,000). Still in the northern half of the country are Chartres (€196,000), Orléans (€182,700) and Troyes (€160,000), while affordable spots in the south include Saint-Étienne (€180,300), Nîmes (€199,000) and Montauban (€183,900).
Unsurprisingly, Greater Paris (city and suburbs) recorded the highest median house price for the period, namely €375,100, followed by hot spots on the Côte d'Azur (Toulon €360,500, Marseille/Aix-en-Provence €320,000, Montpelier €323,100). Equally, Bordeaux and Lyon continue to see strong price growth, as they undergo regeneration projects and become fashionable places to live – median house price in the former was €328,800 and €327,400 in the latter.
Don't miss your free tickets to Your Overseas Home in Chester this 8th June. It's designed specifically for serious buyers, so you can get detailed information from lawyers, agents and currency providers.
The overall gist of the Notaires de France's most recent report is of ongoing market stabilisation with pockets of more aggressive growth. "Prices generally remain stable and are even falling – without even taking into account any corrections for the effects of inflation," it stated, adding that "the upward trends of Greater Paris and several regional centres – Nantes, Rennes, Lyon and Bordeaux – are not indicative, in themselves, of the national market". Also highlighted was how today's historically weak interest rates put buyers in France in a strong position."
Make the most of that strong position and plan ahead on how you'll send your money overseas. Exchange rates constantly move, and could cause your money to suddenly lose value – so why not lock in today's rate for up to twelve months? Find out about this and more, including how to make regular payments, in the Property Buyer's Guide to Currency.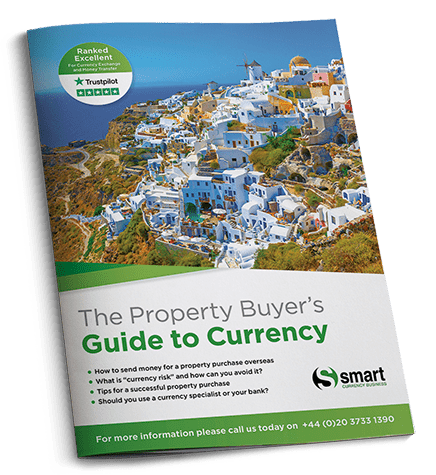 The Property Buyer's Guide to Currency will help you:
✔

  Understand the currency markets
✔

  Protect your property budget
✔

  Use a Currency Specialist
✔

  Learn from other overseas property buyers
Download the Property Buyer's Guide to Currency