Whether you've found a picturesque old longère in the countryside, or you're buying a swish new-build on the Côte d'Azur, you'll likely want peace of mind that everything in your home is at it should be – and problems won't crop up at a later date. This week, we're looking at how to get a structural survey here in France.
Do I need a structural survey in France?
The tradition we have in the UK of carrying out a building or structural survey when buying a property does not really exist in France. One reason for this may be that there are so many very old properties, sometimes hundreds of years old, and the considered thinking generally is that they have stood the test of time and will likely even outlive their new owner without any major problems. However, we British tend to be a bit more cautious, and it never hurts to be sure that nothing will crop up (and the French think we're a bit mad anyway, so what does a bit more oddness matter?!)
If, for your peace of mind, you would prefer to have some sort of structural survey in France undertaken, it can certainly be done and the best time therefore to do so is before the compromis de vente is signed. There are certainly many British surveyors in France so you will not have a problem finding one. Just make sure they are full registered and insured under the French system.
Make sure to protect your property with insurance – get your free, no-obligation quote from our property insurance partner today.
Moreover, when it comes to putting a suspensive clause in the compromis de vente that the purchase is subject to survey, as almost always happens in the UK, this may not be accepted by the notaire or indeed the seller of the property.
Who should you use for a building survey in France?
Many British people simply choose to have a local qualified builder to look over a potential property and my advice would be that this is really the best (and cheapest) option. Again, make sure the builder is fully registered and has full insurance.
As with many things in France, it is wise to ask at your local mairie for recommendations of local builders and artisans.
What diagnostic reports will I get from the seller?
When you buy a property in France you will receive all the diagnostic reports which the seller must pay for. These normally consist of reports on electricity, gas if applicable, lead paint, asbestos, termites and natural risks. They all have a life, most of them three years and the shortest of which is termites and natural risks which only last 6 months. The DPE (energy performance rating) lasts for 10 years.
These reports are purely for information for the buyer save for termites. If a property has signs of termite invasion, the onus is on the seller to put this right before any sale. Occasionally there are anomalies in the electricity report as the standards are frequently updated. However, the diagnostiquer will be able to advise on any necessary updating by an electrician and this is normally nothing to worry about.
If you are ready to buy in France within the next few months, call our friendly France Resource Team on 020 7898 0549 or email France@propertyguides.com.
Lead paint is fairly common, particularly in old houses. It is important to remember that lead paint used to be used as it was good paint! Again, if there is lead paint in the house, it is not dangerous at all unless you eat it and of course is easily rectified.
Natural risks covers such things as flood, earthquake, subsidence. A property may be located in a flood zone but this does not necessarily mean it will flood. Again, if you are tempted to buy a property which is in a flood zone, ask at your mairie for details of whether it has actually been flooded in the past.
Can I adjust my offer based on the results?
If there are serious anomalies in the reports you are perfectly entitled to adjust your offer to take account of anything you may have to repair/renew in the future. This is all part of the negotiation.
To sum up, a full structural survey in France might not be the norm, but is nonetheless a good idea for peace of mind – especially if you're buying an older home. Normally, using a local contact is the best for affordability – your estate agent or even the local mairie can help you here.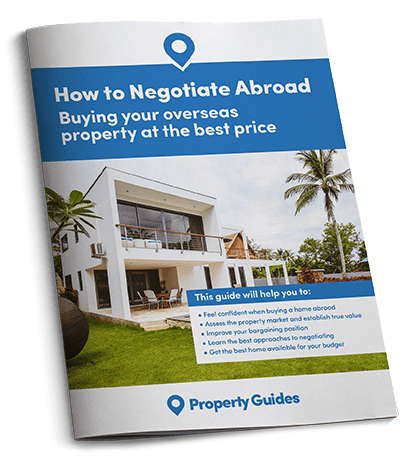 How to negotiate abroad is the guide to put you back in control:
✔

  Feel confident when buying a home abroad
✔

  Assess the local property market
✔

  Improve your bargaining position
✔

  Learn the best negotiating tactics
Download your free Negotiation Guide