Ready to start hunting for your perfect home in France? In Part Four of our six-part series on just that, we're onto one of the most important aspects: how to buy in France. There are a number of different aspects to consider, from finding an estate agent to raising finance – so keep reading to find out how to make your dream of buying a home in France a reality!
How to buy in France: finances
The top consideration when thinking how to buy in France should be finances. With your budget properly worked out and your financing, like mortgages, in place, you'll be able to quickly make an offer when needed. You'll need to think about:
Available and additional finance:
Think about what existing sources of capital you can rely on. Do you have savings, or investments you can cash in? What about pensions you can draw down, or assets you can sell? Do consider also, if you're buying a holiday home, how joint ownership with other family members can exponentially increase your buying power.
Secondly, have you thought about how to buy in France with additional finance? If you need a mortgage, make sure to speak to an expert bank or other lender to go over your options. You'll want to know:
How much deposit you can afford
How you'll budget for monthly repayments
What you'd do about repayments if you were ill or unemployed
Getting a mortgage
When it comes to actually getting your mortgage, you'll usually need the following documents:
Income tax declaration for the past two years
Bank statement for the past one year
Payroll or proof of income for the past six months
A list of mortgages already held
A statement of your assets and liabilities, confirmed by an accountant
A copy of your passport
Ensure your lawyer checks your mortgage takes into account consumer protection legislation. The signing of the mortgage and contract of sale will usually happy together. A staff member from the bank will be present in the notaire's office, normally.
Post-purchase costs
Do budget for what comes after you get the keys, too! Think about local property taxes (more on that later) and the cost of maintenance. Don't forget to include the cost of travelling out to your new home and transporting your possessions.
Remember also that a pension or investment paid in pounds doesn't provide the same guaranteed figure in euros every month. Nor does a house price in euros stay the same in pounds – it will move even after you put in an offer. In the last twelve months, a €250,000 house's price in pound sterling has fluctuated by £10,000.
The only way you can make sure this doesn't go against you is with a 'forward contract'. With our currency partner, Smart Currency Exchange, a specialist in transfers for property, you can use a forward contract to fix in the same exchange rate for up to twelve months, without extra fees. That way, you know the exact value in both pounds and euros, not matter what the markets do. Find out more about how it works in the free Property Buyer's Guide to Currency.
Further fees and charges
The costs involved in buying a property in France generally amount to between 7 and 10% of the value of the house for an older property and about 2 to 3% on a new build for the taxes and notaire's fees on top of the estate agent's fees.
Estate agent's commission
This will be anything from 4% to 10%. As a buyer you are normally liable for the estate agent's fees but bear in mind that most properties are advertised with these fees included. The fees and net price are required by law to be clearly shown on the listing.
Notaire's fees
The notaire's fees encompass not only their own fees but stamp duty, land registry fees and taxes and are paid by the buyer. You should allow anything between 6 and 10% for these. The notaire will estimate the total and add it to the price of the property. Very often they overestimate them and after the Acte de Vente (completion) is signed, you may have a reimbursement. If two notaires are involved, the fees are no greater; they are simply shared between the two.
Safer
This is the agricultural organisation who may have to be consulted if a property comes with over one hectare of land. If this is the case, the fees will be added on to the notaire's overall package but rarely amount to more than a few hundred euros.
Make sure you know what it would be like living and buying in France with a no-deal Brexit with our guide, How to Live in France After Brexit.
Diagnostic tests
Diagnostic tests are compulsory when any property is sold and must be paid by the seller. The DPE, which is the energy efficiency report, must be done and shown when a property is put on the market and the other tests must be done once an offer is accepted and the results included in the Compromis de Vente (exchange of contracts).These normally include tests on electricity, gas, natural risks, lead paint, asbestos and termites.
The reports are purely for information for the buyer aside from termites. If a property has termites the burden is on the seller to put this right and pay for the treatment. Any anomalies in, say, the state of the electricity may entitle you to lower your offer to take account of the cost of this.
Surveys
Structural surveys are far less common in France but they can be carried out at your expense. Costs will vary according to the size of the property but expect to pay on average around €700 to €1,000.
Pensions and investments
You may, if you're relocating full-time to France, benefit from moving your pension to France in a QROPS or SIPP (qualifying recognised overseas pension scheme or self-invested personal pension). Normally, to do so, you'll need to be intending to live in France or already living there permanently.
When thinking about how to buy in France, do consider that it can take ten years of being non-resident for a QROPS pension to show benefits. As such, the earlier you do it, the better.
How to buy in France: estate agents
Your estate agent will be key to getting a good deal and the perfect home here in France. We can introduce you to ones whom we get excellent feedback about time and time again. In general, a good agent should always fit this criteria:
Legalities
They must be registered with either FNAIM, SNPI or UNPI. There must be at least one person at the agency holding a carte professionelle issued by one of the above. Look at the organisation's website to ensure they're still a member.
Proactive service
You need someone who call you back when you have a question, and who takes action to resolve a problem. It's easy to see how proactive your agent is. By sending them a brief or an email before you go to France, you can see how long it'll take them to get back – and how enthusiastic they are.
Giving out addresses
This may seem like a red flag if they're wary of giving out the address, but it is normal practice not to. Agent commissions are quite high in France, so agents are understandably nervous about people going behind their back. If you do really want the precise address before making a visit, then they'll normally ask you to sign a bon de visite, saying that if you buy the property, you'll buy it through them.
End-to-end service
A good agent will help you further than just the final contract. They'll often be more than happy to help with opening bank accounts, finding a builder, doctor, finding a school. You can find out if your prospective agent does this by asking for past-buyer feedback.
How to buy in France
We hope that this part of our series has been useful in helping you understand how to buy in France. If you do have any further questions, please don't hesitate to call your France Property Specialists on +44(0)20 7898 0549 or send us an email at france@propertyguides.com. And don't miss our free property portal, with over 6,500 beautiful French homes.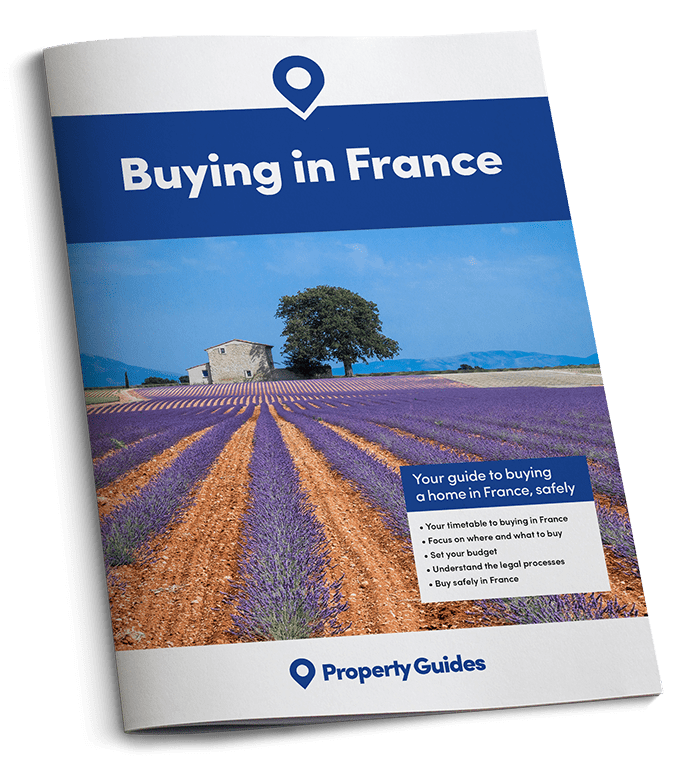 The France Buying Guide walks you step-by-step through each stage of the property buying process in France. Additionally, there are also practical recommendations from our experts who have been through the process themselves. The guide will help you to:
✔

  Ask the right questions
✔

  Avoid the legal pitfalls
Download your free guide to buying in France