Welcome to Part Five of Buying in France. You're on the home run now! With your viewing trips done and your perfect property found, it's time to put in an offer. Your agent will be able to tell you what an acceptable offer is, and make recommendations. Remember, though, that they are working for the seller. As such, the higher the price, the higher the commission. It can be hard to judge what to put in an offer on a French home for, in a country you're new to. That's why we've put together these seven simple tips to staying in control during the negotiation process.
1. Know what you're talking about.
By conducting the market research and reviewing recent local sales you will be confident in asking for a fair price. Being well-informed and asking educated questions will show you mean business.
2. Get your game face on.
Don't come across too keen, nor too blasé. Be polite yet serious, let the selling team know you've viewed a lot of houses and know your stuff. Just like a poker player, read your seller's emotions: with some sellers you might want to show how much you love the property, with others you want to play it cool.
3. Turn on the charm.
You are going to put in an offer on a French home that someone loves, after all. Being too aggressive in your attitude or pricing will kill off all your good work. You should normally negotiate via the agent. However, writing a letter to the seller introducing yourself and explaining why you're interested in their property can help you stand out from competition.
4. Take control of the negotiations.
You are the one making the offer on a French home. The seller wants to make a sale and understanding their vulnerability puts you at an advantage. You can walk away at any minute and buy something else. The seller needs to sell that property.
5. Counter offer quickly.
Any delay in responding leaves room for a seller to consider other offers. Make sure you are prepared for what you are willing to pay before entering negotiations and respond quickly and confidently to any counter-offers.
6. Don't stress if it falls through.
Stay rational and if a deal falls through, don't worry. In many cases buyers look back on deals that didn't happen with relief, finding the ideal property later down the road.
7. Speak to your currency exchange before you put in an offer on a French home.
Otherwise you could make an offer and then find that the exchange rate has moved against you before the other side has even responded. Smart Currency Exchange can help you fix the rate for up to twelve months, for no extra charges, so you know exactly what you're paying – no matter what happens politically or economically!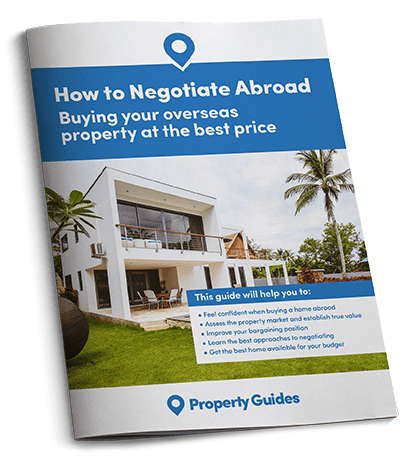 How to negotiate abroad is the guide to put you back in control:
✔

  Feel confident when buying a home abroad
✔

  Assess the local property market
✔

  Improve your bargaining position
✔

  Learn the best negotiating tactics
Download your free Negotiation Guide