Power, TV and internet: getting connected in France
When you've found the perfect home in France, your next job is to ensure you can enjoy it properly! That means connecting your utilities and internet, TV and telephone. The good news is, it should be relatively easy. But where do you start? Follow these tips and you'll soon be settling happily into your new life in France.
Whatever utilities you are looking to set up, you will be required to provide proof of your identity (such as your passport or residence permit) and your address (such as your rental agreement, receipt or other utility bill). For most utilities you will find that your bill (facture) will be sent every two to three months, and comes in two parts: the standing charge (abonnement), and the charge depending on your consumption of units (relevé). TVA (Value Added Tax) is applied at 20.6% on the standing charge, and 19.5% on the consumption. Local taxes (taxe commune/ département) are added at around 12%, before TVA.
Electricity
The main electricity suppliers for domestic homes in France is EDF (Electricité de France) which is state owned. If your property does not have an existing supply, then they should be able to connect you for a small fee. This is something that your estate agent should be able to organise for you. If you don't wish to sign up with EDF, there are alternative energy suppliers available – including some specialist renewable energy suppliers. Your meter should be read every six months, and you are able to do this yourself (providing EDF check the meter at least once a year). Bills can be paid online, by mail, by phone or in person at your local EDF shop. Please note: the online payment form is in French.
Your electricity meter should be read every six months, and you can do this yourself.
Gas
You will find that mains gas is usually only available in the larger cities and towns, and will usually be supplied by Engie (Previously known as GDF Suez). If you are moving to a town where there is a mains gas supply, you will need to make sure that you are connected – and if not, arrange for this to be carried out. The best way to do this is by asking your local mairie (mayor). If your property is in the country and does not have mains gas, you will need to decide whether your gas consumption is going to be great enough to require the installation of a tank, or if you will be able to make do with smaller bottles of propane or butane gas. These portable bottles are readily available at many outlets locally, including petrol stations and garden stores. One important consideration if using bottled gas is where you plan to store the bottles. Butane must be stored indoors, while propane can withstand greater extremes of temperatures and can safely be kept outside in a garden shed.
Water
Water is supplied in France by private companies, depending on the area in which you live. Unlike in the UK, most French properties are on a water meter, and are individually charged according to consumption. Water tends to be more expensive in France than in England, with some areas much more expensive than others. Most properties can be connected to the mains water systems, as long as they are not too isolated, but very rural properties may have to rely on a well for their water. The changing of an account from sellers of a property to buyers is straightforward, with the usual proviso that you need to be sure the meter has been read.
Internet
There are many internet providers in France, and the best way to choose the right one for you will be to compare prices based on your personal requirements. There are four main providers of ADSL, between whom provide services for 90% of the connected population. The main providers include:
Around half of the French market is represented by Orange (previously known as Wanadoo), thanks to their strong internet/telephone package.
Around 40% of the French market is represented by Orange (previously known as Wanadoo), thanks to their holding the rights to landlines in France. Even if you don't use them for internet, you will have to rent your lineline from them, meaning that they have an advantage when it comes to offering bundles to consumers. This includes the option to include an hour's free call time to foreign land line number (which is obviously incredibly useful to the Brits moving to France). Another popular network provider includes Free, who (unlike Orange, Alice, and SFR) does not have shops. This means that your subscription will be carried out wholly online or by telephone, but they do offer a competitive rate. Most towns and villages are well connected with broadband now; in fact France is the second largest ADSL market in Europe.
Despite the fact that France has excellent ADSL coverage, they rank at the bottom of the EU for their roll-out of ultra-fast fibre optic broadband. President Emanuel Macron has identified this as a major issue, and is targeting 2025 for a national rollout of the technology. Take this target with a grain of salt however, as there is no current government lead plan to achieve this date. Some of the individual companies are considering picking up the slack, but there is no guarantee that they will take on this expensive challenge.
TV
Satellite TV is widely available in France, and in some regions of France you should be able to access your favourite UK television programmes by ensuring you have a satellite dish pointed in the right direction, cabled to your TV and with a satellite receiver (known as a digibox). It is worth mentioning though, that since the main British channels switched satellites in 2014, not all areas of France are able to receive the same signal. Your French TV licence is paid as part of your taxe d'habitation bill; this is around €120 a year, so if you do not have a TV in your French home, you should let the tax authorities know so they can deduct the fee. You will be able to obtain a digibox from most supermarkets in France quite cheaply, but it is always a good idea to ensure you enlist the services of a technician to install it, as this can be tricky. The technician will also be able to help you decide which box is the right one for you.
Landline Telephone
The only operator that can install or reactivate fixed landlines in France is Orange (https://www.orange.fr/portail) – and even if you choose another operator, they will need to subscribe to rent the phone line from Orange. You can speak to Orange's English speaking customer service helpline to discuss every aspect of this installation, but you will generally need to visit a branch of the provider along with proof of address and identity.
Assistance
Assistance in setting up activities will often be offered as part of after-care services from a good estate agent.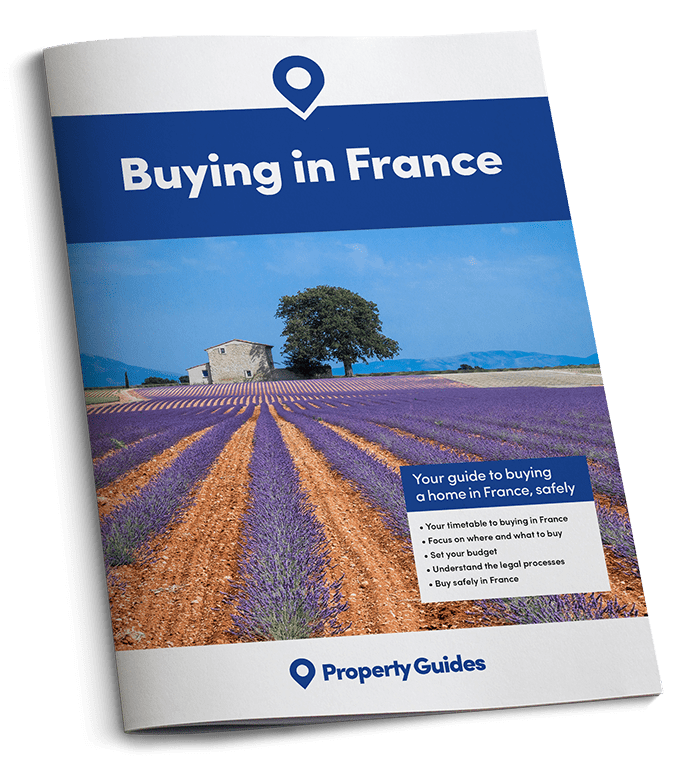 Buying a property in France is extremely exciting, but it can be nerve-wracking: in what ways is the process different to the UK, how do you cope with the language difference, what fees should you expect and just who is the notaire? That's why we've put together our France Buying Guide, to help you through the process, step by step.
Written by experts, it covers every stage of buying, from viewing to contracts and fees. Get your copy of the French Property Guide by simply filling in the form below.
✔

  Ask the right questions
✔

  Avoid the legal pitfalls
Download your free guide to buying in France