How can you bring your pets to France?
You may well be leaving your friends and family behind in the UK but there's no question about leaving your most precious possession – whether in the form of dog, cat or ferret! If you're anxious about how to navigate the process and how to bring your pets to France, especially in the current political climate, this is for you.
Firstly, let's give thanks to Sir John Fretwell (a diplomat) and his wife Lady Mary for the abolition of the draconian quarantine process when travelling with pets around Europe. Following his return from his last post in Paris, their beloved Basset Hound Bertie was "never the same dog again and died shortly afterwards" following a quarantine stay. They vowed to change the system so that never again would pets go through separation from their owners and in 2000 the first version of the Pet Travel Scheme was introduced.
In 2012, the UK introduced changes to the existing Pet Travel Scheme making it much easier to bring your pets to France and giving clear and concise guidelines about the process. Failure to comply with these rules, can sadly result in traumatic repercussions for both you and your pet (a threat of a 4 month quarantine and fees and charges) so as owners it is more important than ever to be clear on your responsibilities
Current rules and regulations
Under current rules, any pet over 12 weeks old can be issued a pet passport providing they have a registered microchip and are vaccinated against rabies. There must be a gap of 21 days between the first rabies vaccination and your travel date. Most vets in the UK know the process, although prices for this service will differ from vet to vet so you may wish to shop around. When leaving the UK, you will asked to show their passport along with your own but no other checks are routinely made.
It is on return into the UK that you have to be more organised. A worming treatment must be issued and witnessed by a French vet (and time and date of this must be recorded on the passport). This treatment must be given no less than 24 hours prior to travel back to the UK and no more than 5 days. Upon arrival at the border to leave France, the passport must be produced and you must also "check in" at the pet's departure lounge where both the timing of the worming treatment and the microchip will be checked. You are then clear to travel.
Potential changes following Brexit
That said, rules may change depending on the outcome of Brexit. According to the current government guidelines, in the event of a deal and a transitional period the rules will remain the same at least for the time being.
However, according to the same source, in the event of a no deal, the potential impact could be several-fold. Firstly, a current pet passport for travel within the EU issued in the UK may no longer be valid after Brexit. The process may then also be expanded to include a mandatory blood test following the rabies vaccination which cannot be done until 30 days following the original vaccination and then no travel undertaken for a further three months. You may also require a Health Certificate issued no more than 10 days prior to travel either way. It is therefore of paramount importance that if you are planning to bring your pets to France, you keep up to date with developments as they evolve.
Ways to travel here with your pet
Pets can travel via some airlines but the most popular method used to bring your pets to France is in the comfort of your own car via ferry or the Channel Tunnel. Some ferry companies stipulate pets must remain in the car at all times during the crossing, although more recently a few companies (on certain routes) have introduced pet-friendly cabins. Please remember that the journey from UK to France can be long (and often hot) and it is therefore very important to ensure that your pet has access to plenty of fresh water and bedding and toys, to ensure their comfort.
Upon arrival in France
France is a nation of cat and dog lovers. You do see the occasional strays, but there is an organisation called the Société Protectrice des Animaux (SPA) which is the equivalent of the UK's RSPCA, who do a great job to help these animals. The SPA is also a great place to adopt animals and they are able to advise on treatment, microchipping and anything else you are concerned about.
France is a nation of animal lovers (possibly even ferrets!). Vet costs are significantly lower in France than in the UK (along with wine so if you drink and have pets that's a double win). For that reason animal insurance does not seem quite as common place as in the UK but is still worth considering based on individual circumstance. Dogs are allowed access to most places including cafes and bars. With the spectacular countryside and plentiful "chemins" (footpaths) here, France is a dog/dog lover's paradise. Cats roam freely under less threat from traffic than in the UK (outside big towns of course). There are many rescue centres in France from which you can adopt, foster or even volunteer so if your dog or cat is searching a French "copine" or "beau mec" please spare a thought for the many animals in rescue.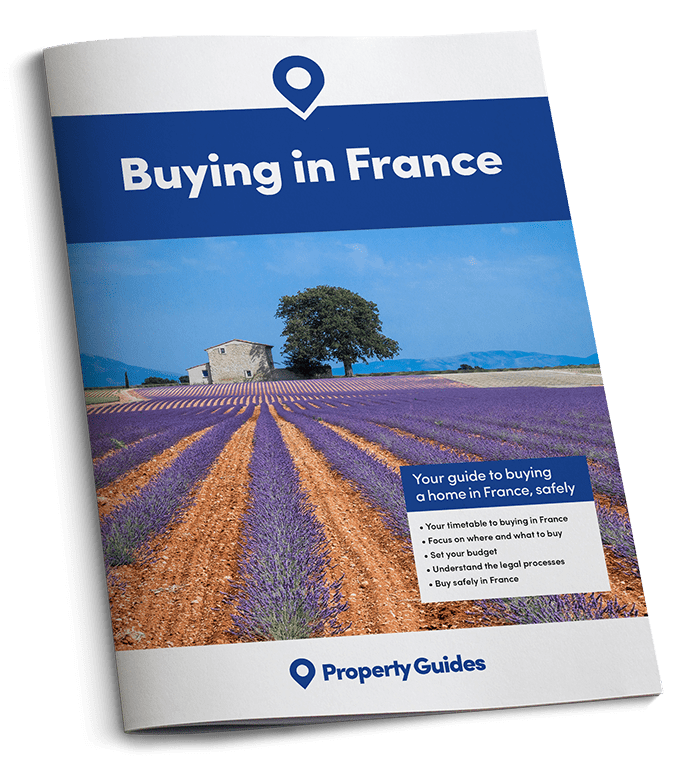 Buying a property in France is extremely exciting, but it can be nerve-wracking: in what ways is the process different to the UK, how do you cope with the language difference, what fees should you expect and just who is the notaire? That's why we've put together our France Buying Guide, to help you through the process, step by step.
Written by experts, it covers every stage of buying, from viewing to contracts and fees. Get your copy of the French Property Guide by simply filling in the form below.
✔

  Ask the right questions
✔

  Avoid the legal pitfalls
Download your free guide to buying in France