Removals to France - choosing the right removals firm
As soon as you know that you are relocating to France permanently, you will need to consider the most suitable way of moving your worldly goods and possessions across the Channel.
Given the relatively small distance between the two countries, you have a few choices here: you could use a British Association of Removals (BAR) registered moving firm, a small 'man with a van', or even take the option of renting a van yourself.
Choosing the right option for you
The key to choosing the right moving option for you comes from planning early and making sure you know exactly what you need to take with you. It's important to assess the costs of each option considering this, as well as the amount of time you will need to spend packing goods if you do choose to do this yourself. It can be very difficult to assess exactly how much space your goods are going to take up – and even if you don't take the heaviest goods with you (beds, kitchen appliances, for example) you still might find that everything takes up a larger van than you think. If you do decide to take the 'DIY' option, perhaps renting a larger van than you think you need could be a good option.
Decide exactly what you need
It's really important that you consider all your belongings and work out whether you actually need to take everything with you. Now is the time to sort out your clothes and possessions and have a good sort out – after all, you are starting a new life in France and you may well decide to purchase new furniture items etc. You will need to balance the cost of purchasing new furniture against the cost and effort of transporting the goods to France. France has many modern furniture companies, as well as brocante shops and second hand furniture stores, numerous vides greniers (attic sales) and of course the ever-present Ikea.
It's important to assess the costs of each option, as well as the amount of time you will need to spend packing goods if you do choose to do this yourself.
Using a moving company
If you decide that you wish to use a moving company to relocate your belongings to France, you will have plenty of options to choose from. The best place to start will usually be personal recommendation; it's a good idea to speak to anyone else that you know that has moved to France (or anywhere overseas) – or failing that, search online forums to see what people say about specific choices. We would definitely recommend that you only look at companies registered with BAR, or the International Association of Movers (IAM). We would recommend speaking to at least three different companies.
Getting a quote
To receive a quote from a moving company, they will send a 'surveyor' to your home to assess the belongings that you wish to move, and calculate volumes and packing requirements before a written quotation is issued. The 'survey' is also an opportunity for you to find out more about each company  – whether they have their own vehicles and packers, whether they offer a groupage rate (where firms can include two lots of belongings in one haulage if they are going to the same region, which will keep costs down), and what kind of insurance they offer. The quote you will receive for moving your belongings to France will be based on many factors: the size of the load, the distance you are shipping them, the type of items, and the number of staff that must be involved. It's really important that you supply as much information as you can, including the details of your new address and which room your goods should be moved into. This will be hugely beneficial when the company is packing and unpacking your goods against an inventory – as well as against an insurance claim, if this unfortunately becomes necessary. Moving between countries is a huge challenge, but having an experienced company to help you will go some way to making it easier.
An experienced removals company will take the worry out of the transportation of your goods when you have so much else to think about.
Using a 'Man with a Van'
This will be a much cheaper option than using a traditional moving company. It can be advisable to take this option if you are not taking large or bulky items, but you still feel that you cannot do it alone. When choosing the right 'man with a van' for you, it's important to ensure that you ask for recommendations from friends or on forums and that you thoroughly assess their credentials – including their insurance and their experience of moving to and driving in France. Find out as much detail as you can about the moving service provided – how far does this go? Will packing materials/boxes etc. be provided? Can you speak to any of his previous customers? If you do decide to go down this route, it's important to make sure that you have a written quotation that includes every part of the service you will be provided; after all, you don't want him to simply drop your boxes at the front door of you new home in France, and then drive off.
The DIY option
If you are incredibly organised and are not moving that much to your new home in France, doing it yourself can be a good choice. However, before you begin you must consider all of the costs that may arise – above and beyond the cost of the van and petrol. It's also a good idea to think about the added stress that may come from doing everything yourself – could some additional help be worth paying extra? Despite this, if you decide that this option is for you, and that you can cope with the hard graft, you can make the journey with all your belongings into a bit of a holiday and explore your new country on your way to your new home. And, of course, you will feel real satisfaction when you have safely moved all your worldly goods to your new French home.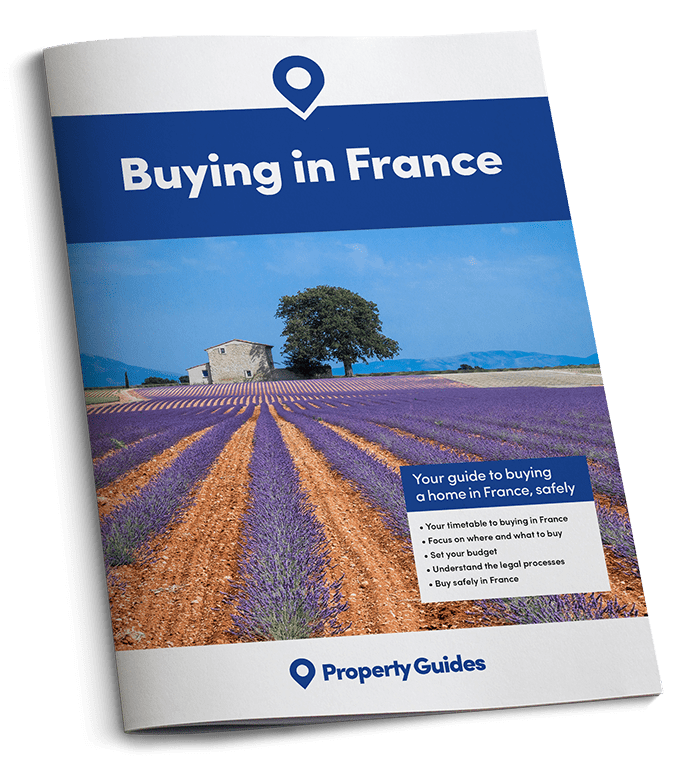 The France Buying Guide walks you step-by-step through each stage of the property buying process in France, with practical recommendations from our experts who have been through the process themselves. The guide will help you to:
✔

  Ask the right questions
✔

  Avoid the legal pitfalls
Download your free guide to buying in France