Staying healthy: How to access French healthcare
Healthcare in France is world-class and regularly tops rankings around the world. According to a study by The Lancet, it's in the top 15 of countries in the world for healthcare access and quality. The UK, on the other hand, only just made the top 30. So, how does the system in France work – and who's entitled to it?
To maintain this excellence, France also comes high on the list of healthcare spending. Contributions towards the healthcare system in France are made to the French social security system by French employers, employees and the self-employed. In turn, many of these contributions go towards funding public healthcare. Every legal resident of France can access this – provided that they have registered to access the French social security system.
State healthcare in France
Once you have registered for public healthcare in France, the state covers part of your medical treatment. You will receive a carte vitale (green card) that is embedded with a microchip that enables forms to be automatically transmitted to the healthcare system. You must always present your carte vitale when you visit a doctor, specialist or hospital, or purchase prescription medicine.
Read your Emigration Guide to find out everything you need to know about moving abroad.
When purchasing healthcare, you will either be required to pay upfront for the costs and receive a reimbursement at a later date, or the bill will be paid automatically at the time of treatment.  Around 70% of the cost of consultations and treatments are reimbursed, and 80% of the costs of hospitalisation, with prescriptions covered by a scale of tariffs from 30 to 100%.
Declaring your GP
To qualify for the maximum possible state reimbursement, you must declare your doctor to be your médecin traitant. Your médecin traitant can be a generalist or a specialist. You are free to pick your own médecin traitant, and they'll either submit the necessary form on your behalf or you can make a declaration online or by post.
A parent or guardian must sign the declaration for children under 16, although you don't have to have the same médecin traitant for the whole family. If you are treated by a doctor or specialist who isn't your médecin traitant, then you may receive a smaller reimbursement.
Costs of healthcare in France
Healthcare costs in France, from routine check-ups to major surgical procedures, are subject to tariff system, known as the tariff de convention. French medical practitioners in France are registered under either Secteur 1 or Secteur 2, and this makes a difference to the tariffs they are allowed to charge.
Secteur 1 clinicians are described as conventionné. Around 98% of practitioners are conventionné, along with most private clinics, and their tariffs are fixed.
Secteur 2 practioners, particularly surgeons, can charge more than the standard tariff if they deem it appropriate. This additional charge is known as the dépassement. These dépassements are more common in some areas of France than in others, such as Paris and the Côte d'Azur regions. It is always a good idea to find out if a dépassement will be charged prior to undergoing treatment.
Confusingly, some Sectur 2 practioners can be conventionné, so, although not required to adhere to tariffs, they generally do so out of choice.
Before you go
Before you move to France, make sure you collate copies of your up to date medical records from the UK, so that your new care providers have access to all your accurate data straightaway.
To obtain these, you will need to write to your GP with all your personal information. It may take a while for these to arrive, so we would recommend leaving plenty of time before you move – especially as it's a good idea to ensure they are all up to date before you request them.
It's also a good idea to research any local illnesses, diseases and health warnings. You can find this on the UK Foreign Office's website. We would also suggest ensuring that you are up to date with all necessary vaccinations.
Upon arrival
One of the first things on your list of things to do when you arrive in France is research the name of your nearest hospital, the name of your doctor and the best time to make an appointment at your surgery. This is unlikely to work exactly the same way that you are used to at home, so researching your options is of utmost priority.
For help from our trusted legal partner on any aspect of your purchase or move to France, including residency, click here for a non-obligation introduction.
Once you have done so, you will usually find it fairly easy to obtain an appointment. Most of the smaller villages will have at least one resident médecin traitant who will operate out of a local surgery (Cabinet Medical).
It is always a good idea to ensure that your home has a fully stocked First Aid kit. Include all the basics and emergency treatment equipment such as bandages, gauze and saline solution, as well as a list of all allergies of family members in English and French, emergency numbers, insurance details and family contract details.
Are you entitled to French healthcare?
If you have a UK state pension, you can request an S1 form, which entitles you to UK funded healthcare in France. Eligible pensioners and their family members can continue to have their healthcare covered by the UK should they move to the EU. You should register your S1 form with one of the local French state health reimbursement offices. It's important to remember that the S1 form entitles you to the same healthcare as a French citizen
Those who arrive in France without this form and do not intend to work will have no right to any state health cover until they have been resident for at least three months.  After this time (and provided they will be living in France for at least 6 months per year), they can apply to their local Caisse primaire d'assurance maladie (CPAM – the French health offices) under the PUMA (Protection Universelle Maladie) system. Contributions to the Urssaf (the collecting agency) may be required.
Employees and the self-employed are entitled to apply for public healthcare cover, and they will make regular contributions (cotisations) to the Urssaf. If you are self-employed, you will need to register for social security contributions in France.
If you are crossing the border into France at least once a week for work, you may be entitled to an S1 as a frontier or cross-border worker. To find out if you are eligible, contact HMRC.
If you pay into the French social security system, you will be entitled to state healthcare.
Private health insurance
Most permanent residents in France will purchase complementary health insurance to make up the shortfall between the state reimbursement and the actual cost of treatment, particularly to cover large hospitalisation costs and prescriptions. This insurance is usually arranged with a private insurer known as a Mutuelle.
Premiums for this private cover will depend on your age and the level of cover you require. There are normally no medical questions when acquiring a complementary policy.
Another option is to obtain private insurance for the entirety of your healthcare in France. Costs of private insurance vary enormously. There are plenty of insurance companies, both French and international, who offer health insurance to expats in France. It is worth doing a price comparison exercise tailored to your individual needs. Finding out the cost for this insurance in advance could help you budget for your new life in France.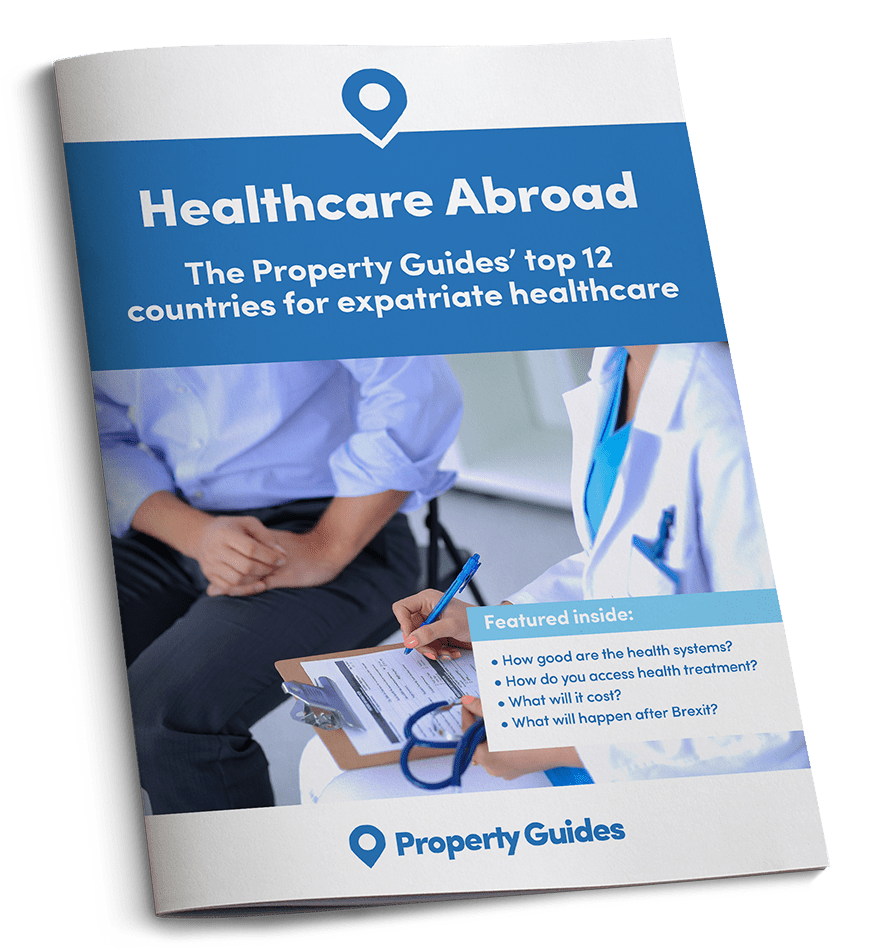 The Healthcare guide will provide information on
✔  How to get French healthcare
✔  Private medical insurance
✔  Planning ahead
✔  How overseas services compare with the NHS
✔  What could happen after Brexit
Download your free Healthcare guide