Essential guide to the French healthcare system - finding a hospital, doctor, or dentist.
Healthcare in France is world-class and regularly tops rankings around the world. According to a study by Lancet in 2015, it's in the top 15 of countries in the world for healthcare access and quality. The UK, on the other hand, only just made the top 30.
To maintain this excellence, France also comes high on the list of healthcare spending. Contributions towards the healthcare system in France are made to the French social security system by French employers, employees and the self-employed. In turn, many of these contributions go towards public healthcare. Every legal resident of France can access this – provided that they have registered with the basic state healthcare in France.
State healthcare in France
Once you have registered for public healthcare in France, the state covers part of your medical treatment. You will receive a carte vitale (green card). Whenever you visit a doctor, specialist or hospital, or purchase prescription medicine, you must present this.
Normally, the bill comes to you and you then receive a reimbursement at a later date. You will receive 80% back for hospitalisation and between 30%-100% for prescriptions. For GPs, you would have had to pay and then get a reimbursement until 2017. Now, the new Loi de santé (Health Law) means you have the right to request 'tiers payant'. This means that you no longer pay that part covered by insurance – instead, your insurance company pays it directly to the doctor.
Once you are registered by the French public health system, part of your medical treatment is covered by the state.
Declaring your GP
To qualify for the maximum possible state reimbursement, you must declare your GP, or médecin traitant. To do so, you just need to submit a declaration to outline whom you've chosen. They can be a generalist or a specialist. You are free to pick your own médecin traitant and can submit a declaration to outline who this is. At your local surgery (cabinet médical), you and your médecin traitant can either sign the declaration conjointly, or you can fill it in online.
A parent or guardian mus sign the declaration for children under 16, although you don't have to have the same médecin traitant for the whole family. If you are treated by a doctor or specialist that is not your médecin traitant, then your reimbursed costs may only be 30% of the total price.
Tariffs for healthcare in France
All healthcare in France, from a routine check-up to a major surgical procedure, is part of a tariff, known as tariff de convention. There are two types of practitioners in France, Secteur 1 and Secteur 2, and this makes a difference to tariffs.
Secteur 1 are practitioners from all medical facilities who adhere to this tariff. They're otherwise defined as conventionné. Around 98% of practitioners are conventionné, along with most private clinics.
Secteur 2 practioners, particularly surgeons, will still charge more than the tariff if they deem it appropriate. This additional charge is known as the dépassement. These dépassements are more probable in some areas of France than in others, such as Paris and the Côte d'Azur regions. It is always a good idea to find out if a dépassement will be charged prior to undergoing treatment.
Confusingly, some Sectur 2 practioners can be conventionné, so, although not required to adhere to tariffs, they generally do so out of choice.
Before you go
Before you move to France, make sure you collate copies of your up to date medical records from the UK, so that your new care providers have access to all your accurate data straightaway.
To obtain these, you will need to write to your GP with all your personal information. It may take a while for these to arrive, so we would recommend leaving plenty of time before you move – especially as it's a good idea to ensure they are all up to date before you request them.
It's also a good idea to research any local illnesses, diseases and health warnings. You can find this on the UK Foreign Office's website. We would also suggest ensuring that you are up to date with all necessary vaccinations.
Upon arrival
One of the first things on your list of things to do when you arrive in France is research the name of your nearest hospital, the name of your doctor and the best time to make an appointment at your surgery. This is unlikely to work exactly the same way that you are used to at home, so researching your options is of utmost priority. Once you have done so, you will usually find it fairly easy to obtain an appointment. Most of the smaller villages will have at least one resident médecin traitant.
The healthcare system in France is unlikely to work exactly the way you are used to at home, so researching your options is of utmost priority.
It is always a good idea to ensure that your home has a fully stocked First Aid kit. Include all the basics and emergency treatment equipment such as bandages, gauze and saline solution, as well as a list of all allergies of family members, emergency numbers, insurance details and family contract details.
Are you entitled to French healthcare?
If you are immigrating to France permanently, you may find that you are automatically entitled to state healthcare in France. For example, this is the case if you're drawing your state pension. The best way to find out your entitlement to is to speak to the Department of Work and Pensions in the UK – and to permanently reside in France you are legally required to have health cover.
If you are entitled to French state healthcare through your pension (and only at state pension age), you must arrive in France with an EC Health Form S1 (E106/109) from your country of origin. You will then automatically receive the carte vitale which will enable you to proceed in the same way as French nationals.
Those who arrive in France without this form and do not intend to work will have no right to any state health cover. You must instead apply to your local Caisse primaire d'assurance maladie (CPAM – the French health offices) for Couverture Maladie Universelle (CMU – basic healthcare rights). Once you have legally and continuously resided in France for five years, you will generally be able to apply permanent residence and consequently basic CMU.
If you pay into the French social security system, you will be entitled to state healthcare.
You will also be entitled to healthcare in France if you are paying into the social security system, as outlined above.
Private health insurance
Most permanent residents in France will purchase complementary health insurance to make up the shortfall between the state reimbursement and the actual cost of treatment, particularly to cover large hospitalisation costs and prescriptions. The cover can usually be chosen for specific items. It is so important to do this. After all, you don't want to get caught out by a hefty cost should you be taken ill (especially seriously) unexpectedly.
Premiums for this private cover will depend on your age and the level of cover you require. There are normally no medical questions when acquiring a complementary policy.
British citizens who do not have an S1 and do not intend to work, but do have proof of fully paid up National Insurance contributions (E106 form) will receive medical care funded by the UK up to two years. After this time (if retirement age has not been reached), they must take out private health insurance for healthcare in France.
Costs of private insurance vary enormously. There are plenty of insurance companies, both French and international, who offer health insurance to expats in France. It is worth doing a price comparison exercise tailored to your individual needs. Finding out the cost for this insurance in advance could help you budget for your new life in France.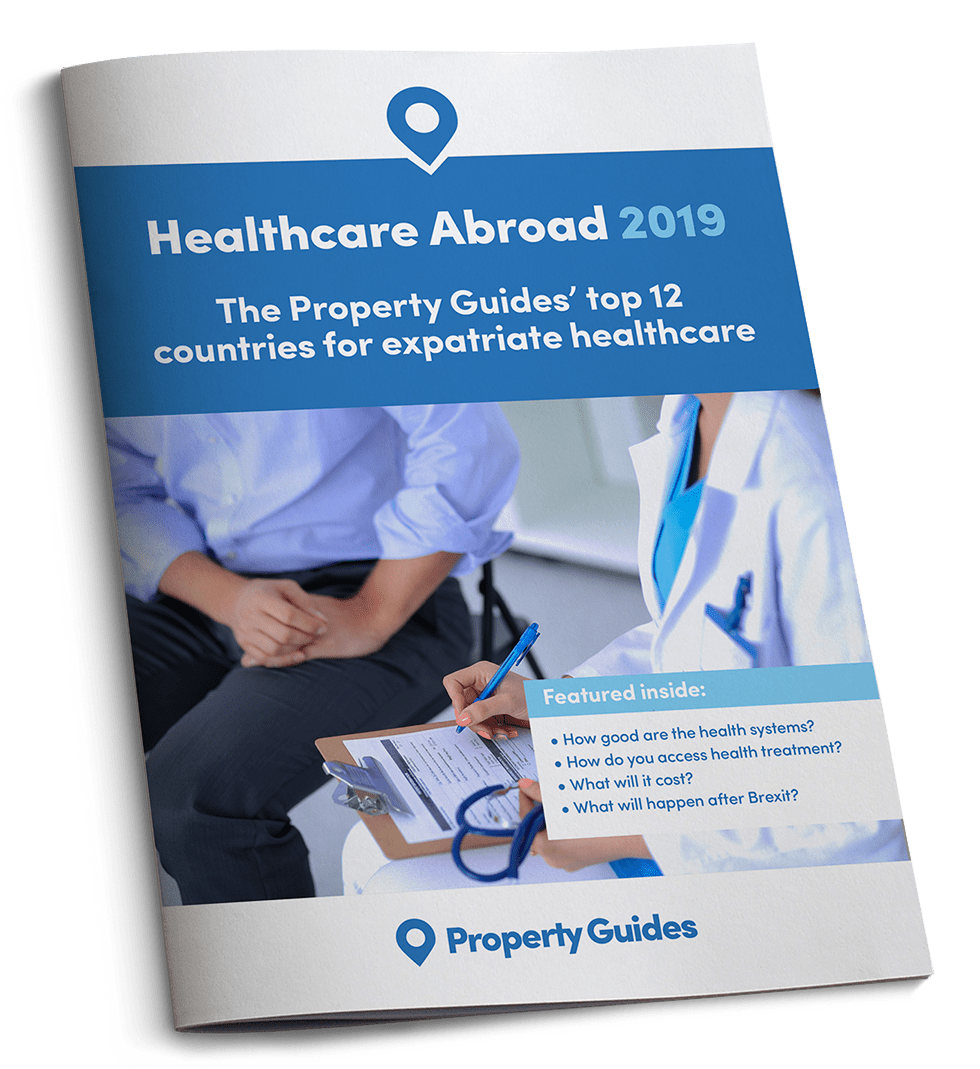 Taking care of your health doesn't stop when you move to France. With Brexit on it's way, there is now an added level of uncertainty about cheap and accessible healthcare overseas. This is why we have produced this guide to Healthcare Abroad in 2018 which provides information on:

✔  How to get French healthcare
✔  Private medical insurance
✔  Planning ahead
✔  How overseas services compare with the NHS
✔  What could happen after Brexit
Download your free guide to healthcare abroad in 2018