A guide to French mortgages when buying a property
When you know you want to purchase a property in France, knowing how much you want to pay for it and how you will be financing it will be the first decisions you need to make.
Aside from paying for your French property with cash, you can look at financing a property through numerous loan options, such as a mortgage. We would definitely recommend assessing each of the options available to you, and make sure you plan your budget carefully before you begin your search – the last thing you want to do is find an amazing property before you know how much you can afford, and end up having your heart broken.
Finding the right mortgage when buying property in France
You will find that, as in the UK, there are a number of mortgage options available in France. Conditions are, on the whole, much more stringent since the global recession, but interest rates are lower than they were – and are fairly similar to their UK counterpart. In France, these interest rates are set by the lenders, which are influenced by the Euribor (European Interbank Offer Rate).
Our best recommendation is to contact an overseas mortgage broker, who can not only talk you through the offers that change day-by-day, but also assess the lending criteria.
One of our best recommendations for obtaining a mortgage in France is to contact an overseas mortgage broker who will be able to talk you through current offers. These change day by day, but are generally very similar to those that you will see in the UK. The lending criteria does tend to be different, however, and is usually worked out on the basis that the total monthly mortgage payment should not exceed one third of the purchaser's gross monthly income. The main thing you will need to establish is exactly how much cash you will need as a deposit in relation to your mortgage amount; for non-French nationals this is usually around 20%. You will also need to provide proof of income and identity, as well as details of your bank account and credit cards.
Mortgages in the UK
In addition to finding the right mortgage for you in France, many of our readers choose to purchase their property in France through re-mortgaging their British property. It's really important to work out what's the best option for you.
Monthly repayments
You will need to make certain you are clear about what your monthly repayment figure will be; this will be really important when you are working out the cost of maintaining your property and your new life in France. You need to make sure you choose a mortgage that you will be able to afford, without stretching yourself financially.
Lastly, you should ensure you have an idea of interest rates, loan terms and the typical criteria used to determine loan-to-value amounts.
Consider your currency exchange requirements
Once you have an idea of what your financial plans are, France Property Guide recommends opening a free, no-obligation account with tried and tested currency exchange specialists, Smart Currency Exchange. You will be allocated your own personal trader, who will be able to discuss your currency strategy with you – such as how and when you should transfer your funds. They will also offer you the best available exchange rates.
Open a bank account in France
We would also suggest that you open a bank account in France as early as possible – we do recommend keeping your English account open as well (even if you are looking to move permanently – perhaps surprisingly, you are certainly able to link your English bank cards with your France address). When opening a bank account in France, it's usually a good idea to choose one with a branch within the local vicinity of your property. Find out more about opening a bank account here.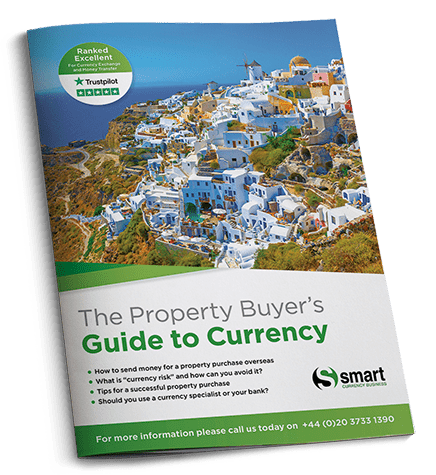 The Property Buyer's Guide to Currency will help you:
✔

  Understand the currency markets
✔

  Protect your property budget
✔

  Use a Currency Specialist
✔

  Learn from other overseas property buyers
Download the Property Buyer's Guide to Currency