What do you need to know about getting a mortgage in France?
Getting a mortgage in France is one of the key parts of the purchase process if you're not a cash buyer. The rules are not dissimilar to the UK, but it's important to be fully prepped. 
Before starting, do first carefully plan out your budget – including any fees. The last thing you want to do is find an amazing property before you know how much you can afford, and end up having your heart broken.
Finding the right mortgage in France
You will find that, as in the UK, there are a number of mortgage options (prêt immobilier) available in France. On the whole, conditions have been much more stringent since the global recession. In France, lenders set the interest rates, which are influenced by the Euribor (European Interbank Offer Rate).
Our best recommendation is to contact an overseas mortgage broker, who can not only talk you through the offers that change day-by-day, but also assess the lending criteria.
As in the UK, you'll find fixed-rate and variable-rate mortgages. It is still advisable to renegotiate fixed-rate mortgages with time to make sure you're always getting the best rate. Generally, a mortgage in France will be for 20-25 years, sometimes extended up to 30-35 years.
What are the rules for a mortgage in France?
Broadly speaking, your debt ratio in a mortgage cannot exceed 33% of what you earn. Sometimes, you will find that with incomes over €60,000, banks will be progressively more willing to raise this percentage.
In most cases, you will be required to have a prêt hypothécaire, which simply means that your house will stand as a caution. This will have to be registered by a notaire (notary). This will then be in the publicité foncière, held in the conservations des hypothèques – a bit like a land registry. To do this, you'll need to pay the notary's fees and the taxe de publicité foncière. Until May 2019, this will come to 4.5% of the property price, unless you're in the Indre, Isère, Morbihan or in Mayotte, where it'll be 3.8%.
The caution cannot last more than fifty years and normally comes to an end without you needing to do anything when you have fully paid off your mortgage.
How are the fees calculated?
The total fees for a property are divided into three parts.
The droits d'enregistrement are essentially the taxe de publicité foncière mentioned above – either 4.5% or 3.8% of your property.
The second part is variable and is used by the notary to pay any third parties responsible for producing documents, such as from the land registry, plans, surveyors' documents and so on.
Finally, you have the émoluments – the notary's own fees. These are fixed according to the property price, with different percentages in different bands. It's the same principal as your taxes: you pay a certain percentage up to a certain amount, and then a different percentage after that.
The current notary rates, fixed in 2016, are the following:
| | |
| --- | --- |
| From €0 to €6,500 | 3.945% |
| From €6,500 to €17,000 | 1.627% |
| From €17,000 to €60,000 | 1.085% |
| More than €60 000 | 0.814% |
Getting help with a mortgage in France
One of our best recommendations for obtaining a mortgage in France is to contact an overseas mortgage broker who will be able to talk you through current offers. By using someone experienced in helping British buyers purchase in France, you'll make sure you don't miss any necessary steps – or find yourself on the wrong foot and paying more than you need to.
Mortgages in the UK
In addition to finding the right mortgage for you in France, many of our readers choose to purchase their property in France through re-mortgaging their British property. It's really important to work out what's the best option for you.
Monthly repayments
You will need to make certain you are clear about what your monthly repayment figure will be. This will be crucial to factor in when you're budgeting for your new life in France. You need to make sure you choose a mortgage that you will be able to afford, without stretching yourself financially.
Lastly, you should ensure you have an idea of interest rates, loan terms and the typical criteria used to determine loan-to-value amounts.
Consider your currency exchange requirements
An absolutely crucial additional step when buying overseas, as opposed to at home, is to take into account the currency markets. The exchange rate changes every day, with sometimes ups and downs several times in one day. This means that, between putting in an offer and paying a deposit, or during the period between mortgage repayments, the pound could drastically lose value. If you're not prepared, you could lose thousands of pounds.
That's why we partner with Smart Currency Exchange. Our readers have been telling us how delighted they are with their service for over a decade. As the UK's only currency specialist in property purchases, and with over 1,000 5* reviews on TrustPilot, you'll be in safe hands. They will use techniques such as forward contracts – where they can lock in an exchange rate for 12 months, so you always know exactly what you're paying. Your named personal trader will stay with you throughout the process. They don't work off commission, so you can be sure of receiving expert, fair advice. As our reader Beth told us, 'it was the difference between my house costing €83,000, which it did, and €87,000.'
Sign up for your account today to be put in touch with a currency expert – and sit back knowing that your money will be protected.
Open a bank account in France
We would also suggest that you open a bank account in France as early as possible – we do recommend keeping your English account open as well (even if you are looking to move permanently – perhaps surprisingly, you are certainly able to link your English bank cards with your France address). When opening a bank account in France, it's usually a good idea to choose one with a branch within the local vicinity of your property. Find out more about opening a bank account in our guide.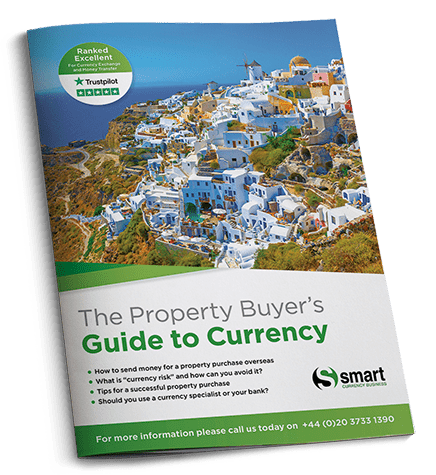 The Property Buyer's Guide to Currency will help you:
✔

  Understand the currency markets
✔

  Protect your property budget
✔

  Use a Currency Specialist
✔

  Learn from other overseas property buyers
Download the Property Buyer's Guide to Currency