Opening a bank account in France, everything you need to know
One of the very first things you must do in France in order to make a successful property purchase is get to grips with banking in France, and set up your account – this will make it much easier to maintain your life and property in France.
You are able to open a bank account in France, even as a non-resident, and you do not have to own a home in France to do so. There are eight major banks in France: BNP Paribas, Societe Generale, Caisse de l'Espargne, Banque Populaire, Credit Agricole, Credit Mutuel, La Banque Postale and LCL. Most of these banks will offer services in English.
Get recommendations
We advise speaking to those who have already made the move to France from the UK about their recommendations, as well as assessing the local branches in the areas that you are considering; after all, some smaller French towns may only have two or three banks in the vicinity, so you really want to choose one that has facilities in your area. When you are assessing your chosen area, it can be a good idea to pop into the local branches and assess if they have the right facilities for you – especially if you don't speak French.
Everyone can open a bank account in France; you do not need to be resident to do so.
Required documentation
Once you have chosen your bank, the first thing you will need to do is make an appointment with the bank manager, and make sure you have all the forms necessary. This includes:
Application form (known as a mandate)
A reference from your current bank
A copy of your passport
Signature (witnessed by a solicitor)
Evidence of residency status
Choose your account wisely
There are a number of different accounts that you can choose from:
Non-resident account (compte non-résident); the rules for opening this account may be tougher; there are more conditions and the account itself may be restrictive compared to resident accounts – we recommend speaking to your bank itself for specifics. You will need to open this kind of account in person (due to legal obligations concerning money laundering).
Current account (compte courant, compte à vue or a compte de dépôt); you will usually need to have this kind of account so that you can pay bills and everyday French expenses. A basic account will be free, but premium accounts are also available for a nominal charge – with these you will receive additional services for this charge. There is generally no interest on current accounts.
Deposit account (compte sur livret or Livret B); we would recommend that those who have funds not needed straight away open a deposit account as a savings account, rather than another kind of savings account; this would give them easy access in the future and still earns them interest.
When choosing the right account for you, you will need to assess both the cost and the ease of holding and using the account – as well as the interest, and any rules for withdrawals and transfers; additionally most banks will charge extra for transfers between euro and non-euro accounts – which is why we recommend using Smart Currency Exchange. If you require a joint account, you should also make sure that the wording is 'M ou Mme' not 'M et Mme' – otherwise both holders will have to sign every cheque that is sent!
Consider your need for an overdraft
If you need an overdraft facility, it's really important to make sure you that you ask for this upfront – strict banking laws in France mean that if you go overdrawn on your account without prior agreement, you can be blacklisted for a number of years. Furthermore, your agreed overdraft limit may be time-specific; this means you cannot use it constantly, but rather use it as a safety net for an agreed number of days each month until you can put the funds back into your account. You will usually have to pay a monthly fee to maintain this.
 In France, if you go overdrawn on your account without prior agreement, you may well be blacklisted for a number of years.
Finalising your account
To open the account fully, you will need to deposit funds – and once you have done so, you will be issued with a debit card and a cheque book. Your cheque book will have a page with all of your account details called a 'relev d'identite bancaire' or RIB, and you will often be asked for this when making a major transaction – such as renting a home or setting up an account in a shop or for a mobile phone. As in the UK, cheques are gradually becoming defunct in France, with bank-to-bank transfers much more common. However, it is important to note that there are a number of differences between French cheques and those found in the UK: the most important of these is that it is a criminal offence to write a cheque that would cause your account to become overdrawn. There is a fine for the first offence, and further dire consequences for anyone who makes this mistake more than once. Should you write a cheque that your account cannot cover, you will receive a letter forbidding you to write another a cheque for five years (regardless of the amount covered in the cheque). You must then immediately ensure that you send sufficient funds to the French bank to cover the cheque, and any other cheques you have written. In serious cases, your bank may apply to the Bank of France to have you blacklisted or 'interdite bancaire' by all French banks – this blocks you from conducting all bank transactions until the non-payment has been satisfied.
It is a criminal offence to write a cheque that would cause your account to become overdrawn.
Online banking
Internet banking is only advisable once you have arrived in France, but it is increasingly popular, and we recommend you find a bank that allows you to pay bills, transfer funds, check you statements and more online. Once you have internet banking, you can set up new payees for any direct debits (prelevement) although you will often find you have to go into the bank to sign a document for confirmation, and any additional one off payments: the French do love their paperwork!
Banking hours
There are no set banking hours in France; the times the branches are open will depend on a number of factors: the location, size of the branch etc. In general they will be open Monday to Friday 0900 to 1200 and 1400 to 1700 – although some will open Saturday mornings, and some will stay open late some evenings. Smaller towns will usually have longer lunchtime closing hours, and it is quite common for banks to be closed on Mondays.
Credit cards in France
You can use a credit card in some stores, but you may be asked to provide further identification (passport or carte de séjour) in some places. To pay for products by card from your French account, you will need to apply for a Carte Bleue (CB) – this is a debit card and will cost around €30 for the first one, with different types of card available. All purchases made by your Carte Bleue will automatically be debited from your account and these will generally be made by chip and pin. Almost anything can be paid for using the CB, from train and metro tickets, to petrol and péage on the autoroute, to internet and telephone payments. Most shops and restaurants will also accept this card, and it can also be used to withdraw cash from any ATM (guicet automatique), but the amounts you can withdraw and the associated charges will depend on your bank.
To pay for products using your French account, you will first need to apply for a Carte Bleue (CB) – a debit card that will cost you around €30.
Currency Exchange
Experts recommend that you avoid what may be seen as the simplest way of getting money in France – taking money from your UK account using a French cash machine and a British card. If you do this you will be charged cash machine withdrawal fees and/or payment fees and will usually receive a poorer than usual exchange rate. In almost all cases, it will make better financial sense to arrange a transfer, and then take euros from your French bank account. Using a currency exchange company, such as Smart Currency Exchange,  is a cost-effective alternative to a bank transfer. As well as offering cheaper transfers, you can set an agreed exchange rate in advance for up to 12 months with an exchange rate considerably better than the high street banks, using a specialist currency transfer product called a Forward Contract.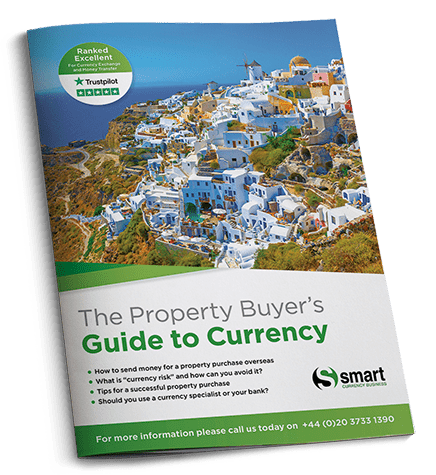 The Property Buyer's Guide to Currency will help you:
✔

  Understand the currency markets
✔

  Protect your property budget
✔

  Use a Currency Specialist
✔

  Learn from other overseas property buyers
Download the Property Buyer's Guide to Currency