Arranging and making the most of a viewing trip in France
It's a good idea to explore your preferred corner of France on a dedicated viewing trip as soon as you can. This way, you can try to get a true feeling for the area before you commit to purchasing a property there.
When you are considering moving to France, one of the best things that you can do is book a trip to the area or areas that you are considering purchasing property in. There are a number of ways that you can make sure that this viewing trip is as practical and effective as possible.
Planning your viewing trip
When considering your trip to view property, make sure you plan to be in France long enough to absorb everything that you see and have some time set aside in case anything crops up. Ideally, your trip should be around four to seven days long, and we would recommend checking public holiday dates well in advance – after all, the last thing you want to do is to arrive in France and find that nothing is open! It's a good idea to spend some time in advance planning the trip, researching everything you will need to know about the area and the properties there. It's really important to be able to give your estate agent as tight a brief as possible. The more they know about your specific requirements, the more time you will save on the trip – and the more likely it is that you will find what you really want.
Make sure your viewing trip is about exploring and absorbing the area, not just viewing properties.
We always recommend taking a trip during the off-season, such as winter. This enables you to view those places traditionally seen as particularly sunny or traditionally warmer climes, so that you can get an idea of how cold or dark it gets in the winter months. Winter is also a much slower time for estate agents and vendors – meaning you may get more attention, and you could find that you have a better chance of negotiating a lower price on your chosen property.
What could be a good idea is to rent a property in the area, rather than stay in a local hotel; this gives a more realistic experience of actually living in the area, as you will need to navigate the local stores to get groceries and can get an idea of the cost of everyday items.
Use your time well
One of the best ways to view properties on your trip is to be shuttled around the area by your estate agent. This will give you time in the car with them, which can be used to go through any queries and concerns, ask questions and discuss any testimonials from previous clients.
When you are actually viewing properties, make sure you take plenty of notes and photographs as you go around each property, so you can compare and contrast later on.
It's also really important to take pictures of the view from each property you look at – this is often forgotten, yet it can be important to ensure you remember the benefits of each one.
We can provide you with an essential Viewing Trip Guide, outlining the most important aspects to get right on your viewing trip to make it as effective and efficient as possible – if you are preparing to go on your viewing trip, download our free guide today.
The main thing to remember about your viewing trip is that there are no set rules on how you go about it – you have to find what works for you. It's not unknown for prospective buyers to first take a very leisurely trip to an area, exploring and making notes on different towns and villages visited, but not actually viewing a property. If this sounds like you, then don't panic! When you return home, you can reflect on what you have seen and fine-tune your criteria for a second trip dedicated to just viewing properties.
Find this information helpful? Share with your friends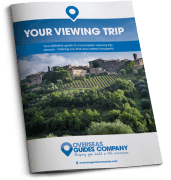 The Viewing Trip Guide is designed to support you through the process of a successful property viewing trip, with tips and information on the most important steps to take. The guide will help you to:
✔

  Find out what makes a successful viewing trip
✔

  Get the right legal advice before and after your trip
✔

  Choose the right estate agent to meet your needs
✔

  Understand the important financial considerations
Download your free guide to viewing trips