The unspoilt Akamas Peninsula is a world away from the bustle of the southern coast. The mythological home of Aphrodite's fountain, its many gorges and dense forest are largely inaccessible by road, making it paradise for outdoor fans, and one of the most biodiverse regions in Europe. The small villages along the coast have a truly authentic feel and affordable property prices.
Life in the slow lane
Cyprus' south coast can be busy and bustling, with any number of five-star hotels, restaurants, shops and bars. If you're looking for something a bit more tranquil, than the Akamas Peninsula is worth having a look at. It sits at the northwesternmost point of the island, with a densely wooded headland divided by a range of steep hills. The landscape flattens out as you reach the beautiful blue waters of Cape Arnaoutis.
Don't spend money on your move to Cyprus until you've read 

The Currency Guide to Emigration,

 free to download.
Lara Beach is one of its main attractions, a stretch of golden sand only accessible by foot, bike or boat, and home to a colony of loggerhead turtles. However, despite this, you're under 50 minutes' drive from the main resorts of Paphos and Limassol with all their conveniences and services.
So, where are the best places to live in the Akamas Peninsula?
Don't get caught out by changing exchange rates between making an offer and sending your money. Find out about safe transfers in the free Property Buyer's Guide to Currency.
Peyia
Peyia, or Pegeia, is the southernmost village on the peninsula and probably the most popular among British property buyers. From its hillside position, you can see right across to Coral Bay. The main road has several tavernas, meze houses and cafés, with more options in Kathikas. As for services, you have a butcher, baker and supermarket right on your doorstep.
The climate is warm and sunny enough that there are several banana plantations surrounding the village! Lower Peyia, closer to the beach (although nowhere is more than a couple of minutes' drive!) has a number of large villa developments that are well liked by overseas buyers. You can find townhouses for around €150,000 and detached homes for around €250,000.
Poli Chrysochous
Right up on the northern coast of the Akamas Peninsula, Poli Chrysochous describes itself as 'the best-kept secret in Cyprus'. It has a blue flag beach that is relatively free of crowds even in summer, and sits on the Laomas-Akamas wine route. The main gathering place is the principal square, where you can sit out and enjoy a drink on the long summer evenings. 'Music under the stars' brings live performances to the village in the summer months, while May is welcomed with a riot of colour in the annual flower festival.
Semi-detached houses can be found for as little as €110,000, with prices for villas ranging from around €210,000 right up to €600,000 or more. In so-called Neo Chorio, or the newer part of town, you'll find many have fantastic views right down to the sea.
Latsi
Latsi or Latchi is right on the seafront, with a recently modernised harbour and marina boasting several excellent fish restaurants – locals claim that the village serves up the island's best seafood. If you're for a bit of luxury, there's a five-star spa, named '5th Best Overseas Spa' by Condé Naste.
This is the pricier end of Akamas – while you can find some villas at the €200,000 mark, much of the market is swish newer homes at around €500,000 up to €2,000,000.
Your viewing trip is a key step in your buying journey, so make sure you know exactly what to look out for with help from your free Viewing Trip Guide. 
Drouseia
Drouseia or Droushia sits up in the Laona hills, and is popular among fans of mountain-biking and hiking. Its name comes from the cooling breeze it experiences in the heat of the summer, sitting as it does at a higher altitude than much of the inhabited parts of the peninsula.
Based around the religiously important Agios Georgios Nikochilitis Monastery, its a largely historic town, with the stone-built homes typical of Cyprus' mountain regions. It's making a name for itself as a centre of agrotourism – a perfect location if you're looking to open a holiday business. Detached homes, which make up much of the housing stock, generally sell for around €220,000 to €340,000.
Accessing the Akamas Peninsula from the UK
Like all of Cyprus, Akamas is easy to access from the UK. Paphos Airport has flights to most major centres in both the UK and Ireland, and is only forty minutes' drive away. There are also buses between Paphos and Polis (not always a given in some rural areas!). If you're looking for a holiday home rather than somewhere to live permanently, it's certainly a great combination of easy accessibility and peace and quiet!
Have a talk with your Cyprus property specialists in the Resource Centre on 020 7898 0549, or send us an email at cyprus@propertyguides.com.
Buying in the Akamas Peninsula
If this sounds like the right place for you, don't miss your free Cyprus Buying Guide, below. It contains all the information you need to buy safely here, including how the buying process works, what the legalities to look out for are, and how to choose a reputable estate agent.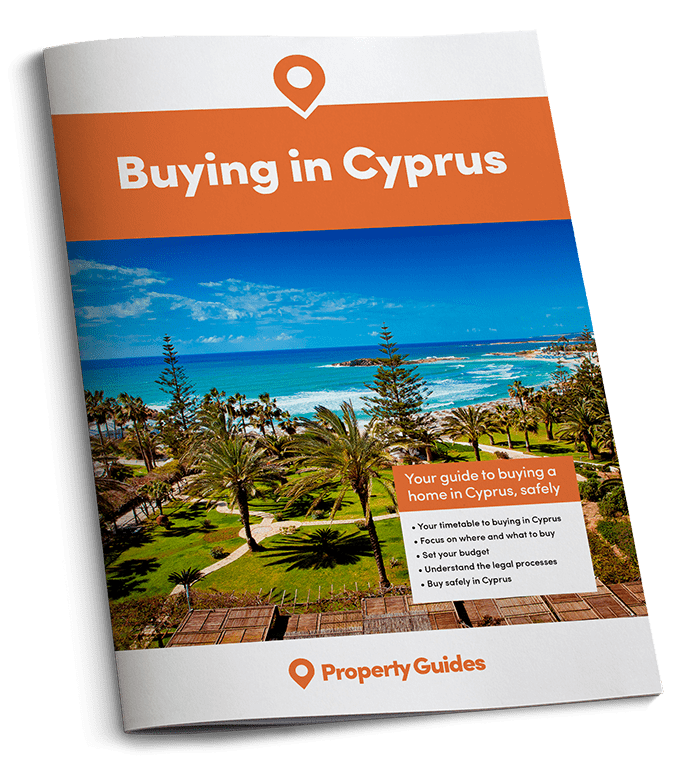 The Cyprus Buying Guide takes you through each stage of the property buying process, with practical recommendations from our experts who have been through the process themselves. The guide will help you to:
✔

  Ask the right questions
✔

  Avoid the legal pitfalls
Download your free guide to buying in Cyprus