Summer's well and truly over in the UK, but Cyprus is still basking in 29°C. It's no wonder the island's home to over 65,000 British expats – of whom over one in ten are holiday home owners. If you're not looking to move overseas full-time, but you want a sunny bolthole to escape the British winter, Cyprus is your answer. In addition to the weather, you've got the largest properties in Europe and low prices. Today, we're exploring the best places to buy property for winter sun in Cyprus and what life is like outside of the high season.
What's the weather like in Cyprus in winter?
Cyprus' location in the Eastern Mediterranean means it enjoys particularly mild winters – you can expect median temperatures in December of around 14°C, with highs of as much as 19°C. Not bad weather to spend Christmas in!
Not only that, but it's also particularly sunny. In December, Cyprus gets around 186 hours of sunshine. For context, England gets 42 sunshine hours in the same month, Wales gets 36, Northern Ireland 31 and Scotland 25. In fact, Cyprus' winter sunshine hours are exactly the same as England's August figures – and more than for Scotland, Wales or Northern Ireland.
As Cyprus expat Olivia Popa told us, "Winter in Cyprus can feel a bit like spring by UK standards. Plus, you've still got some sun by the beach and you can also ski in the Troodos mountains."
Winter in Cyprus can feel a bit like spring by UK standards – you've still go some sun by the beach, but you can also ski in the Troodos mountains.
It's also unsurprisingly much quieter than high season. The island gets around 350,000 tourists in summer and just 50,000 in winter. Some tourist resorts do tend to largely close in winter, which is why the areas we recommend are normally more 'local'. That way, you'll still have open restaurants, bars and services.
What's there to do in winter?
If you hate being stuck indoors in the rain in the UK, you're in luck in Cyprus. The mild temperatures are perfect for enjoying the island's countryside – and you'll see a different side of it, as it's much greener than in summer. As Olivia says, "Some people with a little more courage will happily swim in the sea in winter. The water temperature in October is 24°C and November 23°C. When I was living in Paphos, we also had quite a big community of Brits who organised lots of activities each day, like board games, quizes, even karaoke!"
People from northern Europe are often surprised that there are a few skiing locations around the Mediterranean. Cyprus is one of them: head up into the Troodos Mountains, where the temperature drops dramatically, and snow is fairly regular. You could ski in the morning and then head back to the pool in the warmth in the afternoon.
We're heading into viewing trip season – get your free guide so you know what to look out for. 
How is winter transport connectivity?
Although there are slightly fewer flights than in the summer, you do still have 55 airlines flying to the island. Ryanair has just announced 12 new routes for winter 2018, including from Stansted, Bournemouth, Liverpool and Dublin.
On Cyprus itself, public transport timetables generally run all year round. They're surprisingly extensive and include city routes and the airport shuttles.
Can I rent out my holiday home when I'm not there?
This is a popular choice among expats all over Europe. It's a great way to make some money and get your property paying for itself. Cyprus does have quite strict laws, however. As a non-resident, you'll only be allowed to rent to certain categories. You can find out more about Cypriot renting rules in our dedicated article.
Where are the best places to buy for winter sun in Cyprus?
As we mentioned above, it's generally better to live in more local areas in Cyprus in winter. This guarantees a little bit more life and accessibility to services. Here are our top areas for winter holiday homes in the sun.
Kolossi
This small village is located partially in Cypriot territory and partially in the British Overseas Territory of Akrotiri and Dhekelia, although property is all on the Cypriot side. It's known for its history, with an old castle and small historic centre. There are plenty of modern constructions on the outskirts, as well as in the adjoining villages of Episkopi and Erimi.
The nearest beach is at Kourion, around ten minutes' drive away. It's technically in British territory, but you don't need to show your passport unless you're entering from Turkish-controlled Cyprus. Bus 17 will take you into Limassol in 40 minutes, or you can drive in 15.
You can buy three-bedroom resale properties here with a pool for around €300,000. For villas or townhouses without a pool, you'll be looking at around €240,000.
Average December temperature: 14°C
Peyia
Peyia is a particularly popular area among expats. It has a small, busy centre with all the main services and entertainment options – restaurants, bars, banks and two large Philippos supermarkets. Nearby Coral Bay has a picturesque setting and sandy beach.
Properties here are often quite large, with substantial outdoor space. Many are purpose-built to sell to expats or foreign residents. Two-bedroom townhouses sell for around €150,000, while three-bedroom villas go for more or less €300,000.
Average December temperature: 12.5°C
Pentakomo
Another small village, this one is more tourist-oriented due to its stunning beachfront location. It looks over Governor's Beach, one of the island's best sandy strips. Although quieter in the winter, it's only 20 minutes' drive to Limassol (or an hour on the 90A bus). As such, you do still have easy access to shops, services and entertainment.
There are a few traditional, stone-built homes that form the nucleus of the old village. They sell for around €250,000 in restored condition. Otherwise, you can find modern villas for €200,000, rising up to €350,000 and more for a pool and a sea view. To be right on the beach can cost over €1,000,000.
Average December temperature: 13°C
Don't miss out – make sure you get the most for your budget when dealing with estate agents by using the tips in our free guide, How to Negotiate Abroad.
Paralimni
Located in the Greek-Cypriot part of Famagusta, this charming villages sits in best locations for winter sun in Cyprus. It has picturesque narrow streets and buildings in the local honey-coloured stone. Although it's located slightly inland, it's just a short hop to the nearby beaches of Trinity and Kalamies. A short drive away are also Pantachou and Ammos Kambouri beaches. You've even got a touch of home here – Marks & Spencer is on the high street.
As a relatively large town, there's a good choice of property here. Two-bedroom townhouses sell for as little as €150,000 and one-bedroom apartments can even go as low as €65,000.
Average December temperature: 13°C
Lefkara
Lefkara is one of the most famous villages in Cyprus, known for its lace industry and quaint old architecture. Most villages in Cyprus are mainly modern, but here you'll find a good number of renovated stone buildings. As a popular tourist destination among Cypriots, most places are open year-round.
The higher altitude means it is a bit cooler in winter – perfect to enjoy hiking the surrounding mountains. You can buy renovated three-bedroom houses for around €145,000.
Average December temperature: 10°C
Polis
Polis, or Polis Chrysochous, is a haven for nature-lovers. It's just next to the Akamas Nature Reserve and Paphos Forest. The fishing villages of Latchi and Limni have several beautiful beaches. Latchi beach also has a marina and is a centre of yachting in the region.
You can find some really outstanding detached homes with a swimming pool and gardens for around €225,000. The main pay-off here is that you are further away from the main centres. Paphos is forty minutes away by car, or an hour by bus 645.
Average December temperature: 13.5°C
Dreaming of winter sun in Cyprus?
If any of the above locations have caught your fancy, your next steps are simple. You'll need to start your property search as soon as possible – we don't know what will happen after Brexit, so it's good to be in place before the March deadline. This means you'll need to speak to a good estate agent, and start planning viewing trips. Find out more about how to go about doing this in your free Cyprus Buying Guide below.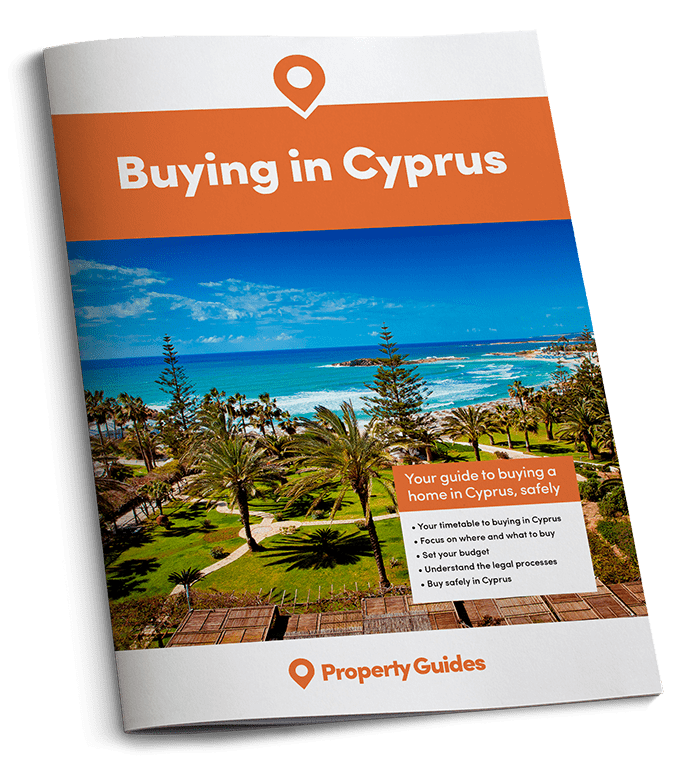 The Cyprus Buying Guide covers every stage of the property buying process, sharing our experience and knowledge to ensure a safe and successful property purchase. The guide will help you to:
✔

  Ask the right questions
✔

  Avoid the legal pitfalls
Download your free guide to buying in Cyprus