Picture your perfect retirement in Cyprus and you likely think of year-round sunshine, delicious food and easy access to the beaches and mountains. Throw affordable homes in the mix and it just gets better. But where are the best places to retire in Cyprus? Find out in this week's column, whether you're looking for city or village life.
Retirement in the sun
One thing is guaranteed when you retire to Cyprus. You will have brilliant sunny weather. You will also have a choice between having a relaxing retirement and an active one. Or you can combine the two. Generally, to get the best out of your retirement I recommend that you retire to one of the main towns/cities – Limassol, Nicosia, Paphos or Larnaca. But you can also find an active retirement in some of the small villages lying close to these places. I will give you a sample of where I think are the best places to retire.
Limassol Town
One of the good things about Limassol is that you have a choice of property. You can buy a detached two-bedroom villa type house for about €150,000-200,000; a two-bedroom apartment for €230,000-240,000, or a bungalow with swimming pool for €220,000-240,000. If you buy a villa with a pool, it will be more expensive. Bungalows seem to be very popular across Cyprus.
You can lead a very active retirement in Limassol as more and more fitness and exercise groups are springing up in the town.
You can lead a very active retirement in Limassol. More and more fitness and exercise groups are springing up in the town. I do yoga in Limassol and I am joined by many retirees who tell me that the younger ones in the group keep them going! Of course, there is the wonderful beach and sea too for swimming and water sports activities. If you enjoy running, there are many cross country running clubs for all ages, or you can simply go for a daily run along the beachfront.
Paphos Town
In Paphos too there is a choice of property. Here, prices start as low as €150,000 and range upwards to about €270,000 for a detached two-bedroom villa type house with pool. A two-bedroom apartment sells for €75,000-100,000 (cheaper than Limassol!) and a bungalow for €130,000-280,000.
My British friends who live in Paphos tell me that the retirement activity here is swimming. Of course, like Limassol the sea is very close. But you will also find swimming clubs like the Nautical Club (also in Limassol), where retirees are encouraged to join small exclusive retiree groups for "exercise-the-joints swimming" which run weekly 2/3 times per week at the gyms. Or you can simply use the pools there for practice swimming at your own convenience. And then you have the 18- hole golf course up at Aphrodite Hills Hotel. This was a new venture for Cyprus, and it is very popular with the British. Again, you have water sports and Zumba/keep fit/exercise classes in Paphos too.
The key part in making your retirement in Cyprus a success will be finding your dream home on your viewing trip. Make sure you're fully prepared with your free Viewing Trip Guide. 
Paraklissa Village
Also known as Pareklisia, this is a large village just ten or fifteen minutes away from Limassol town, and it is very popular with British retirees, mainly for the peace! But there is still action here. The British people from the village tend to form groups to exercise in the local town hall, and arrange running events and other group activities.
Many of my British friends run along the roads in Paraklissa to train for the annual Limassol Marathon that raises money for charity. Others travel the short distance to Limassol town to attend exercise and gym classes. You will often find cookery courses in Paraklissa too. House prices start from €150,000-200,000 for a two-bedroom villa; €250,000 for a two-bedroom apartment, and €280,000 for a two-bedroom bungalow.
Pyrgos Village
Here a two-bedroom detached villa will cost between €210,000 and €220,000; an apartment will be about €100,000-150,000, and a bungalow about €200,000. Pyrgos is great for hiking and you can see magnificent views wherever you walk. Group walks are frequently arranged and take place mainly at weekends.
Pyrgos is close to Limassol too so you can take up many activities that happen in Limassol Town. You can also go to different classes in the village, maybe to learn a new language or a new skill (gardening is a favourite!). These are often free of charge too, and this is a great way to meet new people and make friends.
You don't need to be concerned about healthcare. Read our free Healthcare Guide to find about accessing medical attention overseas.
Lania Village near Troodos Mountains
For those of you who like the sunshine, but prefer to live somewhere where the sun is not too strong, Lania, near the Troodos Mountains, is the place. You have sunny weather, with temperatures about 25-28 degrees Celsius in the summer, but you can escape to the cooler weather whenever you wish up in the mountain area. Two-bedroom houses in Lania range from 100,000 euros to 200,000 euros. There are no other types of homes here.
For those of you who like the sunshine, but prefer to live somewhere where the sun is not too strong, Lania is the place.
You might think that mountain villages like Lania do not offer any retirement activities. Actually they do, but on a much quieter, smaller scale. Many retired British people make use of activities in Lania and also drive to Limassol to take up more sport-type activities, since it is only 20 minutes away. In the village itself you can do leisurely activities like learning a craft like lacemaking if you like or cooking activities. Many of the British become volunteers for cancer and other charity organisations, visiting the sick or preparing food. If you have ever done bee-keeping as a hobby back in the U.K., then the mountain villages are where the honey is made and sold. And then there are the mountain walks and hikes. These are regular events that are organised simply for exercise. And if any of you like motorcycling, there are one or two motorcycle clubs to be found too!
To end, I would say that the only thing you need to remember is that you will need to own a car when you retire here to Cyprus. There is a bus service, and it is very cheap, but the buses are more restricting than if you had the freedom of a car. Cyprus does not have a rail system or underground since it was argued that the land area in the unoccupied south of the island is too small to support it. So, coupled with the beautiful weather, I would say that Cyprus is an excellent choice for your retirement.
Find out more about getting the most out of your retirement below – the free Property Buyer's Guide to Currency explains your options for safely moving your money over to Cyprus, both for one-off purchases and regular transfers like pensions. Don't miss your free copy!
I wish you the very best!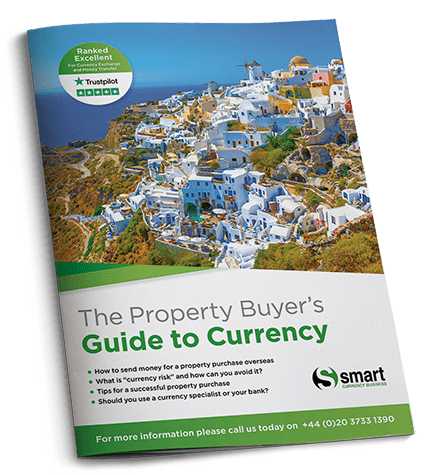 The Property Buyer's Guide to Currency will help you:
✔

  Understand the currency markets
✔

  Protect your property budget
✔

  Use a Currency Specialist
✔

  Learn from other overseas property buyers
Download the Property Buyer's Guide to Currency