Are you thinking of coming to live in Cyprus? If so, you won't be disappointed, especially if you choose the bustling south coast around Limassol. But what is it like living in LImassol? Our local writer in Cyprus Helen Epaminonda Smith takes us around her home town.
The Weather
One reason I came to live here on the south coast was to escape from the wild winds, rain, fog and cold of the UK. Many international residents come to live here for that reason. A quick glance at the data explains why. Cyprus has with average winter temperatures of around 14°C and summers of 28-30°C. In England the average highest temperature all year is 14°C! The UK has around 34 inches of rain all year inches; Cyprus less than half that. But it's the sunshine that really makes the difference. Cyprus has around 320 sunny days a year. The UK has rather fewer!
So now all the stats are out of the way, join me to have a look at what the south coast looks and feels like from a personal view.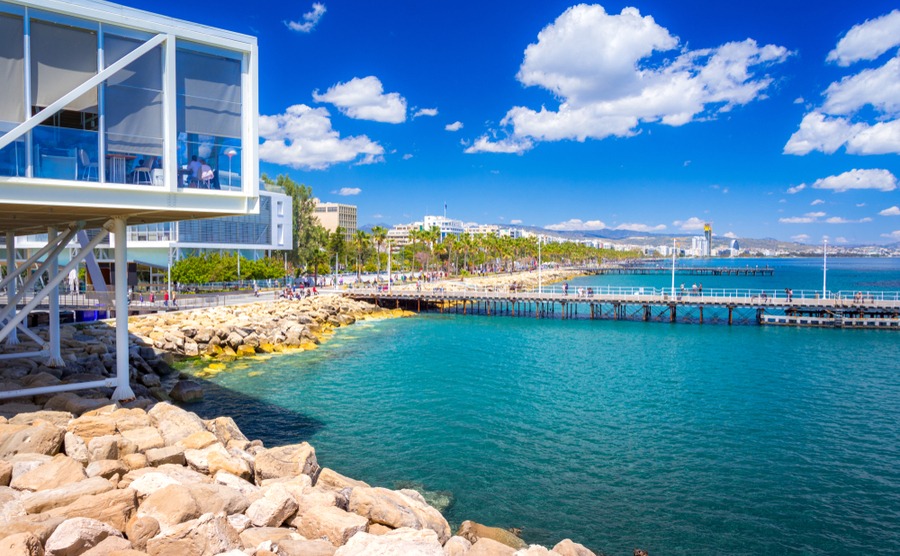 What's the "feel" of the south coast?
I've lived on the south coast of Cyprus now for 25 years. One thing that's remained with me all this time is the general holiday feel. If you are planning to retire here, or even invest here, you will always feel that you are holidaying. Of course the weather plays its part in this, but it's also down to the bustling atmosphere of the major towns on the south coast like Limassol. There're are just so many friendly tavernas, serving Cyprus's world famous golden Keo lager beer. It is wonderful, incidentally. (I'd recommend the new light version too for those of you watching your weight)!
Recently some English-style pubs have sprung up in the tourist area too, serving John Smiths beer or Fosters if you ever want to feel like you're back home in the UK! There are also familiar restaurants such as TGI Fridays and Jamie Oliver restaurants.
More traditionally, there is also the unmistakable smell of the Cyprus kebabs and other traditional cuisine. Along with the wonderful blue sea with its crystal clear waters and the sandy beaches, it's truly an image made in heaven. If you fancy a treat, the 5* hotels in Limassol are exquisite in their standards and similarly in their food and drink.
But what if you don't want to live in a busy town? A fair question, and the south coast has a great answer. There are villages like Paraklissa that are very popular with British buyers. Your ready-made English-speaking community and you're only 20 minutes away from Limassol town.
The British connection
When you come to the south coast to live you may experience a kind of familiarity with the past. The Cypriots welcome the British, probably because the British have played a significant part in Limassol's history.
Limassol has always been sought after strategically. It's thought that it was built on the ruins of Amathus, an ancient town that was destroyed by the English King Richard the Lionheart in 1191. Richard is said to have  enjoyed drinking the famous Commandaria wine, which is closest in taste to a rich sherry. Then the south coast was under Byzantine rule. The story goes that King Richard and the governor of Cyprus argued about the governor's rude treatment of the King's sister and fiancé. Along with the governor's reluctance to assist Richard in his crusade to free the Holy Land, this seems to have been the cause for Richard's invasion of the island.
Then Richard sold the island of Cyprus to the Franks. These were definitely good times, the beginning of great commercial riches, mainly through the port. Monasteries were built. Cyprus became very prosperous. Then in 1489, the island was sold once more, this time to Venice. This wasn't so good. The Venetians enslaved the Cypriots and demanded taxes. Then the Turks occupied Cyprus until the British came to the island in 1878 and established Cyprus as a colony.
Under the British, Limassol grew, and island life improved. The British established hospitals and schools among others. The whole island flourished, and continued to do so after the British left the island in 1960. In 1974, the Turkish took control again of Northern Cyprus, since when the island has been divided, unforgettably indicated by the Green Line.
The British Sovereign UN bases are also permanently stationed on the south coast, and across Cyprus. You can visit these and enjoy the night life on the base as long as you are able to obtain a pass. This is usually obtained if you know someone who is currently employed at the base, Cypriot or British.
Getting here
There are two main airports – Larnaca and Paphos. These serve Stansted, Luton, Heathrow and Gatwick airports, Manchester and Liverpool, Edinburgh and Glasgow airports, and Dublin and Belfast airports. There are many airlines to choose from, having direct flights, but prices fluctuate according to the season.
Regarding transport, Cyprus generally does not have a train or metro service. There are buses that you can take, and they are cheap, but I would advise you to factor in a car in your relocation calculations. Distances are small, which is a huge advantage of this island! Actually, the size of southern half of Cyprus is a little less than half the size of Wales As a whole, the island is 225 km in length and 97 km wide.
South Coast Lifestyle
You can lead an active or a quieter lifestyle. For those of you who enjoy activity, there's plenty of fully trained water sports instructors who I have found are very good at teaching their sport. There are many gyms where you can do martial arts, keep fit, or yoga classes – and varieties of the same like TX training or power yoga. You can find work in areas like secretarial, teaching, administration, accountancy and management professions. There are also opportunities to work in offshore companies, mainly in the shipping industry and in insurance.
Those who like the quieter lifestyle can run along the beachfront, or simply sunbathe with a good book or even sit in the many cafes sipping a hot or cold coffee or beer. The Cypriots are particularly laid back; they take their time! Cafes remain open until very late in the evening, and bars and pubs and nightclubs remain open until the early hours. And don't forget – Cyprus has just legalized casinos – brand new casinos are opening up in Limassol now.
House Prices
Limassol has been seeing a lot of building the past few years, especially high-rise apartments. A three-bedroom apartment ranges from about £220,000 to £247,000. I've found from experience that a three bedroom apartment is better value than a two bedroom one in terms of price. For villas, a two-bedroom villa with swimming pool is £52,000 upwards.
I hope you've enjoyed this journey with me as your guide and that it has given you an idea of what to expect if you come to live here. You will join the many British nationals here in Cyprus. What is guaranteed here is a warm welcome to you all, excellent food and drink, the weather, and a relatively stress-free lifestyle! I wish you all the very best.
Helen