Cyprus isn't a huge island. It's less than 200 kilometres, a two-hour drive on the country's decent roads, from Paphos in the west to Ayia Napa in the far east. British buyers tend to favour the west for permanent relocation and retirement, but the east has its fans too. In this, part three of Buying in Cyprus, we're taking a look at where to live in Cyprus. And if you're new to our series, don't miss Part One on planning your move and Part Two on drawing up your timescale.
Paphos
Take a viewing trip to Paphos and you will immediately see why the island's fifth largest city is the perennial favourite for anyone wondering where to live in Cyprus, as you sip a glass of wine overlooking one of the most spectacular harbours in the Mediterranean.
Anyone buying here will be joining a well established expat community. This lucky bunch has fabulous beaches right on their doorstep and a range of social activities to choose from throughout the year. From amateur dramatics to the local rugby club, you'll find plenty to keep you busy, as you mingle with likeminded people under the Cypriot sun. You won't have any problem getting there to experience all this for yourself, with year-round budget flights jetting in and out of the towns very own international airport.
Several millennia after the birth of this historical city, it's getting the recognition it deserves, having proudly served its term as European Capital of Culture status for 2017. This prestigious tag provided Paphos with the chance to celebrate its classical heritage during a year-long "open-air factory of culture". And with more than €25 million worth of investment pouring into the town as a result, to improve everything from archaeological sites to roads, property prices and rental appeal are on the up.
Paphos District
Any mention of Paphos in this context should include the wider Paphos District. Overseas buyers flock to towns located further along the coast, such as Peyia, to avoid the hustle and bustle of city life, while still having its conveniences just a short distance away. Here you can tee off on the championship golf courses, laze on the Blue Flag beach or simply enjoy a coffee in the town's cobbled square with its pretty fountains. Then head back to your traditional whitewashed house on the hillside to take in the spectacular views of the sparkling waters below.
Larnaca
If you're after a bargain property, head to the port town of Larnaca on the south coast, where average house price are lower than in Paphos, Nicosia and Limassol. This is in part due to Larnaca being a little more traditionally Cypriot than some of its contemporaries. Great news if you want to steer clear of the typical expat communities but still benefit from a local international airport. Property owners in Larnaca may wonder why more overseas buyers don't head here, as they stroll along the palm-line promenade of its city centre beach, or take in the ancient monuments.
Limassol
Located between Larnaca and Paphos on the southern coast of Cyprus, Limassol offers residents two contrasting sides. The traditional historic core, made up of the winding streets of the old town and the Old Fisherman's Harbour, serves as a reminder of the town's past. While its energetic, modern alter ego is perfectly demonstrated by state-of-the-art developments like the marina – completed in 2014 – and Limassol Del Mar, a €350 million landmark development consisting of luxury residences due for completion in 2019. There is also the city's status as the island's international business centre to consider, proving it's possible to move with the times without forgetting your past.
Ayia Napa
Ayia Napa started its life as a quaint fishing village. Today it is the largest tourist resort in Cyprus but has been shedding its old image as the island's party capital. Having earned notoriety for its hedonistic nightlife a few years ago, it is following the Costa Brava and Mallorca in appealing to a more upmarket clientele. Visitors and residents alike enjoy Ayia Napa's 500 metre Blue Flag stretch of sand called Nissi beach, and surrounding cliffs carved into gorgeous bays by the sea. Its trend for growth and development isn't showing any sign of letting up, with a new multi-million euro marina development currently under construction. This ground-breaking project will contain 600 berths, retail outlets and private beach club, as well as a range of luxury properties.
Nicosia
If you crave the hustle and bustle of city life and are willing to keep the coast's beach and sunbed scene at arm's length, take a viewing trip to the country's capital, Nicosia. It's a perfect advert for modern life in Cyprus, where ancient walls and traditional restaurants sit alongside an increasingly young café and cultural scene.
You'll probably find yourself tracking down the local Debenhams, but not just to get your home from home retail fix. Its top floor offers a superb, panoramic view of the city and further beyond the "Green Line", which has divided Cyprus since 1974 into the Turkish north and Cypriot south.
Contained within the 16th-century Venetian walls of the star-shaped old town you'll find museums, art galleries and plenty of historic character. While a stroll through the atmospheric Laiki Geitonia neighbourhood, will unearth narrow streets lined with cafés and artist's studios.
Troödos Mountains
If you'd prefer to be far from the madding crowd, the Troödos Mountains, rising to nearly 2000m/6500ft north-west of Limassol, could be your idea of heaven. A massive expanse of igneous rock, carpeted with forest which millions of years ago rose like Aphrodite from the sea. Even at the height of summer you'll find cool, pine-scented air, quiet villages and lonely monasteries. Here are some mountainous hotspots:
At 1,750m Troödos Village is only 250 metres below Mount Olympos, the island's highest point, and during the winter months doubles as a ski resort. Yes that's right, you can even ski in Cyprus
Argos, the main village of the Pitsilia region, is littered with red-roofed houses – many of which are on stilts – cupped by the mountains at the head of the Agros valley.
Located in the Marathasa Valley north of Prodromos, Pedoulas is peppered with houses that tumble down the hillside in a series of terraces and is home to a beautiful painted church.
The carefully conserved village of Fikardou provides a perfect idea of what a Cypriot mountain village would have looked like in the eighteenth or nineteenth century.
Kakopetria sits astride the Karyotis River and contains all the necessary conveniences of modern life, to compliment a pretty – and now protected – old town containing narrow streets and tottering houses.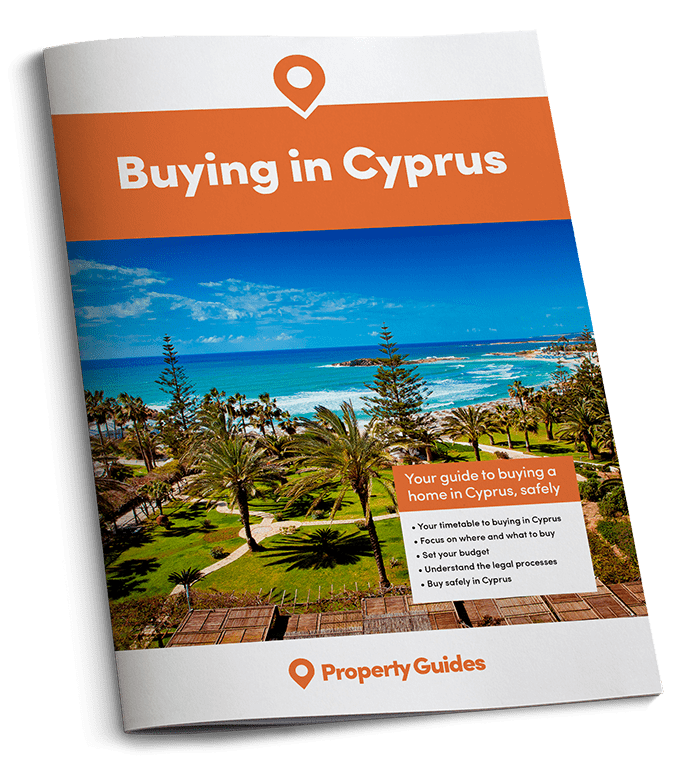 The Cyprus Buying Guide takes you through each stage of the property buying process, with practical recommendations from our experts who have been through the process themselves. The guide will help you to:
✔

  Ask the right questions
✔

  Avoid the legal pitfalls
Download your free guide to buying in Cyprus