Types of property in Cyprus
Whether you want a big budget villa with sea views or a one-bedroom apartment close to the beach, Cyprus has the perfect style of property to suit every budget.
The overseas property buying process is packed with important decisions that must be given careful consideration if it's going to be a success. In essence there are three big calls to make: Where, What and How? Where are you going to buy? What type of property are you going to buy? How are you going to finance the purchase? If you've already got your heart set on buying in Cyprus, the next steps are to set a realistic budget and then decide the type of property you want to purchase. The latter will be influenced by the amount of money at your disposal, size requirements, frequency of use and the part of the island you want to live.
The Cypriot property market offers a wide selection of styles in its cities, resorts and countryside. Here we review some of your options to help focus your search.
An average sized villa in Cyprus is what you would typically call a detached house back in the UK.
Villa
While there are plenty of Mediterranean style villas of all shapes and sizes available on the island, it's worth noting that an average sized villa in Cyprus is what you would typically call a detached house back in the UK.
These mainstays of the local property market usually provide three to four bedrooms, a garden, a private or communal pool (depending whether it's part of a complex), private parking, barbeque area and a stunning view if you're lucky.
Villas are a popular choice with families who require plenty of space both indoors and out. Couples who choose to purchase a villa can use the extra space to create a home office and to accommodate visitors. The cost of maintaining a private pool – especially if it's a holiday home – is an important consideration. Whether you choose to conduct the upkeep yourself or hire a specialist company, remember that heating, water and cleaning costs can add up.
Whatever type of property you wish to live in when you get to Cyprus, knowing how to negotiate for your property should get you a little more house for your money! Download our guide: How to Negotiate Abroad.
Apartment
Couples and retirees searching for a permanent or holiday home are often drawn by the affordability of apartments and their close proximity to amenities and the beach. Despite sacrificing outdoor space for a prime location, apartments often come with a balcony with great views and space for alfresco entertaining.
If you're in the market for an apartment in Cyprus, head on a viewing trip to the port town of Limassol. Here you'll find yourself craning your neck as you take in its ever-growing vertical skyline, much of which is made up of lofty residential developments. Comparisons with Dubai are a little premature, but new projects like Limassol One, which will become the tallest residential coastal tower in Europe once its 37 floors are completed, are certainly putting the city on the map.
Living on a resort complex can be a very sociable existence.
Because the tourism industry in Cyprus is booming – a record 3.5 million tourists headed there between January and November last year – easy to clean, manage and rent apartments are a popular choice with investment buyers in tourist hotspots like Paphos.
Duplex
While a maisonette would suggest a traditional two-floor apartment, the duplex is its trendy younger brother, appealing to those that want something a bit groovy and new. Limassol, with its modern Manhattan-esque skyline, is a hotbed for this type of contemporary development, which is apt considering they originate from central New York.
To understand how you can protect your protect budget from currency risk, read the Property Buyer's Guide to Currency. It is written by our partner Smart Currency Exchange, rated "Excellent" on Trustpilot.
Properties on a complex
Whether you choose to live in an apartment or villa, living on a resort complex can be a very sociable existence. Communal facilities, such as gardens, bars, swimming pool and gym, ensure making friends in your new home is one less thing to worry about. This community spirit comes at an additional cost, however, so be prepared to pay communal maintenance fees. If you fully immerse yourself in complex life when you arrive, you might even find yourself on the committee responsible for looking after your little community – a sort of parish council in the sun.
Rural stone properties
If you want to escape the tourists and enjoy a relaxed pace of life, head to the mountains and forests in the island's interior. Here you will discover tranquil villages, where traditional stone houses with thick walls that keep the heat out during summer and bags of potential are the norm. Renovating a rural wreck can be a very rewarding experience as you can put your stamp on the property, and it allows you to own a home with real character in a stunning setting.
Find this information helpful? Share with your friends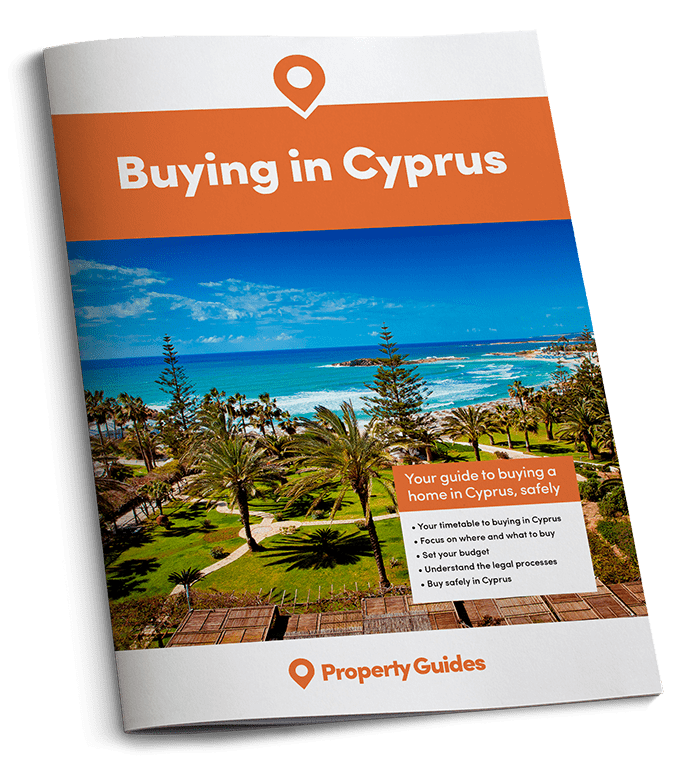 The Cyprus Buying Guide takes you through each stage of the property buying process, with practical recommendations from our experts who have been through the process themselves. The guide will help you to:
✔

  Ask the right questions
✔

  Avoid the legal pitfalls
Download your free guide to buying in Cyprus